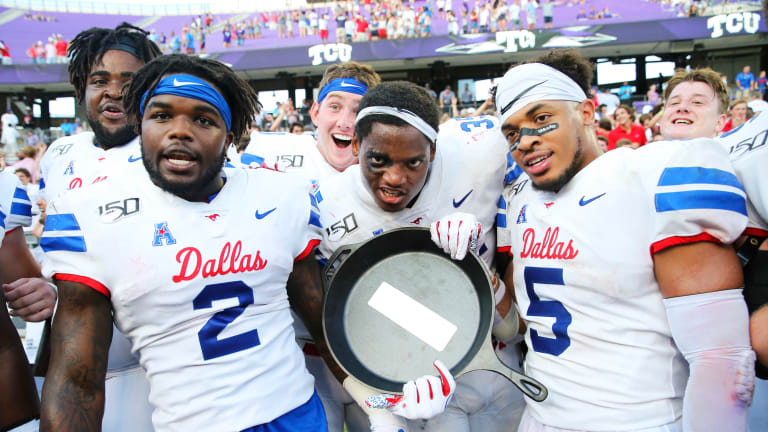 September Non-Conference Games College Football Fans Can't Miss
Tim Bailey runs down the best non-conference games on the college football calendar in the month of September, including a huge opener...
Hey college football not-so-anonymous, I have a problem! I just really like College Football, and have a hobby that borderlines obsession. Every Saturday from September to December I fill myself up with wings, pizza, and Dr. Pepper.
Look, everyone has to pick their addiction and I chose college football, so don't judge me with your alcoholic beverages of choice in your hand. Plus, I need to be coherent when I yell at my television, it's already bad enough my wife has to remind me, that they just can't hear me. If I started just yelling stuff that makes no sense, I may never live it down. Plus I have some really important stuff to say!
There are 12 September non-conference games that I am chomping at the bit to see. And my obsessions will be filled this weekend because a ton of those games are coming up on Saturday. Thursday night for one!
---
Notre Dame at Ohio State
Ohio State just doesn't win these kinds of games for whatever reason, a top-tier non-conference opponent at home in September? I mean seriously they are 0-NO! in this setting all time. But Notre Dame has not had much luck against top-ranked opponents since the early 90s themselves. So something has to give right? Marcus Freeman a former Buckeye is the new hot-shot coach for the Irish, and the Buckeyes are a trendy title pick in 2022 for good reason. Which program can get the monkey off their back? I am interested to find out. The Buckeyes have gotten the better of Notre Dame in recent meetings both in the Fiesta Bowl.
The Bucks are a 17.5-point favorite, which let's be honest is a bit much, if I didn't know Jaxon Smith-Njigba was on this team I might be tempted to pick Notre Dame just off the factor of sheer disrespect. Not sure I can pull that trigger, but 17.5 seems like quite a large spread, Marcus Freeman seems to agree:
---
West Virginia at Pittsburgh
There is nothing I love more than seeing old rivalries renewed! West Virginia and Pittsburgh have a heck of a rivalry that has been gone for more than a decade and it's about time it's been brought back to the attention of college football. Pitt leads the series 61-40, but the Mountaineers have won the last three contests and 14 of the last 20 meetings overall. To put it simply Pitt used to own this series, but the Mountaineers have been the menace in recent history. This isn't the 1980s, but it isn't the 1990s or early 2000s either. But the rivals have no love lost, believe me.
Another interesting storyline is former USC starting QBs JT Daniels and Kedon Slovis will face off against one another, both coaches have expectations of a solid season on their hands. Expectations in Morgantown are high, and they will not wait on a Neal Brown rebuild much longer, Narduzzi has made headlines for the wrong reasons a couple of times this off-season.
Pittsburgh is a 7.5-point favorite, which I feel is much too high, as there is not much of a talent gap between these programs if at all. Should be a barn-burner you better tune in!
Kedon Slovis wants all the smoke:
---
Oklahoma at Nebraska
I was born in 1993, and Oklahoma has had just one quarterback win a game in Lincoln, Nebraska. It was Rhett Bomar. No, seriously it was Bomar, Oklahoma has won in Lincoln just once since 1989, they are 1-7 in games there since then. I get this isn't Nebraska of the 90s but that's some really bad energy just off the rip for Oklahoma. But now that it's legal for Oklahoma dealerships to give free stuff to the starting QB maybe it'll be okay. Even Bob Stoops is just 1-2 in that building, and I still question if Landry Jones is okay after getting smashed by Ndamukong Suh in their 10-3 loss back in 2009. No, neither offense scored that touchdown either, Landry Jones threw a touchdown to the other team.
Nebraska has been struggling, and Scott Frost may be on his way out. Which breeds the perfect environment for redemption. Scott Frost if he can beat the Sooners would go a long way in sticking around for another go. Still, Nebraska showed little resistance in stopping the run against Northwestern in week 0, and Oklahoma may have the best offensive line in the country. But this is a rivalry where things like talent, common football knowledge, and records mean nothing. Anything can happen and with OU breaking in so many new faces, you want to catch them in September rather than November. Could the Huskers pull it out?
---
Utah at Florida
Utah is supposed to be really good this year. Their schedule is not an easy one, however, so if they make it to the CFP they will have earned it in every possible way. Starting things off in the Swamps where the Gators haven't lost an opener since the late 80s. Travel, and climate difference is not a small deal either when we are talking about college football players. This is not their job, they go to class and the NCAA restricts practice time. The Utes are truthfully at a fiscal disadvantage in this game. The blue-chip rate differential is also quite large. Still, the Gators are breaking in new head coach Billy Napier, and while talented QB Anthony Richardson remains a question mark after a less-than-stellar performance a year ago, contrast that with Utah signal caller Cameron Rising, and well that's not so close. The Utah Utes have the QB and coach advantage, and I am not in favor of going against that often, but could this be an exception?
---
Alabama at Texas
Okay look I do not think Texas can feasibly win this game. They will be starting young offensive linemen including true freshmen, and against Dallas Turner and Will Anderson is not a good recipe. These young men will be learning on the job, on the flip side though it will be difficult to judge Texas's potential for the rest of the season after this contest because theoretically, that young line could improve. I am interested to see Texas defense, as there has been chatter of a big improvement from that unit this offseason. One Texas fan asked me, "Do you know how many sacks Will Anderson had last year against Texas A&M primarily working against a freshman?"
My reply was, how does that mean anything for Texas? He did not have an answer, nor will the Longhorn's offensive line.
---
Oregon vs Georgia (In Atlanta… how neutral)
Alright, these match-ups aren't neutral. A west coast team playing Georgia, in Atlanta is the least neutral thing I could imagine. Kirby finally has started a coaching tree and his first is Oregon head coach Dan Lanning, the cool hip young kid with a master of a defensive mind. Bo Nix the Duck's QB is quite familiar with playing Georgia, and an upset here to me would be less shocking than the one the Ducks pulled off in Columbus Ohio last year. The Georgia Bulldogs have been good over the years, but their senior-laden teams (2017, and 2021) have been their bell-cows. This team is not that experienced and sent a record 15 players to the NFL via the draft. And I am not a big believer in Stetson Bennett. The former JUCO leader in interceptions needed his hand held and was a liability last season despite the Dawg's title run.
Still, this game is in Atlanta and Georgia should and is favored. The 17-point spread seems a few pegs too high, but Lanning with a heck of a draw and opportunity in his first game as a head coach. We should know a lot about the Pac-12 race this September.
---
Baylor at BYU
BYU ain't scared folks, they'll play you anywhere anytime! Just ask the 2020 Cougars who scheduled a road game with undefeated Coastal Carolina in less than a week's time. The Cougars were defeated in Waco last season, but what a prime opportunity for some payback. Provo is a tough place to play and BYU has quite a ridiculous schedule this year, and a pretty brutal September. Can the Cougars beat the Big 12 champs? Would be good momentum for when they head to the league next year.
Baylor has some momentum under Dave Aranda, and Blake Shapen looks the part of a Big 12 QB. I was impressed by his performance in Arlington last season. The Bears replace a lot of pieces from last year's team but return four starters on what was the best offensive line in the conference last year.
---
BYU at Oregon
BYU ain't scared! Okay, I just did this schpeal I don't need to re-hash. But the Cougars are going to travel to Eugene. Imagine if this is an unbeaten match-up the winner could have an inside path to the CFP. Or, both could be reeling after tough losses, looking to find a new direction for the respective campaigns. Either way, this one will be worth the watch! BYU in a funny way was the Pac-12 champ last year they beat a ton of PAC 12 teams including the champion, Utah. Autzen is a tough place to play. Either way, both of these teams could be dangerous late in the year because of how battle-tested they will be.
---
Tennessee at Pittsburgh
This was a really fun game in Knoxville last year, that Pitt won 41-34. This game had weird ejections, and big plays and was a blast to watch. I am hoping for a repeat of that in 2021. Tennessee could be much improved in the second year under new head coach Josh Heupel and the Panthers are replacing a lot from last year's team, but have some talented guys on defense. The Panthers are hosting two big-time games in September. Hendon Hooker was not the starter when this game took place, and its worth reminding he went 31 TD to just 3 INT last season, and the Vols improved as the year went on.
---
Penn State at Auburn
The SEC succumbed to the overwhelming B1G power in Happy Valley last year, okay I will stop insulting our readers. Wait, can they read? Just kidding folks this was a fun game last year and while Happy Valley may be the best experience in all of the sports, Jordan-Hare is a pretty great experience too. It isn't often that we get a home and home featuring two great home-field advantages. Auburn plans to start former LSU Tiger TJ Finley at QB, and Penn State is still under the care of Sean Clifford. Anything could happen in this game, but you would have to think the trend continues and home-field holds serve.
---
Iowa State at Iowa
Iowa just has Iowa State's number. Iowa State has had better teams on paper in each of their last few matchups with the Hawkeyes and yet they just cannot get over the hump. Whether it's Matt Campbell forgetting to hand the football off to Breece Hall, or Kirk Ferentz just making fewer mistakes. The Cyclones love to give Iowa turnovers and it's an annual tradition to this point. Can the trend get bucked? Or will the Hawkeyes just keep on keeping on? Can Iowa state field a punt and not run into each other? Seriously it's comical how the Hawkeyes have kept the streak, but these matchups have been enjoyable for the most part so I will tune in yet again.