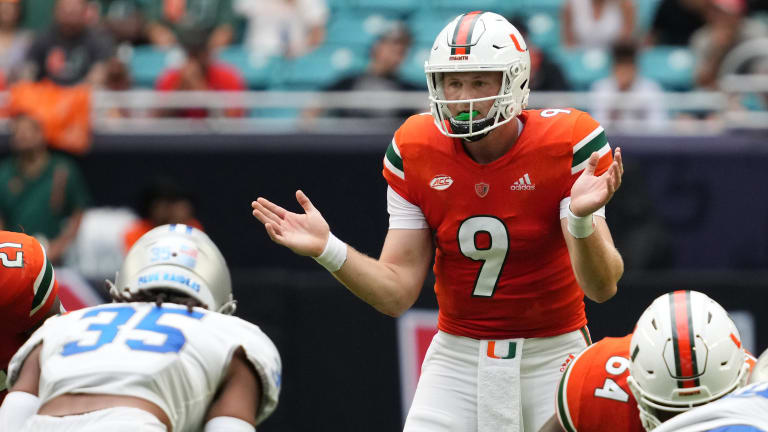 Sunday Feature: Does Miami Actually Matter?
As the Cristobal Era begins, a new round of questions of being back are asked
If I had a nickel for every time I heard a talking head or writer use the cliche, "College Football is better when a certain school is relevant or good," I would be a wealthy man.
One of the talking heads favorite schools to identify is the Miami Hurricanes. Even writers like myself write about the return of the Hurricanes, I wrote this summer how I felt the combination of new head coach Mario Cristobal and athletic director Dan Radakovich might be the combination to rejuvenate Miami.
The Hurricanes since leaving the Orange Bowl after the 2007 season, the Canes have never been the same and truly haven't had a home field advantage that all top football brands leverage. Last season, the Hurricanes averaged 43,698 fans at Hard Rock Stadium, the national average in the FBS last season was 39,848, the lowest average since 1981, goes to show that the support for the Canes are just above average.
In 2018, a year after they won the ACC Coastal Division, the Hurricanes averaged in attendance 61,469 which was good for 22nd in the nation. Last season's attendance is 29% off the 2018 pace.
The television ratings paint a similar picture.
Between 2015-2019, the Hurricanes averaged just over 1.5 million viewers which was good for 23rd. Last season, viewership dropped nearly 33% as the Hurricanes eclipsed just over a million viewers. What has been a lifeblood for the Hurricanes is social media followers, the Canes ranked 15th after last season in total social media followers. 
---
Looking back on the field, in the ESPN 30 for 30 The U, they described a recruiting strategy called "The State of Miami."
This defined recruiting territory is everything south of Highway 4 in Florida that connects Tampa, Orlando, and Daytona Beach. The strategy was back in Miami's prime if they kept the top kids in this area at home, they can compete nationally. 
Over the last ten recruiting cycles, The State of Miami recruiting territory has had 109 prospects high four-star or five-star players (ranked 6.0-6.1 on the Rivals.com grading scale), with Miami gaining commitments from 10. It should be noted, however, that 30 of those 109 players are from IMG Academy in Bradenton, FL, which draws players from across the country, some of whom are from the area originally, but many of whom come from far away (for example, JC Latham, 2022's top offensive tackle, is originally from Milwaukee, WI). Miami landed zero of these players from IMG.
Some notable Miami commits have been James Williams, Leonard Taylor, Al Blades, Mark Walton, Mark Pope, and Chad Thomas.
Some big time (non-IMG) misses have been: Derwin James, Calvin Ridley, Dalvin Cook, Jerry Jeudy, Dallas Turner, and countless more
While Cristobal is trying to reverse a course he helped set when he was at The University of Alabama, it is still a giant obstacle for him. Cristobal has emphasized on rebuilding the first full cycle takes two years. It takes time to recruit your territory and build or reestablish new or key relationships.
One of those key relationships is with Max Edwards, who coaches at Miami Northwestern, spoke about Cristobal's emphasis on keeping the Miami kids at home, "It's been good," Edwards said.. "Mario has been communicating with us. The kids know that Mario wants the recruits to stay home. That makes the kids feel good. So, when you got the kids feeling good about staying home -- anything that they have over there, getting over there (to Miami), the kids are participating."
Another is Miami Killian head coach Bryce Bishop echoed similar sentiments on recruiting Miami successfully, "I feel it's very important because I'd say we have the most talent in the country. And, if you don't recruit Miami, like, why are you not recruiting Miami? You're not trying to recruit Miami, you're not trying to get better."
Cristobal has some top targets that are part of his wish list for the Hurricanes. His top priority for his first recruiting class is five-star cornerback Cormani McClain out of Lakeland, Florida.
McClain is ranked No. 2 nationally in 247 composite rankings is the best cornerback prospect from the region since Patrick Surtain II back in 2018. He was recently seen repping Miami gear in his high schools games.
Other priorities include four-star linebacker Malik Bryant out of Orlando who is trending for the Canes, and four-star wide receiver Jalen Brown out of Gulliver Prep who is committed to LSU but seems to be one Cristobal will try to continue to convince him to stay home. 
---
Most folks feel Miami alienated their fanbase leaving the Orange Bowl to go to Hard Rock Stadium in 2008. The Orange Bowl was located six miles from Miami's campus and there was a sense of community and a bond with the stadium and its fans.
In the last game at their former home, the Hurricanes were routed by Virginia 48-0, and many Hurricanes fans feel the team has been cursed since abandoning the Orange Bowl.
It goes back to my original question, "Does Miami matter?"
I often feel the majority of Hurricane fans fell in love with a team that was the anti-establishment and counterculture of the 1980's and 1990's. The feeling of nostalgia is strong remembering this upstart program who shook the foundations of traditional powers like Notre Dame, Alabama, and Nebraska.
For younger fans, it is the nostalgia surrounding the rebirth of the Hurricanes in the early 2000's. You have the contingent of folks who firmly believe the 2001 team is the greatest team to ever play the game. The mythology around this great team seems to grow more and more every year with their strongest supporters.
Others love the brotherhood that The U represents. When they see Michael Irvin, Warren Sapp, Ray Lewis, The Rock, Reggie Wayne all engage, they love that and want to associate with that era. It is almost stylish and fashionable to be a Miami fan.
The thing is outside of these two runs, Miami outside these two runs are an afterthought historically in college football. Take away their runs from 1983 to 1992 and 2000 to 2002, they are 462-325 as a program, they aren't a traditional power, and their history is on par as a West Virginia or Missouri as a program that is respectable, but you don't hear talking heads go, "College Football is better when the Tigers dominate."
---
Last night, the Hurricanes were upset by Middle Tennessee State 45-14 at home. Three killer turnovers and poor play from quarterback Tyler Van Dyke, who was heralded by many prognosticators this summer as the top quarterback in the ACC, was benched for Jake Garcia who didn't do that much better were serenaded by boos by a half filled stadium in Miami. 
Middle Tennessee head coach Rick Stockstill motivated his team by saying to them pregame, "We came down here and I told them Michael Irvin and Ray Lewis and those guys weren't coming out of that tunnel."
This isn't an indictment on Cristobal, I am not going to write he is going to be fired, its four games, but like he said, he needs two full years to complete his first full cycle and even then it is tough to say where the Hurricanes are at.
The hyper-competitive recruiting territory they reside in is a blessing and a curse. While all the players they need to restore the Hurricanes position amongst the nation's elite is right there for them, however they got to convince all these kids together they can do it with almost every elite program residing right in their recruiting territory.
While I do still believe Cristobal and Radakovich is the best combination to get Miami's program positioned to return to the nation's elite, it is still a daunting task.
---
People who continue to seek answers for "Is Miami back?" the answer is no, and being back for those people is that rare dynasty very few programs ever achieve.
Miami's goals should be seeking stability and building a strong program. Radakovich is as good as it gets at building the infrastructure necessary to give a head coach like Cristobal the resources necessary to compete. Cristobal hasn't grown roots long enough at any program to demonstrate he can sustain success. He has the enthusiasm for the rebuild, but can he be the long term vision of the program, that is to be determined.
To me, the answer is you will never see The U era Canes ever again, if you ever want to see them again you need to turn on ESPN Classic or go to YouTube and see them again.
The question of are they back shouldn't be asked until they can complete a successful season, in 2017 after 10-0 they lost the rest of their games, and haven't won a major bowl since the 2003 season.
Does Miami matter? It does for those who are invested in the Miami program but for most college football fans it's a historical footnote with a decade of incredible peaks and surrounded by decades of mediocrity.