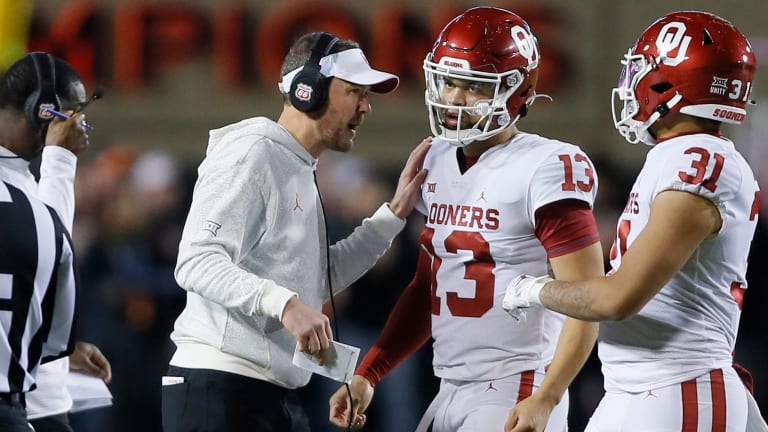 Sunday Feature: Quarterback Development
With more elite programs turn to elite underclassman at quarterback, how are they developed?
Laying on the turf in Darrell K Royal-Texas Memorial Stadium Saturday afternoon, Texas quarterback Quinn Ewers took a massive hit from Alabama linebacker Dallas Turner that most likely ended his season. 
Texas head coach Steve Sarkisian stared on hopeless in the situation. 
While the first thoughts was hoping that Ewers would be okay and the injury wouldn't be significant, we have to surmise that Sarkisian is beginning to think about how this injury would impact Ewers development and other long term planning including what his quarterback depth chart will look like in the next few years, especially with Arch Manning arriving next year. 
Developing quarterbacks is a science, and each school is in constant pursuit to find masterminds to develop quarterbacks as well as finding new innovative strategies to develop young quarterbacks. 
---
Three Foundational Key Skills 
When assessing a quarterback's skills, to me there are three key skills that are a foundation to the assessment: 
Quick Release 
Arm Strength 
Accuracy 
While there are other skills to mention like footwork and other mechanics, pocket presence, mobility, the ability to read defenses and make adjustments, the three above are the foundation the stem from these skills. 
Quick Release
At every level in football, the importance for a quarterback to possess a quick release becomes more paramount. The time the defenders can get to the quarterback gets faster, but more importantly the time a passing window gets smaller as well. 
Coaches typically when an elite quarterback arrives on campus will simply make them perfect a quick release. 
One of the great all time releases was possessed by former Pitt quarterback and NFL hall of famer Dan Marino. This assessment here is a great video breaking down Marino's famous release: 
Arm Strength
Most coaches will profess that once they know a quarterback can get the ball out quickly, the next important skill in the process is how hard they throw the ball. 
Arm strength is typically broken down into two facets:
Velocity
Distance
Velocity being how fast they can deliver a ball in practice and in a game situation. Distance is the old method of how far the quarterback can throw the football both standing in the pocket and on the run. 
One of the more recent legendary strong arms is from former Wyoming and current Buffalo Bills starting quarterback Josh Allen.
Accuracy 
Finally when a coach has a quick release perfected, and then the quarterback has a strong arm on the throws from that release, the final foundational skill in developing and assessing the quarterback is accuracy. 
Accuracy as a quarterback advances in each level in football becomes more and more important. 
Coaches usually breakdown accuracy on three levels:
1. Accuracy in the short areas: Can the quarterback get the ball quickly and cleanly across the middle and in the flat.
2. Accuracy outside the tackle box: Can the quarterback drive the ball outside the numbers.
Quarterbacks are asked to do more in the game that is now focused on passing first.  A quarterback must be able to move outside the pocket/tackle box and reset his body to locate a throw accurately. 
How well does the passer control the location of the ball when throwing outside the tackle box is always being assessed.
3. Accuracy Deep - Quarterback throws that travel more than 25 yards down field.
The questions coaches are seeking answers for are: How accurate are the passes? Is the ball delivered up-field so the receiver can run under it? 
Does the quarterback lead the receiver to the sideline when needed?
Accuracy Deep not only takes into account long vertical throws, but also sideline throws from the opposite hash where a potential 15 yard pass vertically will have to travel over 30 yards to complete.
One of the more recent examples of exceptional accuracy at all three levels was exemplified by former LSU and current Cincinnati Bengals quarterback Joe Burrow: 
---
Top 5 Coaches/Schools At Developing Quarterbacks Right Now
There are many factors that go into where a player will play college football. Name, Image, Likeness (NIL) opportunities has risen to become a significant factor. 
Elite quarterbacks strongly consider the better the offensive systems, track records, producing All Americans/Heisman Trophy winners, and ultimately getting drafted into the NFL are key factors. 
Here are my Top 5: 
#1 Lincoln Riley 
For the longest time, USC has been one of the top quarterback factories in college football. When you add in the Southern California area as a fertile hot bed of quarterback talent and then the addition of Lincoln Riley strengthens USC's recruiting pitch. 
Riley has developed quite a nice quarterback resume. Heisman Trophy winners and first overall picks, Baker Mayfield and Kyler Murray are Riley's signature pupils. 
Riley fine-tuned and polished Jalen Hurts' skills before sending Hurts to the NFL Draft and currently a starter with the Philadelphia Eagles. 
His current quarterback Caleb Williams is the latest in the Lincoln Line of quarterbacks who looks like another Day 1 NFL Draft pick. 
#2 Alabama Crimson Tide/Nick Saban
There was a time the narrative in the Nick Saban Dynasty that they couldn't produce a pro quarterback or even have an elite one. After Saban brought in men like Lane Kiffin, Steve Sarkisian, Mike Locksley and now Bill O'Brien who have impeccable resumes coaching quarterbacks the talent has been off the charts. 
Tua Tagovailoa, won a national championship, was a Consensus All-American, won the Maxwell and Walter Camp Awards, and was a first round pick for the Miami Dolphins. 
Mac Jones, won a national championship, was a Consensus All-American, won the Davey O'Brien, Manning, and Johnny Unitas Awards, and was a first round pick for the New England Patriots. 
Jalen Hurts spent the majority of his time at Alabama before getting polished by Lincoln Riley at Oklahoma. Saban's current prized pupil is last season's Heisman Trophy winner Bryce Young, who seems destined to be the next great Tide quarterback to the NFL. 
With prized recruits such as Ty Simpson and Eli Holstein in the pipeline, the quarterbacking mastery of Alabama doesn't seem to be slowing down.
#3 Steve Sarkisian
Entering his third decade at developing quarterbacks, Steve Sarkisian's resume speaks for itself. He played a role in developing Heisman Trophy winners Carson Palmer and Matt Leinart at Southern Cal,  as a head coach at Washington he coached Jake Locker up to a Top 10 pick in the NFL Draft. 
He was also critical in the development of Mark Sanchez, Tua Tagovailoa and Mac Jones.With Texas having Quinn Ewers, big armed Maalik Murphy, and with Arch Manning in the pipeline, Sarkisian has the Longhorns positioned to see a string of great quarterback play in Austin. 
#4 Clemson Tigers
Dabo Swinney has created a culture for quarterbacks to flourish in recent years. His list of pupils includes DeShaun Watson, Trevor Lawrence, D.J. Uiagalelei and Cade Klubnik. 
Considering Clemson made the College Football Playoff every year from 2015-2021 makes the Tigers a popular destination.
It will be interesting this season with new offensive coordinator Brandon Streeter can continue the momentum set by his predecessor Tony Elliott.
It will also be interesting to see the continued development of D.J. Uiagalelei, who was a former 5-star quarterback. 
#5 Ohio State
Ever since Urban Meyer took over at Ohio State in 2012, the Buckeyes have seemingly had great quarterback that current Buckeyes head coach Ryan Day continues. 
In the past decade, the Buckeyes have had a monopoly on the Big Ten Offensive Player of the Year Award as four of the previous five starters won the award: Braxton Miller, Dwayne Haskins, Justin Fields,  and C.J. Stroud.
The starter who didn't win the award, J.T. Barrett all he did was break former Purdue quarterback Drew Brees conference records for career yards and touchdowns.
Current quarterback C.J. Stroud is a contender for the Heisman Trophy and with the deep wide receiver unit looking to continue to build on the success they had last season.