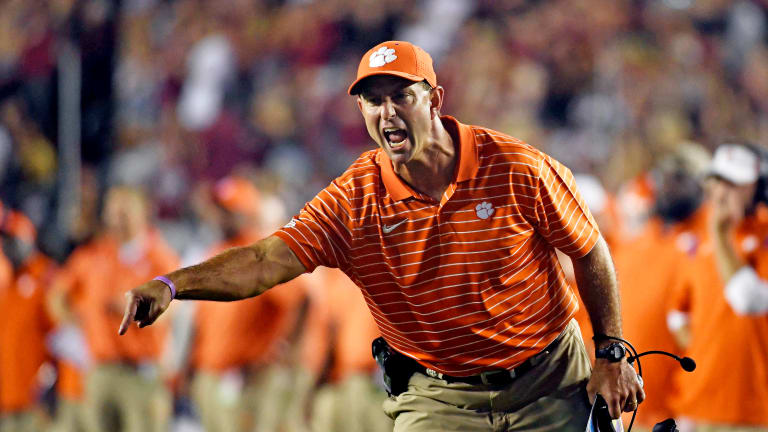 Sunday Feature: The Future of the ACC
The future of the ACC with NIL, College Football Playoff Expansion, and the consolidation of conferences
Over the last few years, seismic shifts in the college football landscapes have rocked the foundation of the Power 5 conferences and brought existential questions to each of them. 
The SEC and Big Ten have positioned themselves for the foreseeable future with the expansion of Texas, Oklahoma, Southern California, and UCLA. The Big Ten also recently signed a media rights package that has a professional sports treatment of their content on the major networks. 
The SEC has been mum on its next expansion moves. Many analysts and reporting venues ran with SEC commissioner Greg Sankey's words of strategic geographic partnerships, much akin to political strategist Lee Atwater's "Southern Strategy," to build a powerful brand with a regional feel and the logical spot to look was the neighboring ACC Conference. Various predictions saw Clemson, Florida State, Georgia Tech (in their case returning), Miami, North Carolina, and even Duke heading to the SEC while other schools such as Virginia, Boston College, and Syracuse would potentially jump to the Big Ten, essentially cannibalizing ACC. 
Then the legalese came to the forefront when we all learned part of the ACC media rights contract was a section called the "grant of rights." 
A grant of rights is an agreement where member schools agree to transfer their media rights to their conference for a set period of time. The key part for the schools in this business relationship is the agreement is set to be irrevocable. In return, schools are able to rely on one another to receive media dollars for their content, do long-term planning for their athletic departments, and have a set conference schedule and familiar teams to play every year.
For the ACC, their current grant of rights agreement expires on June 30, 2036. When you look at the recent expansion moves by the Big Ten and SEC the schools moved in on conferences with expiring grant of rights agreements. 
While it is hard to say what will happen between now and 2036, how can the ACC remain viable and stick together when the SEC and Big Ten come lurking? 
---
#1 Having national powers and national championship contention in the "Big Three"
The three of the top four revenue-generating sports in college athletics are football (No. 1: average school generates $31.9 million), basketball (No. 2: average school generates $8.1 million), and baseball (No. 4: average school generates $1.25 million) (hockey is No. 3 with average school generating $2.5 million and the ACC does not participate in). 
Over the last decade, eight current ACC schools account for 19 appearances in final fours appearances across those three sports and account for eight national championships. 
That is the national relevancy needed to be an attractable brand. 
While the North Carolina and Duke basketball brands seem to be the strongest in the conference, it is football that drives the narrative of where these teams end up. UCLA basketball is the blueblood of bluebloods of the hardwood and that didn't stop them from going to the Big Ten. 
---
#2 Miami and Florida State End Their Hibernations
The ACC's football big three consists of Clemson, Miami, and Florida State (at least on paper). The Florida schools, however, seem to be in a decade or two long hibernations at this point, a far cry from what both schools did in the 1980s, 1990s and early 2000s. 
Between 1983 and 1993, the winner of the Miami and Florida State game played for a shot at the national championship eight times winning five national championships. Florida State from 1987 through 2000 finished in the top four in each poll and played for five national championships between 1993 and 2000. Miami in the early 2000's rattled off a 34-game winning streak and Miami has beaten opponents by an average score of 42-17, with 12 victories against Top 25 teams, including five Top 10 teams, and played for two national championships. 
Since the tumultuous ends to the Larry Coker and Jimbo Fisher tenures at each school, it seems to be trying to figure out how to clean up the messes left and get back among the nation's elite. 
Miami took a giant leap in the right direction getting Mario Cristobal to return as head coach and with Dan Radakovich as athletic director. Each has taken significant strides to get the Hurricanes back to relevancy with the proposed and current facility upgrades and with Cristobal trying to end the mass exodus of exceptional South Florida talent leaving Miami. Cristobal is already locking down the 'State of Miami", as evidenced by a huge recruiting win last week with the commitment of five-star Cormani McClain.
At Florida State, Mike Norvell entered the 2022 season with his future at the school in Balance. A signature win on opening weekend against LSU in New Orleans gave him the momentum necessary to start to spring back to where the Seminoles believe they belong. A midseason lull against NC State, Wake Forest, and Clemson saw the Seminoles lose all three but all by a combined 18 points signifying significant progress under Norvell. 
With the state of Florida being one of the top states people are moving to, having more eyeballs on them is key in a new media deal, and if them returning to the nation's elite is critical for ACC viability.
---
#3 Clemson's Post-Dabo Contingency Plans
Clemson is a current national power that has produced for the conference with six consecutive College Football Playoff appearances, four national championship game appearances, and two titles. But it is hard to say how long Dabo Swinney will remain with the Tigers.
Swinney has an all-time resume. The former Alabama wide receiver has won over 80% of his games with Clemson, the national championships, a dozen coach of year citations from various awardees, and has coached in every major bowl game (except the Rose Bowl). 
Questions still loom on Swinney's future, however. The big question on everyone's mind for a long time relates to his alma mater. Alabama head coach Nick Saban is 71 years old and the questions are starting to swirl on when is retirement coming for Saban. Even Clemson has recognized this threat by adding the "Alabama Clause" in his contract for a higher buyout if he were to go to the Crimson Tide. 
Even if Swinney doesn't return to Alabama, there are 14 years that separate us between now and the end of the current grant of rights. In 2036 Swinney will be 66 years old, he loves it now, you don't know what life throws at you, his priorities may change and for how accomplished Swinney is right now, what more is there to prove for him? 
Swinney is the foundation of Clemson's football program but also has Clemson positioned as the foundation of the ACC conference as a whole. 
---
#4 Football relevancy in key markets
In business, one of the core concepts you always hear being brought up when you are starting a business or looking to expand your business model is the concept of "location, location, location." The extra emphasis on saying location three times is most people overlook or don't even consider the importance of location. 
For the ACC, they have prime location assets in its marketing portfolio but don't have teams fully leveraging those markets. To me, the number one location not being fully leveraged is Georgia Tech. 
While the Ramblin' Wreck pride themselves on high academic standards and ventures, the location of Georgia Tech couldn't be any better in the heart of Atlanta. The issue with Georgia Tech is they lose more than 90% of the time the recruiting battles with in-state juggernaut and national power Georgia. 
Since winning a share of the 1990 national championship, Georgia Tech has won 10 or more games in a season only three times and hasn't been to a bowl game in the previous three seasons. Getting the right coach and culture established should get the Yellow Jackets pointed in the right direction. Someone has to remind themselves that Calvin Johnson went there. It isn't impossible to get those kinds of elite talents on campus.
North Carolina is another school that is a head-scratcher as to why they haven't figured out how to be a perennial football power. Mack Brown, who was the last coach to have North Carolina finish in the Top 10 in consecutive seasons, returned to Chapel Hill in 2019 and is getting that program back to national relevancy behind quarterback Drake Maye. Brown since his return got North Carolina to a New Year's Six Bowl in 2020, and this season could return to a major bowl with wins against Wake Forest and NC State. 
After the fallout of the Justin Fuente era, Virginia Tech looks to Brent Pry to return the Hokies to the nation's elite. The state of Virginia is one of the most fertile recruiting states in the country, and Pry looks to reverse the mass exodus of talent he helped create while serving at Penn State. However, both the Hokies and their in-state rival Cavaliers in Charlottesville are having atrocious first seasons under new coaches.
---
#5 Do the basketball brands that matter have the right successors?
If there ever were any basketball brands that have influence over a direction of a conference, it would be in the ACC with Duke and North Carolina. Over the last two seasons, both schools saw the retirements of coaching immortals Roy Williams at North Carolina and Mike Krzyzewski at Duke. 
Both these schools are arguably the top two basketball brands in college basketball (with Kentucky and Kansas having strong arguments), and the transitions under both programs are being watched with extreme amounts of scrutiny.
For North Carolina, it saw instant success in Hubert Davis's first season losing in the national championship to Kansas last season. The Tar Heels are the overwhelmingly No. 1 team in the nation, and so much so Sports Illustrated recreated the iconic 1981-82 cover for this year's squad.
For Duke, they enter the unknown with Jon Scheyer, who is tasked with the impossible task of replacing Krzyzewski. The Chicago native is entering his first season in Durham. Not only are these bluebloods cornerstones and bedrocks of the ACC conference as a whole, but when the contract comes up for negotiation, the value of having these brands broadcast across the nation is a huge part of it. 
This isn't a disrespect to what Tony Bennett has done with Virginia, or strong programs like Syracuse or Louisville, but they don't have the influence or cache nationally as a Duke or North Carolina. When coupled with football powers like Miami, Florida State, and Clemson, it would be a huge windfall of keeping the ACC viable if North Carolina and Duke basketball are still prominent.
---
Conclusion
It's evident that the biggest difference between the situation of the ACC and that of the Big XII and Pac-12 is that the ACC has the right markets and assets in its portfolio that demand respect and relevancy. This is no disrespect to the remaining schools in the Big XII and Pac-12, but when the SEC and Big Ten look at splitting their pie up, how does an Oregon State or Texas Tech bring more value for everyone's cut?
To me, as we inch closer to 2036, the ACC controls its own future in my estimation to not only be viable but also have a seat at the table with the Big Ten and SEC. The Big Ten didn't do itself any favors raiding alliance partner of the Pac-12 that may have an effect on which side the ACC will partner with moving forward. 
To me, the demise of the ACC can only happen if key parties refuse to collaborate and stick together. If Clemson bolts to the SEC or the Carolina schools decide to jump to the Big Ten, this conference is doomed. 
However, I feel that isn't what these schools want collectively, and would rather work with one another. I didn't add Notre Dame to my Top 5 because lets be honest with the situation, Notre Dame will never join a conference unless they cannot get a competing broadcasting contract and it seems NBC-Peacock is happy to continue their partnership. The ACC will enjoy their partnership they have, as it adds value in any media rights negotiation but one that will never be more than it is.
The 2036 question cannot be answered for now, but what can be said is key members of the ACC - Clemson, Florida State, Miami, North Carolina, and Duke - control the future of this conference, if they decide to bolt, the expansion carousel will spin faster and more furious than ever before.