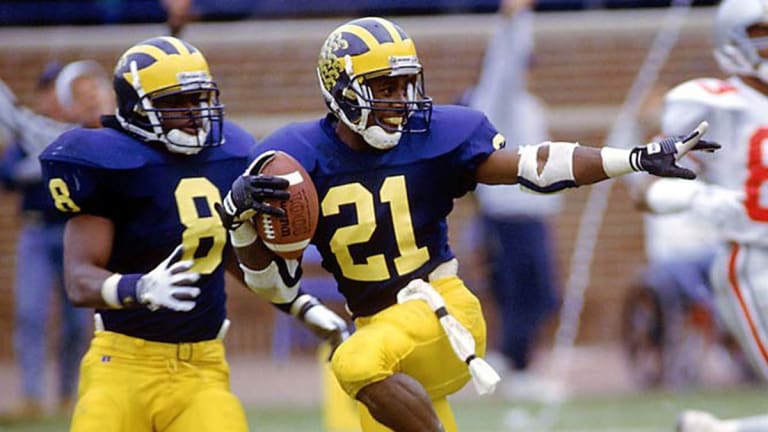 Sunday Feature: The Game
Michigan and Ohio State titanic clash Saturday is another installment in the sport's greatest rivalry
To me, there is no rivalry in collegiate sports that is on par or with Ohio State and Michigan. 
The closest rivalry that comes to this is on the hardwood between Tobacco Road rivals North Carolina and Duke who are only separated by 11 miles and features some of the greatest basketball has to offer. 
In football, Army/Navy and Southern Cal vs. Notre Dame come close but there isn't that same feel. 
Army/Navy for civilians is a patriotic game, and everyone has a side they root for. For those that served, the game is way more personal and intense. But after the game, they lock arms and mutual respect is demonstrated as each sings their alma mater as the goal is to sing second. 
Notre Dame and Southern Cal are the bluest of football blue bloods. So while there is dislike amongst the bases, its rivalry was built on the mutual respect of Knute Rockne and Howard Jones. That gave birth to arguably the sport's greatest out-of-conference rivalry. In comparison, Michigan and Ohio State's rivalry predated its football rivalry as the two states waged a war over the Toledo Strip, and the emotions from the Michigan-Ohio War have not been subdued and carried over to football.
Other rivalries such as The Iron Bowl, where Paul Finebaum made millions simply by exploiting two heated rivals in Alabama and Auburn may match in contempt for one another, I don't know if Michigan and Ohio State have their "Al from Dadeville" but Auburn isn't exactly a football blue blood. 
The Red River Rivalry, because it is played so early, misses the opportunity to have a fever pitch championship aspirations. We saw a sample of this intensity when Oklahoma and Texas met in the 2018 Big XII Championship Game. 
Overall, what puts Michigan and Ohio State at the top (at least in my mind), is that it has all the ingredients, and it always seems to have championship implications. 
The Game itself is played always on the same week and at the same time every year like clockwork.
You have the bluest of blue-blood football programs that have a rich history. You have serious hate and disdain between the fan bases. It doesn't take much of a flicker to ignite a giant inferno between the two.
This week in Columbus, they only have 25 letters to the alphabet as the letter M is not recognized in their vernacular as they "X out the M". 
For the fourth time in the long history of the series and the first time since the 2006 "Game of the Century", Ohio State and Michigan are undefeated to settle who will go to the Big Ten Championship Game in Indianapolis in two weeks. 
In the prior three head-to-head matchups between the programs when both are undefeated, Ohio State has never lost, going 2-0-1, with the lone tie coming in 1973. So while Michigan did not lose that game, there had to be a vote on who would go to the Rose Bowl, and while the no-repeat rule was no longer a factor, most thought Michigan was going to the Rose Bowl. 
After Big Ten commissioner Wayne Duke announced the 6-4 vote in favor of Ohio State, Michigan head coach Bo Schembechler would call it the darkest day of his athletic career.
---
For the 2022 edition, the stakes couldn't be any higher for either program.
Ryan Day, in his young coaching career, has accomplished quite a bit. He has a 31-1 record in Big Ten play, won two Big Ten championships, won major bowls, and coached in the national championship game. Missing from his resume is a national championship. A win Saturday would solidify a berth into the College Football Playoff. 
When you look at Day's conference record, the one in the loss column came to Michigan last season when the Wolverines won in Ann Arbor 42-27. For Day, it will be key to reassert Ohio State's dominance over Michigan. The Buckeyes are 17-3 over the "Team Up North" since the infamous  Jim Tressel Speech.

Day's coaching counterpart Jim Harbaugh is trying to prove last season wasn't a fluke. The former Wolverines quarterback is slowly turning the tide of the rivalry back the team from Ann Arbor. 
The other major streak Harbaugh is trying to snap is Michigan's failures at the Horseshoe. The last time Michigan won at in Columbus was in a 38-26 victory in 2000.
The last time Michigan won back-to-back against Ohio State was the 1999-2000 games. 
With a win against Ohio State, Michigan would also solidify a College Football Playoff berth and look to reassert itself amongst the national powers. 
A major component to Michigan's success this season has been running back Blake Corum who has rushed for 1,457 yards and 18 touchdowns and entered this week leading the nation in PFF's Wins Above Average metric amongst non-quarterbacks, suffered an apparent leg injury against Illinois yesterday.
Harbaugh said after the game in a status update with Corum's injury, "Structurally good, which is great news," and said they would evaluate him over the next few days to see how he feels. 
Corum has been playing at a Doak Walker Award level and was heavily in the Heisman conversation. 
If Corum is able to go against the Buckeyes, he would look to put on his signature Heisman moment against the Buckeyes, something 1997 Heisman Trophy winner Charles Woodson did on a legendary punt return to shift the momentum away from the Buckeyes. In most rivalries, that moment would be the greatest punt return ever in a series. But when it comes to The Game, it was 1991 Heisman Trophy winner Desmond Howard who gave us not only the greatest punt return but arguably one of the signature moments in the history of the sport with "The Pose," coupled with legendary broadcaster Keith Jackson going emphatically "Hello Heisman!"
Ohio State doesn't lack anyone in Heisman contention. 
Quarterback C.J. Stroud is looking to remind Heisman voters why he deserves their vote. Overall Stroud leads the nation in QBR in 89.7, he is tied for first in touchdowns with 35 thrown this season. What is missing from Stroud's resume is a signature performance, he delivers one against the Wolverines they might start engraving his name on the trophy.
---
However, both sides have as many questions as well. 
Michigan quarterback J.J. McCarthy continued his uninspiring play against a very talented Illinois team, going 18 for 34 passing for 208 yards. In three November games, he is completing only 50% of his passes for 488 yards and four touchdowns. 
If Corum isn't a go, the Wolverines are hoping sophomore Donovan Edwards can take the reins against the Buckeyes. He saw limited action against Nebraska, then Harbaugh was optimistic he might be able to go against Illinois, but he did not play. If the Wolverines are without Corum and Edwards, the depth beyond that is thin and a shell of what has been a Top 5 rushing unit all year. 
This puts the onus on McCarthy to perform. And quite frankly, we haven't seen a pass first Michigan team all year, as McCarthy has been held to under 200 yards passing in six of his previous eight starts. 
On the Ohio State side, it is becoming evidently clear that freshman Dallan Hayden, who put up 146 yards and three touchdowns in a shootout with Maryland, is at minimum the backup to Miyan Williams, who suffered a lower leg injury against Indiana. If Williams cannot go, it will be Hayden getting the lion's share of the carries for the Buckeyes. 
Did Maryland give Michigan any clues to cracking Jim Knowles' defensive codes? Maryland was able to give Ohio State a game late into the second half with quarterback Taulia Tagovailoa throwing for nearly 300 yards and being responsible for three touchdowns (2 passing, 1 rushing).
As the week progresses, there will be plenty of questions asked and eventually answered. It doesn't have a fancy name. It is simply The Game. There is so much history and fanfare between the clubs. Everything is on the line. it doesn't need any more promotion than that. 
After watching South Carolina obliterate Tennessee's playoff chances, the door is open for two Big Ten teams to make the College Football Playoff. TCU is looking vulnerable and Southern Cal still has two huge tests in Notre Dame and the Pac-12 Championship game to overcome. If the showing is good in Columbus (à la 2006), the loser may still backdoor their way into the College Football Playoff. 
I am not sure anything ever could supersede The Game, but if both Ohio State and Michigan were to have an encounter in the playoff, all bets are off. And much like this week, even with all the questions on both sides, all bets are off. 
That is what makes The Game the absolute best rivalry in college football.