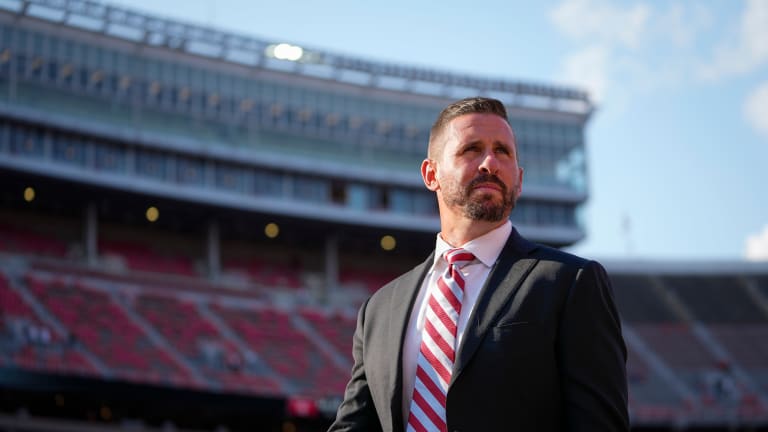 Sunday Feature: The Wide Receiver Whisperer
How Brian Hartline Has Turned The Buckeyes Into WRU
Alabama head coach Nick Saban offered praise to eventual Detroit Lions first-round pick wide receiver Jameson Williams, who was coming off an injury in the national championship against Georgia, "He's got great speed, and I think he's a guy that can really take the top off. He can do more than that because he's got some catch-and-run ability. But I really love Jameson. He added so much to our program."
For Williams, the Crimson Tide was an opportunity to contribute on the field and have a defined role. For the Tide, he did not disappoint. Williams finished his All-American 2021 campaign with 79 receptions, 1,572 yards, and 15 touchdowns, averaging nearly 20 yards per reception.
Part of wanting to be an instant impact at Alabama was to prove to his former team that he was worthy of having a defined role carved out for him. 
"To me, things were just unclear, I wasn't certain of my role in the offense. The receiver room got crowded. I just decided I needed a fresh start. I decided to enter the portal," said Williams of a very crowded wide receiver room at Ohio State.
Williams entered a battle for the WR3 with Jaxon Smith-Njigba, with the top two wide receiver positions already filled by eventual first-round selections Chris Olave and Garrett Wilson. 
The wide receiver room was ever deeper beyond those four. Behind them are Julian Fleming (No. 1 receiving prospect in the 2020 class), Emeka Egbuka (No. 1 for 2021), and Marvin Harrison, Jr., another former five-star recruit and son of a Hall of Famer and NFL 100th Anniversary team Marvin Harrison. The Buckeyes also have two other highly sought after wide receivers in Kaleb Brown and Caleb Burton who are both true freshman from the 2022 class.
Ohio State was in a rare position to lose a top talent like Williams and not lose sleep over it but their coach Brian Hartline knew what kind of talent was departing his program.
"He … spent the first two years of his career with us and then you know, in June, headed down to Alabama and really at the end of the day, it was just one of those things where we had Jaxon Smith-Njigba, so we were (basically fine)," Hartline said. "We just had an honest conversation in the spring, long story short, it just kind of was, you know, there's pressure to put myself in position to be a three-year-and-out kind of guy. (But I said), listen man, I don't know if I can guarantee you that right now. But if you're here and graduated, a fourth year, you're going to reach all of your dreams. You're a top 15 guy … I thought fairly highly of him. I love (Jameson)."
To think Hartline is content with the quality in his room would be a mistake, currently the Buckeyes have in the pipeline commitments from five-star Brandon Inniss No. 18 overall nationally, and from four star wide receivers Carnell Tate - the No. 3 wide receiver nationally, Noah Rodgers - the No. 9 wide receiver nationally, and Bryson Rodgers.
Hartline secured commitments on back-to-back-to-back days from Inniss, Tate and Rodgers in late June, and all three ranked in the top 10 wide receivers for the Class of 2023.
If you think Bryson Rodgers is easily poachable, think again, Michigan coach Ron Bellamy learned the hard way how committed Rodgers is with the Buckeye program, when he received a text that simply said, "Go Bucks." 
Widely seen as not only the best wide receiver coach, but also as the best recruiter in the country. Hartline has recruited 47 Top 100 wide receivers and secured 15 commitments during his time, that is nearly double the second best school for Top 100 commitments at the wide receiver position.
Hartline described his simple approach, 
"I think it probably always starts with being yourself," Hartline said of his recruiting approach. "I think at the end of the day, you know, I don't want to trick anybody into doing anything … I don't want them to think I'm somebody I'm not. And those that appreciate that will pick Ohio State, the Buckeyes, our quarterbacks, our offense and our receiver room and we'll go down that road. 

"So being true to yourself, I think is really, really important. It's really easy to gear yourself to others because you have a job you want to get done. And you just got to make sure you're just being true to yourself." - Brian Hartline on his recruiting strategy
While Hartline is being humble in his approach, there is a lot more hard work that goes on behind the scenes when he seeks the top talent. He is upfront with the perspective recruit and he explains the system the Buckeyes utilize, and a system in an era of the Transfer Portal, outside of Jameson Williams only Mookie Cooper (to Missouri) has transferred, has received significant buy in from both recruits and current players.
Brandon Inniss explained Hartline's recruiting pitch, "Coach Hartline is like no other coach," Inniss told Eleven Warriors. "He breaks down the game to you in a way that no other coach will. It's amazing to see what their receivers do in and out every single year."
The scouting and analysis that Hartline does on every recruit is another reason they are a few steps ahead of their competition. Ohio State offered Jaxon Smith-Njigba, a Rockwall, Texas native, before Texas even did. The game footage Hartline pours over even keeps him ahead of the recruiting services as 247 national recruiting analyst Cooper Petenga explains, "Bryson Rodgers, that's Ohio State dug that guy out. That's a case of Ohio State doing more homework on a guy like than their competition and the recruiting industry. We went back and did our homework after they offered him," Petagna said. "Noah Rogers is a guy that's continued to improve. They've been early on guys. Even when you have the wind at your back, you still have to execute. I think they're better than anybody else in the country in that regard."
It is that sort of detail that led to the success at this past NFL Draft, Hartline celebrated as two of his prized pupils, Chris Olave and Garrett Wilson were drafted 10th and 11th overall, he quoted musical artist Drake on Twitter saying, "Just like Drake said.."we go back to back…"
With former pupil Jameson Williams going 12th overall, it was better than an advertisement or promotion anyone could do for Hartline. The fact that there was a time that three of the first 12 picks were in Hartline's room - and that the 12th pick in the draft lost his spot on the depth chart to another potential first rounder in Jaxon Smith-Njigba, says more than words ever could.
Smith-Njigba had a historic Rose Bowl with 15 receptions 347 yards and three touchdowns coupled with a record breaking season for most single season receiving yards in Ohio State history passing David Boston with 1,606. Most had him in the Heisman conversation and potential top 2023 NFL Draft choice, but he has been sidelined with a hamstring injury he suffered during a Week 1 contest, has not returned since.
Hartline has relied on production from Egbuka, Harrison Jr., and Fleming to continue the momentum of elite wide receiver play in Columbus and they haven't disappointed contributing significantly to the Buckeyes' nation-leading 48.8 points per game through week 5.
As long as Hartline is in Columbus, he will be "The Wide Receiver Whisperer" and able to bring out the best in elite receiver talent and develop the projects that possess high ceilings that could go to the NFL and continue the dominance Ohio State has experienced the last decade.