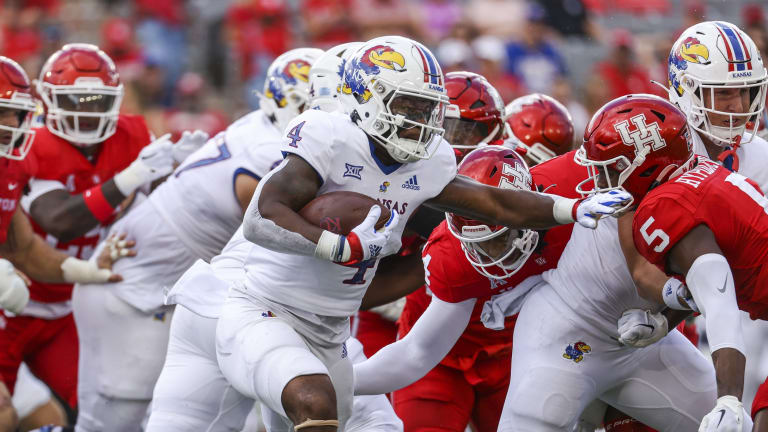 Survivor Pool: Which College Basketball Blue Blood Stays Undefeated Longest?
Which Hardwood Blue Bloods Will Remain Undefeated After Saturday & When to Expect First Loss?
With Midnight Madness starting for most basketball powers over the next two weeks, most fans at their schools already have those dates circled on their calendars. At college basketball bluebloods UNC, Duke, Kentucky, Indiana, Syracuse, UCLA, Kansas and Indiana, their contemporaries on the football field have held up their end of the bargain, all being undefeated entering Week 4 of the college football season.
Let's break down these undefeated basketball powers and figure out who will stay out of the loss column the longest.
---
Duke & Kansas
Two basketball powers that have combined for 4,603 wins, 33 Final Four appearances, and nine national championships square off this weekend in Lawrence. Kansas coach Lance Leipold has rejuvenated a once dormant program, and they can legitimately have postseason aspirations for the first time since the 2008 Insight Bowl.
The Jayhawks are averaging 53 points per game this season, which is No. 3 in the country, behind junior quarterback Jalon Daniels and running back Devin Neal. Daniels has completed 67% of his pass attempts for 566 yards with seven touchdown passes to one interception. True sophomore Neal is averaging nearly eight yards per carry, and has five total touchdowns this season.
Under first-year coach Mike Elko, the Blue Devils have defeated Temple, Northwestern, and North Carolina A&T behind a defense that has given up only 14.3 points per game, good for 24th in the country. Elko's first prized recruit, four-star defensive end Vincent Anthony Jr. has made an early impact this season as a true freshman with five tackles, two tackles for loss, and a fumble recovery.
Prediction this weekend: Kansas over Duke
The Jayhawks should win a close game based on the fact that they've been more tested than the Blue Devils and because they've been together longer. Elko has already surpassed expectations for his first season in Durham, so a loss here is not the end of the world by any means for Duke.
Will the Jayhawks be undefeated for Midnight Madness?
Jayhawks' Midnight Madness happens October 14th, and they have Iowa State and TCU at home in consecutive games leading up to that. I think Iowa State clips them next week.
---
Indiana
The Hoosiers complete their out-of-conference slate heading to Cincinnati, who made the College Football Playoff last season. This season, the Bearcats are averaging 41.3 points per game behind Ben Bryant, who is completing over 70% of his passes.
For the Hoosiers, they are in the bottom half of the country in both scoring offense (79th) and scoring defense (64th) with a points differential of +12.
Prediction this weekend: Loss to Cincinnati
The Bearcats played stride for stride with Arkansas in a loss and demonstrated that Luke Fickell has developed them into a legitimate Top 25 program. Indiana is nowhere near them talent-wise.
---
North Carolina
Is the glass half empty or half full for Mack Brown's Tar Heels?
The half full is a potent offense scoring 51.3 points per game, with freshman Drake Maye looking like a future starter in the NFL. He's completing nearly 75% of passes and has thrown for 11 touchdowns to only one interception. The Tar Heels can score.
The half empty is a lackluster defense that is 118th in the country in scoring defense at 37.7 points per game. While I'll grant you the fourth quarter of the Appalachian State game has skewed that statistic, they did give up 28 to Georgia State as well.
The Tar Heels bring in Notre Dame, who is offensively challenged this season. If Notre Dame would like to get back on track offensively, there is no better situation than against these Tar Heels.
Prediction this weekend: UNC over Notre Dame
Notre Dame is broken, they will find some offensive success, and while they are superior defensively, I feel the Tar Heels' offense is one that will be able to move the ball and capitalize on poor Notre Dame's offensive mistakes.
Will they be undefeated at Midnight Madness?
This rides on a UNC offense taking command and the UNC defense improving and limiting liabilities. Carolina Basketball Midnight Madness occurs a day before the Virginia Tech game, which is their next opponent. Tar Heels should beat a struggling Virginia Tech.
However, they follow that up with a tilt at Miami, a game I feel will be a lot closer than people think. So while I wouldn't be surprised if the Tar Heels beat the Hurricanes, Miami should take this one at the end of the day
---
Syracuse
Dino Babers has to enjoy what junior quarterback Garrett Shrader has done for an offense that puts up 37 points per game, with 11 total touchdowns (8 passing and 3 rushing). Sophomore running back Sean Tucker is off to a slow start to the season, averaging under four yards per carry, but the talent is there to break out.
The Orange take on the Virginia Cavaliers this weekend. So far in Tony Elliott's first season, results have been abysmal. Virginia is averaging just over 17 points per game and could only muster three points against Illinois, the only Power 5 opponent they have faced. Even star quarterback Brennan Armstrong is only completing 55.6% of his passes this season.
Prediction this weekend: Syracuse over Virginia
The Orange should get another good win at home. Sean Tucker has a breakout game to get back on track, and Shrader's favorite target Oronde Gadsden III, who averages 16.3 yards per reception and has three touchdowns already, has a big game.
Will they be undefeated at Midnight Madness?
They should beat Virginia this weekend and then have Wagner at home. Orange Madness is after Wagner and during the bye week before NC State, where the Orange should lose their first game. This is a pretty easy yes here.
---
UCLA
The Bruins didn't exactly face stiff competition for their first three games against Bowling Green, Alabama State, and South Alabama, but the Bruins easily dispatched all three opponents. In week 4, the Bruins enter conference play visiting Colorado, who might be the worst team in the conference right now.
On offense, the Bruins are led by Dorian Thompson-Robinson at quarterback, who is completing 72.6% of his passes and has eight total touchdowns (6 pass 2 rush) so far. Zach Charbonnet at running back continues to play as the best back in the conference, averaging nearly seven yards per play, whether running or receiving, and wide receivers Jake Bobo and Kazmeir Allen have combined for 27 receptions for 290 yards and two touchdowns.
Prediction this weekend: UCLA over Colorado
Colorado isn't much better than the first three opponents UCLA played. Through three games, the Buffaloes have scored 10 points total. I don't see them matching that total in this game, and with a defense surrendering 42.7 points per game, I feel it is a game the Bruins should have locked up by halftime.
How long can UCLA remain undefeated?
Without any Midnight Madness activities scheduled for UCLA, the Bruins' schedule ramps up significantly after Colorado.
They host Washington, Utah, and visit Oregon after their sojourn to Folsom Field. The Bruins are likely to lose at least one of those games, and potentially all three.
---
Kentucky
To me, the winner of this survivor pool will be Kentucky. They have Northern Illinois this weekend, and it should be another easy win for the Wildcats before they visit The Grove at Ole Miss.
Kentucky has quarterback Will Levis who has been efficient this season, completing 67% of his passes but has a TD to INT ratio of 6:4. With Chris Rodriguez Jr. out, Kaviosey Smoke has stepped in and hasn't missed a bit averaging nearly five yards a rush.
Virginia Tech transfer Tavion Robinson and freshman Dane Key have been explosive in the passing game. Key is averaging 17.4 yards per reception with three touchdown receptions, and Robinson nearly 16 yards per reception.
The Wildcat defense this season has been strong, allowing 9.7 points per game. Linebacker Jordan Wright has been explosive since being cleared for the Florida game with 10 tackles, four tackles for loss, a sack, and an interception.
Prediction this weekend: Kentucky over Northern Illinois
The goal for Kentucky is the Sugar Bowl, and they feel they got a squad to do it. Northern Illinois should be handled with ease.
Will Kentucky be undefeated at Midnight Madness?
I feel Kentucky will win at Ole Miss and at home against South Carolina on October 8, putting the Wildcats 6-0 prior to the October 14 basketball event. Beyond that, how they come off the bye week when visiting Tennessee will tell a lot. I have the Wildcats 7-0 for that game, and I like Kentucky in that game over Tennessee.
I honestly feel Kentucky can win at Missouri and home against Vanderbilt before finishing the season against Georgia and Louisville. If the Wildcats are 10-0 when Georgia comes to Lexington, all bets are off.