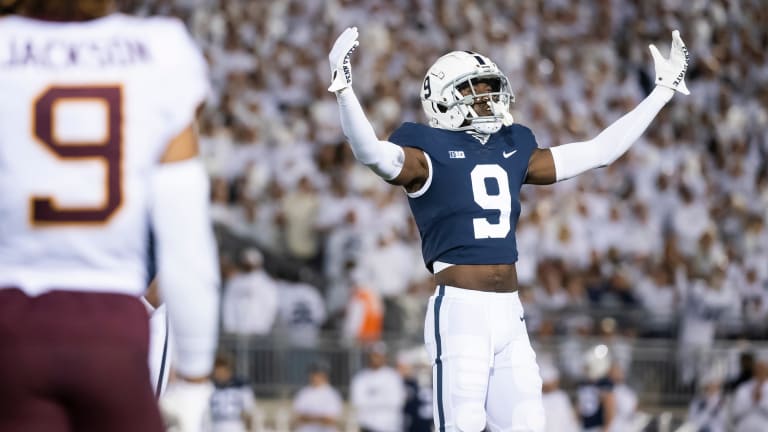 The Opt Out
Why the exodus of players from Bowl Games is a major problem for the sport
There comes a time in your life you learn where we all reach our inner Howard Beale from the 1976 classic film "Network," and go "I'm as mad as hell and I'm not going to take this anymore!"
What that line is, that boundary that is broken varies person to person. 
Some end up pulling a Marvin Heemeyer and create a "Killdozer," that is a bit extreme. 
Some end up like Harvey Updyke and go on a major radio program with the pseudonym "Al from Dadeville" and killing trees in Toomer's Corner, again way too extreme. 
Maybe I will take Aerosmith's lead vocalist Steven Tyler's advice, instead of drinking his problems away or being violent, he would just write a song. 
Probably more in my wheelhouse to just write an article, and it is a way much more sane approach. 
---
Penn State defensive back Joey Porter Jr. announced he was entering the 2023 NFL Draft, which most felt was a foregone conclusion when the 2022 season started as some prognosticators had him in their Top 10, but he also chose to forego the bowl game.
Porter isn't the first nor the last player that will do it, but it goes to show something isn't right with college football. 
Can you imagine a star point guard for North Carolina or Duke foregoing March Madness to enter the NBA Draft? I feel that is almost unfathomable. 
You might argue, a bowl game means nothing and March Madness is the playoff or tournament to win a championship, I can agree with that sentiment.
But then why have the bowl game in the first place? 
It isn't like Penn State is playing in the Jimmy Kimmel Bowl or any other lower-tier bowl game. The Nittany Lions are most likely going to play in the Cotton Bowl — or potentially the Rose Bowl.
Part of the reason Penn State is strongly being considered by the Rose Bowl is because we saw so many Ohio State players opt out of last year's game. That list included:
DT Haskell Garrett
WR Chris Olave
OT Nicholas Petit-Frere
WR Garrett Wilson
To be fair, it did give a venue for wide receiver Jaxon Smith-Njigba to go off in the game, tallying 15 receptions for 347 yards and three touchdowns in a 48-45 Ohio State victory. On-field, it was a success — an exciting game that came down to the wire.
However, off the field, Ohio State returned to the Rose Bowl nearly 7,000 tickets out of a 20,000 ticket allotment. 
Another New Year's Six bowl that had similar woes was the Peach Bowl. 
Last season's affair featured the ACC Champion Pitt Panthers against Big Ten at large Michigan State. 
The hype up to the game was to see Heisman finalists in Pitt quarterback Kenny Pickett, who finished third in Heisman balloting, and Michigan State running back Kenneth Walker III, who finished sixth in race. 
For both programs it was a season of rebirths. The Panthers won their most games in a single season since Dan Marino was dropping back in the pocket in the 1980's. Mel Tucker has revived a program that had grown stale under previous coach Mark Dantonio, returning to a New Year's Six bowl for the first time since the 2015 season. Life was good. 
As the hype built up, both Pickett and Walker opted out of the bowl game. 
Their opt outs coincided with lost fanfare to attend the game. At one point you could have gone to the Peach Bowl for as little as $12. 
This is not what the bowl games want, and certainly not what the fans wanted either. I don't feel you will get a Pitt fan that will say what they truly felt, you will get some hyperbole, "Pickett gave so much to the program and I understand he has to protect himself." 
Pitt had its most successful season since 1981 in terms of wins, and won its first conference championship since the 2004 in the Big East. That could have been Pitt's first New Year's Six bowl win since the 1982 Sugar Bowl. But what could have been was opted out. 
The teams fielded in that game were vastly different than the teams that had gotten those squads there. The game was a shell of what it could have been. 
---
About a decade ago, we got to experience the first foray of a player dictating whether he played or not with South Carolina defensive end Jadeveon Clowney. 
Clowney injured his ribs and abdominal muscles, and led to him asking out of a game versus Kentucky. The press hounded head coach Steve Spurrier in regards to Clowney's status seemingly hourly. The running notion was that the star sack artist was protecting his draft status in lieu of putting the team first. The Ol' Ball Coach himself even hinted at the fact that Gamecocks fans should be happy that he chose their school in the first place.
Since Clowney, the precedence created shifted toward the bowl game as coaches simply resigned them to being postseason exhibitions and rather meaningless. 
So, if the games are so meaningless, why are there more than 40 of them?
---
In my opinion, selfishness is a cardinal sin, especially in the context of team sports. 
When you are on a team, everyone is equal. We lay it all out for one another, give everything we all have, and fight for each other to the end. 
A player who opts out is, in my opinion, selfish. 
When you look at the players who opted out here, it stands to reason that if their team was in the College Football Playoff they would have played. But aren't they incurring the same risk — or an even higher one — of getting hurt playing in a 'normal' bowl game? 
A player could financially risk their professional career having an injury in the College Football Playoff semifinal or final, so why play in those games? 
Does a national championship pay anything more than a Rose Bowl, Peach Bowl, or Cotton Bowl? Last I checked they all get the same gift levels from their respective bowl games. And NIL money is separate from any bowl gifts received.
To the latter point, players today are getting compensated like never before. At the elite level players like Porter, Pickett, and Walker are (or were) being compensated for their Name, Image, and Likeness handsomely. So while the NIL compensation information isn't public, we have a decent idea of just how much they're getting. Just take a look at CJ Stroud and his $200K G Wagon.
However, I give Micah Parsons credit for sitting out an entire season. I'll grant you he had the COVID pandemic for his excuse. But if you are rated so high and you know you aren't going to finish what you start, why start in the first place?
If you are only there to protect your draft status, are you really there for your team? 
I feel the axiom of "finish what you start," is lost in college football. 
With the news that the College Football Playoff will expand in 2024, to me expanding the playoff doesn't solve the problem because we will get a player who might say, as a player on the No. 12 team that they don't want to risk any injury and opt out to focus on the draft. 
You might think I am crazy to believe or suggest this, but 20 years ago, people would have said you were insane if anyone would skip playing in the Rose Bowl or any other major bowl. But look where we are at today.
These players are difference makers, yet are willing to forego unique experiences with their team to focus solely on themselves. They're giving up their last ride with their teammates and an opportunity to challenge themselves against high level competition.
Like they say, you see a person's true colors when you are no longer beneficial to them. These players who opt out are — simply put — selfish. The second they have the opportunity to leave, they do, because the rest of the team no longer is useful to them.
To a player who might be on the practice squad, a special teamer, or simply a depth guy, the opportunity to play for and win a major bowl game is a life highlight for them. When one of these difference makers opts out of the game and leaves their team out to dry, that shows their true colors.
As a fan, it makes me wonder how much longer I can watch this game and be invested in it. The big bowls mean something. That tradition of getting a Rose Bowl or any major bowl is a big deal. But if players choose not to play, why should I invest my time into a sport where a player can simply say in a season's biggest moment, be selfish and quit the team? 
While I am late in this piece, I should feel to mention coaching changes and how coaches can just up and leave when they do is also inexcusable. That failed leadership literally condones this behavior in players because how can a coach ask a player to commit the whole way, when maybe they got one foot out the door and not fully committed themselves.
No other sport would tolerate this behavior, so why does college football and why do we settle for this as fans?