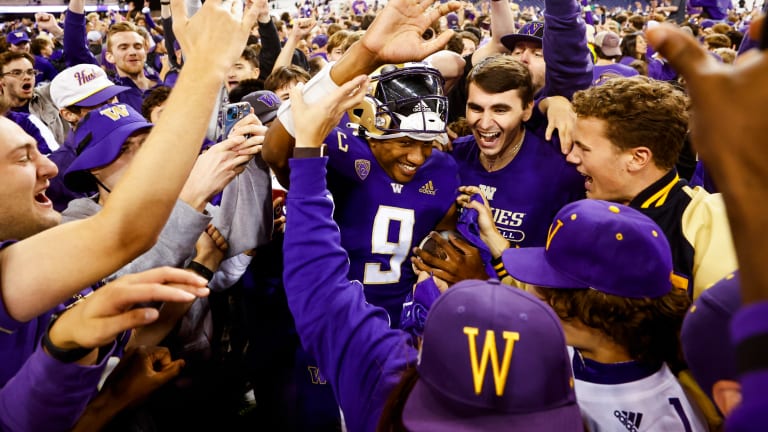 The Rebirth of Purple Reign?
With a statement victory over No. 11 Michigan State, are the Huskies for real?
Michael Penix Jr. had a performance that led to the first signature win of the Kalen DeBoer era in Seattle with a 39-28 win over Michigan State on Saturday. Penix finished the night going 24 for 40 passing for 397 yards and four touchdowns in the air, connecting with freshman receiver Ja'Lynn Polk six times for 153 yards and three touchdowns. 
The Husky defense was in Spartan backfield all evening with two sacks and five tackles for loss. The win over No. 11 Michigan State was the first win over an opponent ranked in the Top 11 since the 2018 Apple Cup when Washington State was No. 7 in the country in a 28-15 win.
Was Saturday's win a cue that there could be a Purple Reign in the Pac-12? 
---
Three Reasons to Buy
1.) Michael Penix Jr.
Penix Jr. brings in leadership into his senior season and experience from being on a run before, guiding the Indiana Hoosiers to their most successful season since the Bill Mallory and Anthony Thompson days in Bloomington. One of the biggest selling points for Washington when he was in the transfer market was the chance to reconnect with his former OC from Indiana Kalen DeBoer.
With comfort in DeBoer's system and a couple of younger perimeter athletes, Penix has the ability to make things interesting in the Pac-12. 
2.) Washington Defensive Line
Penix wasn't the only home rune that DeBoer hit in the transfer Portal. Edge rusher Jeremiah Martin, formerly of Texas A&M, has quickly established himself as a team captain and leader. Sophomore Bralen Trice has been a motor on the opposite of Hunter, leaving former Third-Team All American & First Team Pac-12 Zion Tupuola-Fetui coming off the bench in rotation. 
This is an absolute luxury for DeBoer. 
Add in Tuli Letuligasenoa and Ulumoo Ale up the middle, and the Huskies have one of the deeper defensive line units in the country and with the Huskies defense giving up 90 yards rushing per game and 2.7 yards per carry, they are strong enough to elevate the Huskies. 
3.) Washington Pass Defense
The Huskies have consistently produced high NFL draft picks in their defensive backfield over the past few years. Byron Murphy, Jordan Miller, Elijah Molden, Keith Taylor, Kyler Gordon, and Trent McDuffie have all been drafted since 2019. 
Last season, the Huskies had the No. 1 pass defense allowing 143.1 yards per game. So far this season, Huskies pass defense still seems to be clicking on all cylinders and ranked No. 11 in passing yards per completion. Jordan Perryman, Mishael Powell, Asa Turner, and Alex Cook are a very cohesive secondary that can compete in vertical track meets. 
---
Three Reasons To Sell
1.) Have They Been Tested?
Kent State and Portland State aren't exactly murderer's row in competition, and it's been shown that Michigan State has significant issues on both sides of the ball. The Spartans, who were dead last a season ago on pass defense and near the bottom in total defense, are still experiencing the same problems this season. 
The question is the Spartans defensive front good enough to pressure the quarterback? They didn't even touch Penix. Literally - they finished the game with zero sacks and zero QB pressures. So we really don't know after three weeks what Penix will do under duress. While I do feel Michigan State is a Top 4 or 5 team in the Big Ten this year, that doesn't correlate being the No. 11 team in the country.
2.) Run Game Going AWOL
Watching Penix Jr. Saturday night took me back to 2020 Indiana/Ohio State game, and the one reason Indiana couldn't get over the hump versus the Buckeyes that day, was their run game was complete liability for the Hoosiers, finishing with -1 yard on 16 carries. 
Fast forward back to Saturday, while the Huskies were infinitely better in the ground game Saturday than the Hoosiers, the Huskies got 106 yards on 36 carries. Take away running back Cameron Davis' two biggest runs of the day, the Husky ground game was averaging less than two yards per carry. 
This was illustrated on the Spartans goal line stand, where the Huskies were unable to get the ball 36 inches despite multiple attempts. It ended up not matter, as the defense got a safety on the next possession. But when the lights are brightest, they will need to put up seven points when they get those opportunities. 
3.) Just how good are the receivers?
Rome Odunze, Ja'Lynn Polk, and Jalen McMillan are all sophomores, but they haven't been truly tested just yet. And they've yet to play a game outside the friendly confines of Husky Stadium yet this season.
This receiving corps have been an integral part of the Huskies offense that is currently averaging 548.3 yards per game in total offense, good for fourth in the nation, but again, that was against weak competition. It needs to be reiterated: Kent State, Portland State, and Michigan State - the latter of which still has severe problems on stopping opponents despite their top-25 ranking. 
---
Buy OR Sell? 
This is closer than most will think, but I am actually selling the Huskies - at least for the time being - until we get to see more from them and be tested with tougher competition. 
The fact that they were able to dominate in their first two matchups without breaking a sweat is a good sign. And then in a home game that was more evenly matched, they were able to control the game from start to finish is reason for hope. But they still haven't gone on the road, and they'll have to go to Autzen Stadium on November 12. I don't think this team is quite ready for that environment yet.
So despite having the great fortune missing both Utah and Southern Cal on the schedule, the Pac-12 is still one of those conferences where you cannot assume anything, and upsets happen at really odd times. 
I wouldn't be surprised if Washington is 10-2/11-1 and conversely 8-4 isn't out the question either.