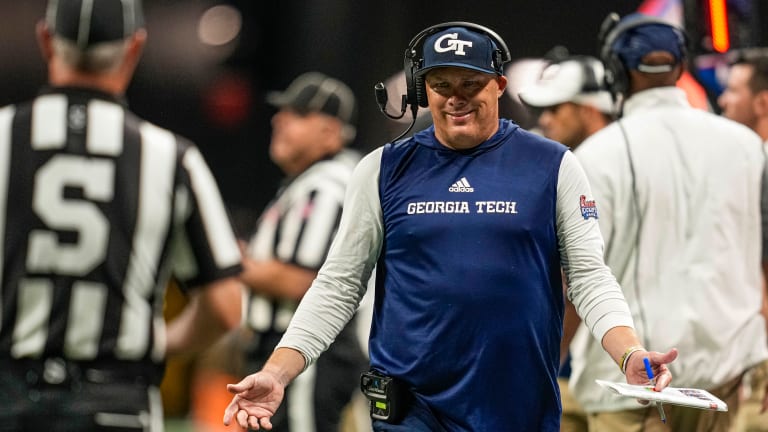 The Replacements: Geoff Collins Edition
Who should the Yellow Jackets target as potential replacements?
The standards in Atlanta for the Ramblin Wreck of Georgia Tech is that a coach absolutely must get to a bowl game every year, be competitive against top ACC foes and main in-state rival Georgia, and once in a blue moon contend for an ACC Championship and get to a major bowl.
This is a primary reason Paul Johnson was able to run the triple option in Atlanta for over a decade.
This is also why Geoff Collins' failures to achieve any of these is why Georgia Tech terminated him earlier this evening.
With a new age of NIL, with Atlanta becoming a major hub and being located in one of the most fertile recruiting grounds, who should the Yellow Jackets be looking at?
---
Jamey Chadwell
Current Position: Coastal Carolina head coach
Career Highlights: Guided Coastal Carolina to a 2020 Sun Belt championship and led the Chanticleers back-to-back 11-win seasons.
Chadwell is starting to become a trendy name in coaching searches. 
With Coastal Carolina right on the same recruiting grounds as Georgia Tech, he might have a smoother experience in keeping existing relationships and building new ones with a higher profile job. 
Another aspect of Chadwell that is attractive is his explosive offense; the Chanticleers finished fifth in the nation in scoring offense a season ago.
---
Tyson Helton 
Current Position: Western Kentucky head coach
Career Highlights: Jeff Brohm, the disciple at Western Kentucky, was offensive coordinator and quarterbacks coach for their 2015 Conference USA championship team. His quarterback was Brandon Doughty, who completed over 70% of his passes, and had over 5,000 yards passing and 48 touchdowns. 
Helton went to Southern Cal, where he was instrumental in Sam Darnold's development. 
After a short tenure as Tennessee's offensive coordinator, he returned to Western Kentucky as head coach. He coached quarterback Bailey Zappe to video game passing numbers of nearly 6,000 yards and 62 touchdowns in a season.
If Chadwell is my 1A, Helton is my 1B. Georgia Tech would benefit from this offensive mastermind that coaches aerial mastery. 
Last season the Hilltoppers were the No. 2 scoring offense at 44.2 points per game, and this season they haven't slowed down, averaging over 47 points per game.
---
Jeff Traylor 
Current Position: UTSA head coach
Career Highlights: Traylor has been a fast riser since joining Chad Morris's staff at SMU in 2017. Since becoming the Roadrunner's head coach in 2020, he has guided them to back-to-back bowl games and a Conference USA championship last season, earning conference coach of the year honors.
Traylor seems destined to take a Power 5 head coaching job next in his career. 
Tech's realistic standards make it an attractive option for Traylor to leap. 
The bigger question is whether a coach primarily rooted in Texas and the southwest can translate and be successful in the southeast. 
---
Bill O'Brien
 Current Position: Alabama offensive coordinator
Career Highlights: Was New England Patriots offensive coordinator for Tom Brady and coordinated the Patriots in Super Bowl XLVI. Became head coach at Penn State following the Sandusky fallout and won various national coach of the year awards. He went to the NFL's Houston Texans, where he guided them to the playoffs in four of his first six seasons.
O'Brien has a stigma on him following his poor general manager experience in the NFL, and Alabama fans are discontent with his offense.

In his first season, O'Brien coordinated the Alabama offense to an appearance in the National Championship Game, and Bryce Young won the Heisman Trophy.
O'Brien spent eight seasons as an assistant at Georgia from 1995-2002 under head coaches George O'Leary and Chan Gailey.
I feel O'Brien desires the NFL, but I think the NFL door is shut to him as a head coach, and with the standards at Georgia Tech not unrealistic, it might be a perfect fit for him.
---
Joe Brady
Current Position: Buffalo Bills quarterbacks coach
Career Highlights: 2019 Broyles Award winner with LSU, was passing game coordinator on their national championship team and the development of Joe Burrow. Offensive Coordinator with the Carolina Panthers in 2020 & 2021.
This is the left-field reach pick for this article.

Brady was in some circles primed to run a major college football program and was a trendy pick to become a head coach before the disastrous tenure with Matt Rhule in the Carolina Panthers.
Brady is a native of Miami Lakes, Florida, and got a firm grasp of the recruiting while at LSU. Brady has served under Joe Moorhead at Penn State and Sean Payton with the New Orleans Saints.
With Brady not the hot name he was a few years ago, this good be a solid buy-low pick.