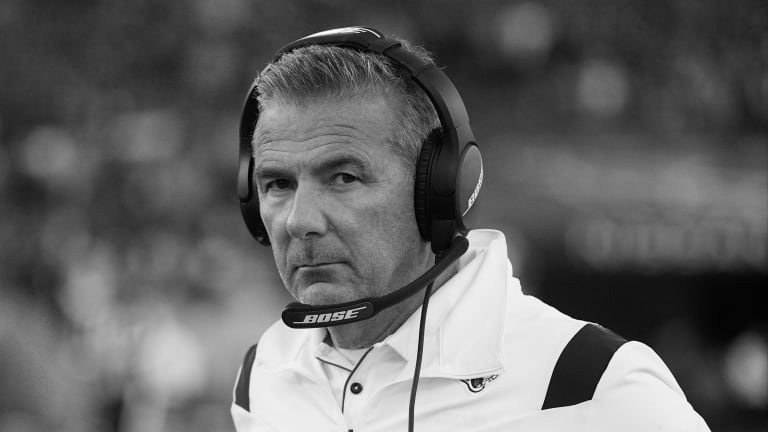 The Snake Oil Salesman
Teams should avoid their fatal attractions to Urban Meyer
They say in college football, if you win all your sins are forgiven and forgotten. 
Nebraska is currently in a failed state and the former bluebood is now reaching depths of ineptitude that haven't been experienced since the days before Bob Devaney arrived. 
After purging themselves from the Scott Frost experience, Urban made a little flirtation with Big Red by calling them the most loyal fans he ever encountered in coaching. The return for such a complement given to a fanbase deprived of even bowl eligibility from a man whose coaching resume stacks up with anyone who has ever coached a game led to what we saw Saturday on FOX's Big Noon Kickoff pregame show: 
Big Red faithful desperate for relevancy in the new landscape of college football decided to serenade a man who might be one of the most disgusting and despicable men in the coaching profession. Calling Urban a professional is a disgrace to the men and women in and around college athletics who have a moral compass and possess integrity. 
---
Listen to Your Own Advice
In Meyer' book, Above The Line: Lesson in Leadership and Life from a Championship Program, in the prologue he lists several bullet points about leadership: 
"Leadership isn't a difference maker. It is the difference maker."
"Leadership is much more than simply declaring what you want and then getting angry if you don't get it."
"A leader is someone who earns trust, sets a clear standard, and then equips and inspires people to meet that standard."
"Be true to who you are."
"Talk straight and demand accountability."
"Run toward problems. If you ignore them, they only get worse."
"Work to get better every day. Staying the same gets you nowhere."
"Savor the journey. Every day. You only get to do it once."
Let's start with the third bullet point, "A leader is someone who earns trust, sets a clear standard, and then equips and inspires people to meet that standard."
How trustworthy is Urban Meyer? Look back at the Zach Smith saga. 
Smith was fired as Ohio State wide receivers coach in July 2018 over criminal charges filed against him and other allegations involving domestic abuse between Smith and his ex-wife during their marriage. Meyer came under fire due to his handling of the allegations that involved claims that Meyer ignored the domestic violence complaints against Smith, and subsequent comments he made to the Big Ten media.
The fact Urban did not appropriately handle the severity or work the proper Ohio State chain of command to investigate Smith tells you he was willing to overlook something serious because of his friend, or simply it wasn't convenient for him. There was no set standard set by Meyer, who could have put Smith on administrative leave and allowed the process to play out. 
With no clear standard, how can Ohio State brass or even a school who wants Urban, like a situation where Urban doesn't operate with a clear standard of ethics? 
This ties into and maybe speaks more to his lack of "Talk straight and demand accountability." 
---
His second bullet point, "Leadership is much more than simply declaring what you want and then getting angry if you don't get it," is all about his disastrous tenure in the NFL with the Jacksonville Jaguars. 
The night in question follows the Jaguars loss in Cincinnati, the photos above went viral last fall after Urban opted out of returning to Jacksonville with the team to go to his bar and we will let pictures tell the rest of the story there. If the pictures don't tell you enough, read over Shad Khan's admonishment of Meyer's activities to fill you in. 
Let's get it back to football here. 
No matter what level of football (or any team sport for that matter) that you have played or participated at, one of the foundational concepts is you come as a team and you go as a team. Meyer failed that concept, putting his own interests ahead of the team. 
It would be one thing if Meyer stayed back due to a family emergency or event to take care of business, but when this popped out, he was incredibly selfish in the manner. Michael Lombardi was on The Rich Eisen Show last year, and he said in his 35 years in the NFL, he never was on a plane without a head coach. You can listen to more from Lombardi here about how significant this was: 
---
'Hey Dips--t, make your f--king kicks!'
The infamous words that former Jaguars kicker Josh Lambo said Urban Meyer said to him after kicking him.
Let's dissect this a minute here, these aren't kids (more on that in a minute), these are professionals. These professionals have demonstrated a skill to be able to execute at a higher level than any level. You have the best of the best in the NFL that is available at your time, to be brazen enough to refer to members of your team as Lambo put it, "It was 'Kicker, Punter, Long snapper, or S--tbag, Dips--t or whatever the hell it was."
If Meyer was comfortable enough to degrade a professional in this manner, comfortable enough to strike a professional, you know it wasn't his first time doing that. Can you imagine being 18 or 19 years old, in brand new surroundings and the man who was in your living room berates you in profanities and strikes you? 
Forget about that, can you imagine going into your employment and your superior comes up to you and lays into you with profanities and strikes you, how fast are you going to HR? How fast is your superior being escorted out of the building? Why is it okay for a football coach to do that at any level?
When you look into the context that former Buckeye Marcus Williamson said if Meyer caught him smoking he would ruin his life. 
While it doesn't seem outrageous on the surface, looking at the context of Meyer it shows a fault of his aggressive style and pushing everyone's buttons that sometimes the only difference between motivation and disrespect is whether it works.For Williamson it didn't work. And he's not the only one it didn't work for during Meyer's lengthy tenure as a head coach.
---
Another one of Meyer's golden axioms is "Run toward problems. If you ignore them, they only get worse."
When the NFL.com's Tom Pellisero came out with a report how Urban treated assistants, it was another giant red flag.
"During a staff meeting, Meyer delivered a biting message that he's a winner and his assistant coaches are losers, according to several people informed of the contents of the meeting, challenging each coach individually to explain when they've ever won and forcing them to defend their résumés." - Tom Pellisero, nfl.com
No one, I mean no one had last season's Jacksonville Jaguars going undefeated or one loss like Ohio State, not a soul. It was a complete rebuild for the Jaguars. But luckily for them, they were sitting pretty with the number one pick in a draft containing one of the most hyped quarterback prospects since Andrew Luck to come into the league. But even with Trevor Lawrence in the fold, nobody expected them to have more than a handful of wins.
Meyer simply could not handle the rigor of a significant rebuild. This wasn't college football where you can turnover a roster in a year and recruit 25 players who can inject life into your program. Between a salary-capped free agency and the drafting process, it takes three to five years to successfully rebuild a team that had reached the depths of what existed in Jacksonville.
Instead of collaborating to try to turn it around, he was blaming others and belittling them. And these weren't assistant coaches that were retained without his input - these were men who were hand-picked by Meyer. What does that tell you about the character he possesses when things get real tough and he decides to cut and run? Oh, and don't forget, his tenure began with the hiring of a racist strength coach.
This is the reason why Meyer will not work at Nebraska. Not only will they not be able to pony up the money necessary, Nebraska doesn't have a natural pipeline for in-state talent. While he might be able to get some of the interior players from Nebraska and the surrounding area, it's going to take a lot more coaxing and NIL money to get the playmakers necessary to compete at the national level. 
This isn't an easy rebuild for him, he won't touch Lincoln again until FOX Big Noon comes up for a game. 
---
While I have beaten the Jaguars disaster to death, let's hop on the 301 and get to Gainesville with the Netflix producers to look at more carnage from Meyer. Usually when Netflix does a documentary about you, you got a pretty interesting story to tell and the 2008 Gators are about as interesting as a group. 
Early on in Meyer's tenure at Ohio State, he was recruiting Stefon Diggs, who would eventually sign with Maryland, would tell the Diggs family that "he wouldn't let his son go to Florida because of significant character issues in the locker room." 
The irony is Meyer was just over a year removed as Florida head coach. 
The irony is Meyer proclaimed after a regular season game in 2010 that the program was broken. 
The irony is that culture was manifested by Meyer himself. 
The Diggs family was able to look Meyer in the eyes and know he was a "snake oil salesman," because if he can allow what happened at Florida happen, it's going to happen at Ohio State. Stefon was better off getting a great education and let the chips lay where they fall for pro aspirations. 
Meyer was not a leader, and when you look at his axiom, "Leadership isn't a difference maker. It is the difference maker." It was the lack of leadership that kept Florida from sustaining itself as the national power in college football. 
It started at the top. 
"Over the last two years he was there," one former player said, "the players had taken complete control of the team."
Who is the leader in the room when over six seasons, when his program endured at least 30 player arrests, drug use among players, a philosophy of preferential treatment for certain players, a sense of entitlement among all players and roster management by scholarship manipulation? 
That is squarely on Urban Meyer. 
The conscientious decisions Meyer made to win at all costs be damned any integrity or ethics. Winning a game meant more to him than being a leader and fostering a culture that would allow young athletes to flourish to become great people. Losing a game was more fatal to Meyer than when a kid had substance abuse problems, mental health issues, disciplinary or academic issues. 
---
I ask you while you read this article, look at the featured image, look Meyer in the eye and imagine him being in your living room giving you a recruiting pitch. You will probably hear the key buzz words about playing time, education, integrity, culture, development, and trust. 
I want you to look at the case of Bryan Thomas, he appeared in 17 games for the Florida Gators but his time with Urban Meyer took a weird turn as he told AL.com back in 2012: 

"After the 2008 season, Thomas says he was told he had to "move on" because he wasn't in the team's plans for 2009.

"I told (Meyer) I was on track to graduate, I wasn't a problem and I did everything I was supposed to do--I just had a knee injury," Thomas said. "I told them I wasn't leaving, and if they tried to force me to leave, I was going to tell everyone everything."

The next day, Thomas says he was given a medical hardship letter by position coach Chuck Heater stating Thomas had an injury that would prohibit him from playing football. The medical hardship scholarship doesn't count against the NCAA limit of 85, and allows the affected player to stay on academic scholarship.

Thomas signed the medical hardship, stayed at Florida for the 2009 season and graduated before transferring to then-Division II North Alabama. With eligibility remaining, he played in 23 games over the next two seasons and was an All-Gulf South Conference selection." - AL.com
To me it sounds like Thomas had a lot more football in him, but Thomas was there when Meyer recruited him as a four star athlete from Zephyrhills, Florida and looked his family in the eye and sold them on what his program could do for Bryan that any other program can't. 
A family and the player in mind has to trust what that coach is selling, part of the Meyer axiom of "talking straight," but he isn't. He is trying to win at all costs, and it doesn't matter if you graduate, or are a good impact and leader in the locker room, you are, as Bill Parcells put it "eloquently," "you are the suck, you've been sucked." 
How many Bryan Thomas's are out there? 
I often wonder if Urban read the book he wrote or learned any of the lessons outline in the 272 pages that was published? 
There seems to be troubling patterns of leadership in the last three decades he has coached and serious flaws. I would love to one day write a retraction to this article and call it the redemption of Urban Meyer.As a coach he is in my personal Top 10 of all time and even approaches my Top 5. 
I respect what he has done on the field to be one of the game's ultimate winners, however with one of his axioms in "Be true to who you are" after over four decades being a head coach at all levels in football, we know who Urban Meyer is. 
His final axiom is, "Savor the journey. Every day. You only get to do it once."
Maybe Urban, you should have savored your time as a college head coach, you only should really get to do it once and never more.