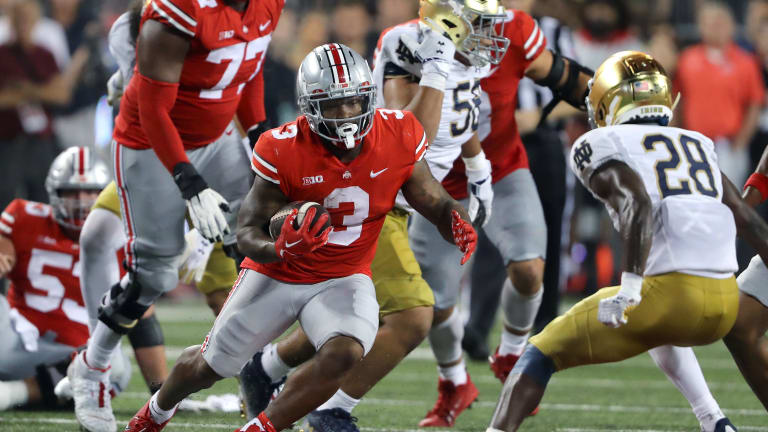 Tim's Takes
Ohio State snubbed, SEC logo too much power. Notre Dame disrespected but Oregon stanned?
This is a new piece I will do at least a couple of times a week that just goes over different takes I have about the happenings in the world of football. You know college football is king around here. So typically, that is the thing that we will be discussing! Without further ado, here is the first edition of Tim's takes!
No one logo should have all that power
The SEC since about 2003 has been the best conference most seasons in college football. They aren't the best every year, but they have the most powerful recruiting brands among the leagues, and with Texas and Oklahoma being added that isn't changing soon. Andmanyf teams with the logo donned on their uniform have won the national championship. Especially teams coached by Nick Saban, as he has won seven of them since 2003.
But, the league while it may be better than the other power five leagues in a majority of the seasons these days, its by an edge. It's not as if the SEC is the third NFL conference. The weird part is you would think the wild narratives over the years and results would prove this. 
"Ya'll ain't gonna run no fancy spread offenses here in the SEC"
"Oh, that would never work here in the SEC." 
"Your league is full of teams like Kansas and Rutgers."
Georgia overtakes Buckeyes, who beat an AP top-five team.
The average SEC fan's blissful unawareness seems to rub off on people who voted in the AP and Coach's poll this week. The Georgia Bulldogs had an impressive win over Oregon Saturday. They drubbed them 49-3. Oregon was ranked 11th in the game, but there was massive skepticism about that Oregon team, who lost a ton of talent to the transfer portal, and the Duck's headman flew south for the winter. Oregon was a wildcard that could just as easily be unranked as they were given the 11th position in the initial poll, on name brand alone. 
The tape is in, and Oregon did not deserve that rating; they look like a mess. They moved the ball on each of their first five possessions and scored zero touchdowns, mainly due to the incompetent play of Auburn transfer QB Bo Nix.
On the flip side, Ohio State hosted Notre Dame, and they were game, as former Buckeye turned Notre Dame head coach Marcus Freeman had his boys ready to roll in Columbus. When two top-five teams link up, anything can and could happen. The Irish came up with an excellent game plan against Ohio State's pass-heavy offensive approach, and Ohio State lost their best player Jaxon Smith-Njigba to injury early in the contest. The Buckeyes then had to do what championship teams do and switch to plan B. They got physical; they ran the ball and ground out the victory over Notre Dame, 21-10. 
It's not just who but how they won
Sure, it is impressive to beat anyone 49-3, and I'm sure most coaches hope every week they step on the field that things go according to plan so that happens. But on the flip side, it is equally as impressive to win a hotly contested game against a top-tier opponent, especially when major adjustments are needed to pull it off. Ryan Day showed incredible growth in my book in this game. Day in the past, would get nervous and just toss the pigskin 55 times, and perhaps lose that game. Instead, he and his staff got together, looked at their defense and big boys up front, and said "Its on you today boys, impose your will." They did, it was something we weren't sure they could do coming into the year. The Buckeyes basically beat a top-five team with their left hand, and without JSN.
Notre Dame is plenty good. They have been one of the top seven or so programs in the last few seasons. The Irish have finished in the top 12 in each of the last five seasons and finished top ten in three of the last four. The Irish get constantly ragged for losing to 2018 Clemson, and 2020 Alabama in the College Football Playoff. The Irish actually performed the best of any team against Alabama, and Clemson went 15-0 and embarrassed Alabama just as badly in the National title. A couple of their other recent losses include Ohio State, Georgia, and Michigan, The Georgia games were incredibly tight contests that came down to the final possession. The Dawgs certainly got credit for beating Notre Dame in 2017, and 2019 as they should have. Why in the world would Ohio State not for their performance? 
Because Overrated only counts outside of the SEC
How could it be possible that Notre Dame is overrated, but Oregon was not? It's simple because people just chose to believe that odd fallacy. Last season, nobody had any issue awarding Georgia brownie points for scoring no offensive touchdowns against Clemson, so long as they won the ball game. But Ohio State has to cover the spread and win by 17+ to get respect for downing Notre Dame? Blasphemy! Plus, the perception of Notre Dame being overrated is simply because they are Notre Dame and they've lost a lot of big games lately. But what was the narrative when Georgia beat them by a touchdown in 2019?
There you have it:
The Irish do have a new head coach in Marcus Freeman, but they have mostly kept their staff fully intact, haven't had any movement from the portal, and the long-term move was to hand the reigns over to Freeman anyways. This is not a team overhauling all its values, and creating a new culture. This is a team set up to make a run now or next year back to the College Football Playoff. 
On the other hand, Oregon clearly was having issues with their culture, and things were breaking down under the previous coach Mario Cristobal, as could be seen in the Duck's near loss every week in a struggling Pac-12 conference. Cristobal was talking to Miami, and dealing with issues pertaining to his mother's health, he was human and you could tell. The Ducks got beaten by Utah twice, the same way they got wrecked by Georgia on Saturday. 
The feat we just saw from Georgia was nothing out of expectation, they're good and deserve credit for the win, but no celebration is needed. They simply handled business, and nothing more. And I came away with as many questions, about Georgia as I did other teams this weekend. The Dawgs are not a perfect team, how could they be they lost a record-breaking 15 players to April's NFL Draft?  
The Riveting conclusion
I am fully aware that these polls do not mean anything, but we base so much of the sport's history on the tellings of the AP poll because its what we've had since 1936. I get that is a somewhat outdated way of thinking, and that many of the writers that vote do not understand football on that kind of level, I also understand that a vast majority of coaches do not actually vote themselves in the coaches poll, so perhaps we should just ignore these meaningless rankings?
But it would be nice to see consistency, and there is nothing consistent with moving Georgia above a team who beat a top-five opponent, without their best player. Do better, as the Buckeyes did, and adjust, it's not the SEC logo that's going to decide the National Championship, it's the play on the field.