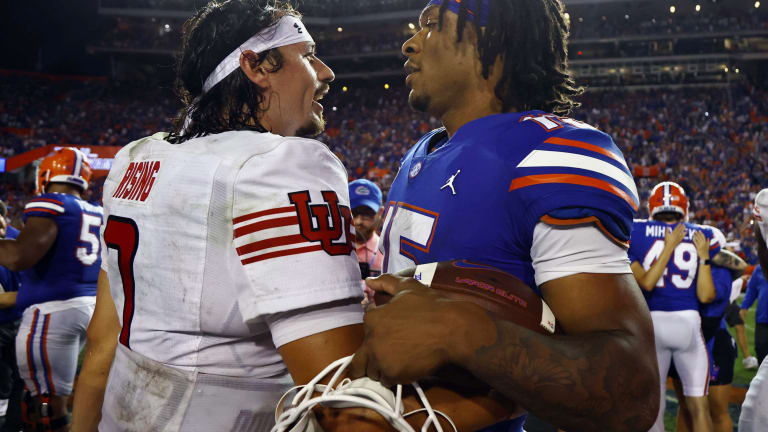 Tim's Two Cents on Saturday Games
Florida, and Ohio State stood out above the rest
Ohio State and Florida were the most impressive teams on Sunday for taking down quality opponents, even if the games were at home. The Buckeyes were told to reinvent themselves in order to overcome an excellent game plan. I am pretty certain Day would've fired off 55 passes and lost this game in previous seasons. Instead, his team played excellent defense, and his offense began to grind and lean on the Irish. Florida just would not have won that game under the previous staff. Florida gave up 100,000 points to FCS Samford last year; this year? Nearly 300 rushing yards against one of the best run defenses in the country over the last decade. Anthony Richardson is drawing lofty comparisons and suddenly looks like an SEC East threat. 
---
Big boys bullying the weak
I really should consider putting Georgia vs. Oregon in here. But Oregon is a power five program that's won two Pac-12 championships in the last three seasons. Don't expect to make three. Oregon is probably in for a rough season; a bowl game is not a guarantee. Eugene lanes are open in December, from my understanding, if worse comes to worst. 

Let's start with USC; the Trojans added a ton of talent to their coaching staff and roster. The only boo-boo is the eight-minute 100-play drives against Alex Grinch defenses reared their ugly head in Rice's opening drive. This formula was used ad nausea against Oklahoma last season and was compounded with deep soft zone coverage to take away the long ball from Riley's offense. Teams would rather deal with Riley for nine or fewer possessions. But, after things settled in, USC had three pick-sixes in the contest and ran away with it. Caleb Williams looked solid, and Jordan Addison added a pair of scores. 66-14 Trojans, but do not sleep on Fresno State next week. 
Alabama beat Utah State 55-0; the Aggies were an 11-win team a year ago and featured one of the best group of five QBs in the nation in Bonner. The Tide were lowkey impressive against a team that might be better than most. They did not want Bonner in harm's way, so they only allowed him to attempt nine passes. Alabama did not register a sack but had several QB hurries and pressure on only 22 drop backs. Holy-Wow.
Oklahoma looked like Oklahoma in their opener vs. UTEP. The Sooners kept it pretty vanilla, The offense is going to be explosive, and the defensive line appears to be a strength for them. Gabriel was effective. If there is an area of concern, it would be that Oklahoma gave up nearly 300 passing yards, though only 5.5 yards per pass attempt. The Miners had -35 rushing yards at halftime; that'll do. 
Michigan skull cracked poor Colorado State. The Wolverines took out their frustrations from December 31st on poor unsuspecting rams. 51-7, and it was worse than the score indicated. Michigan is better today than they were in 2021, in my opinion. I love the backfield duo of Edwards and Corum, and the defense looks solid yet again. Still, will they beat the Buckeyes again? Probably not. 
BYU absolutely slapped South Florida, the Cougars deserve more respect, and they'll have a chance to get some when they host the top-10 Baylor Bears in Provo next week. It would be huge to get a victory like that the year before heading to the Big 12 conference. Jaren Hall is a dark-horse Heisman guy, and Christopher Brooks can run the rock. 

Bullies are just big jerks!
---
Under-The-Radar Barn Burner
Did you miss the UTSA vs Houston game yesterday? Shame on you! The game went to 3OT and the Cougars came out on top! But the Roadrunners have been building up for a few years now, and have a respectable team. Clayton Tune did his best  Superman impression carrying Houston to the nail-biting win! Houston is the AAC favorite, and I would conclude the same in C-USA for UTSA