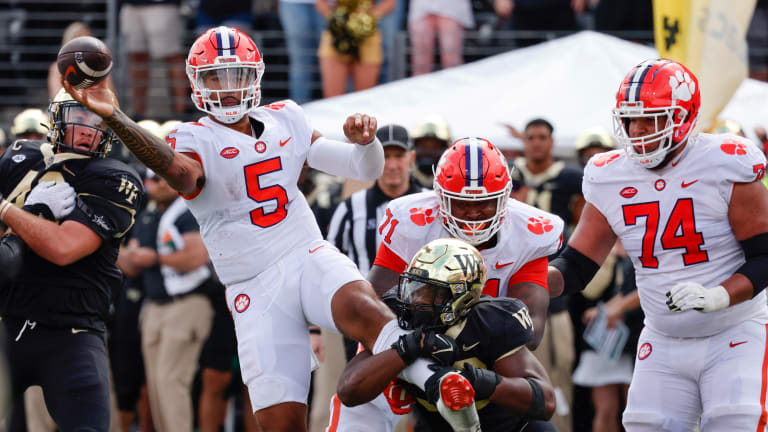 Top 5 Quarterback Duels of the Past Decade
Week 4 provided two great quarterback duels in a couple of key games.
In Winston-Salem at Truist Field, Clemson's DJ Uiagalelei and Wake Forest's Sam Hartman dueled to a 51-45 overtime classic win for the Clemson Tigers. Uiagalelei completed 26 of 41 passing for 371 yards and five touchdown passes and Hartman completed 20 for 29 passing for 337 yards and six touchdowns.
"Honestly, man, that was a crazy game," Uiagalelei said after the game, "You could just see the heart of our team — the heart of the offense, the heart of the defense. When plays had to be made, we made the plays. That just shows a great sign of a good football team."
Meanwhile in Knoxville, Tennessee and Florida added another chapter in their annual rivalry with a quarterback duel that set some all time marks for their respective schools. For Tennessee, Hendon Hooker racked up 461 yards of total offense (349 passing and 112 rushing) in a 38-33 win. It was the most yards of total offense by a Tennessee quarterback against Florida since Peyton Manning's 470 in 1996. Gator sophomore sensation Anthony Richardson put up 515 yards of total offense (453 passing and 62 rushing) with four total touchdowns joining Emory Jones and Tim Tebow. 
While these two games were great duels, they don't break the top five in the past decade for me. Here are my top five quarterback duels since 2012:
---
#5 2019 Alabama vs. LSU
LSU: Joe Burrow 31 for 39 393 yards 3 TD's; 64 yards rushing
Alabama: Tua Tagovailoa 21 for 40 418 yards 4 TD's
One of the more anticipated showdowns in the Alabama/LSU rivalry with both teams ranked in the Top 3 in the country, this was the game that accelerated Joe Burrow's Heisman Trophy campaign.

Complementing Burrow and Tagovailoa was future NFL stars Ja'Marr Chase, Justin Jefferson, DeVonta Smith, and Jerry Jeudy. The 46-41 LSU win propelled the Tigers to a national championship that season. 
---
#4 2016 Clemson vs. Louisville
Clemson: Deshaun Watson 20 for 31 306 yards 5 TD's 3 INT's; 91 yards rushing
Louisville: Lamar Jackson 27 for 44 295 yards 1 TD 1 INT; 31 carries 162 yards rushing 2 TD's
After Louisville stunned Florida State 63-20 earlier in the 2016 season, their primetime matchup with Clemson who was looking to return to the national championship was looking to thwart the effort by Lamar Jackson. While this duel didn't light up the air like the other duels on this list, it was truly a showdown between two alpha quarterbacks.
Lamar Jackson put Clemson on upset alert in the fourth quarter going up 36-28 with an 11 yard touchdown run with 7:52 to go in the game. Clemson quarterback Deshaun Watson was doing everything possible along with running back Wayne Gallman to avoid the upset. Watson threw two late fourth quarter touchdowns to Mike Williams and Jordan Leggett to avoid the upset with a 42-36 win.
Jackson's performance earned him the 2016 Heisman Trophy, Watson got the last laugh, however, guiding Clemson to their first national championship since 1981. 
---
#3 2012 West Virginia vs. Baylor
West Virginia: Geno Smith 45 for 51 656 yards 8 TD's
Baylor: Nick Florence 29 for 47 581 yards 5 TD's 1 INT
West Virginia began play in the Big XII conference for the 2012 season and in their first conference game, the spectacle that was put on at Milan Puskar Stadium is one for the ages. The Mountaineers were ranked in the Top 10 in the country and then WVU head coach Dana Holgorsen had his Air Raid offense clicking with quarterback Geno Smith and wide receivers Tavon Austin and Stedman Bailey.
The game was a heavyweight battle of big plays and explosive plays through the air where the Mountaineers came out on top 70-63. 
The game also saw two receivers who finished with over 300 yards receiving in Bailey for the Mountaineers and Terence Williams for Baylor and six wide receivers finished with over 100 yards receiving. 
---
#2 2014 California vs. Washington State
California: Jared Goff 37 for 53 527 yards 5 TD's
Washington State: Connor Halliday 49 for 70 734 yards 6 TD's
One of the many Pac-12 After Dark classics, for most on the East Coast, a nondescript Pac-12 conference game between middling conference powers was a reason to stay up for the 10:30 EST game. The next morning, the future NFL #1 overall draft choice and an NCAA record was set in Martin Stadium in Pullman, Washington. 
Washington State quarterback Connor Halliday set an NCAA record for passing yards in a game with 734 yards in a single game and nearly four different Cougar receivers cracked 100 yards. 
California quarterback Jared Goff, who would go on to being the first overall pick in the 2016 NFL Draft and set a Pac-12 conference record for passing yards in a season, connected with receiver Trevor Myer with over a minute to go to put California ahead 60-59. 
---
#1 2016 Oklahoma vs. Texas Tech
Oklahoma: Baker Mayfield 27 for 36 545 yards 7 TD's
Texas Tech: Patrick Mahomes 52 for 88 734 yards 5 TD's 1 INT; 85 yards rushing 2 TD's
This iconic 2016 matchup between Big XII foes is no surprise at No. 1. The game saw many school or NCAA records set after a 66-59 win by Oklahoma.
Patrick Mahomes set NCAA records for number of plays participated in with 100 plays and accounted for 819 of Texas Tech's 854 yards of total offense, which remains an NCAA record. The teams combined for 1,708 yards of total offense and 1,279 yards passing, both NCAA records as well.
After the Sooners forced a rare punt to start the second half, on the next 10 drives resulted in a touchdown, and after that punt Oklahoma maintained a two possession lead mostly throughout.
Baker Mayfield rallied his offense at the half, saying, "I told some of the guys at halftime, `If you're scared and you don't want to score every drive, then stay in here." No one on Oklahoma's side stayed in the locker room in this epic clash.
For Mayfield, he won the Heisman Trophy and is considered the greatest walk-on in college football history, as evidenced by him being a two time recipient of the Burlsworth Trophy. Mayfield has struggled to gain traction in the NFL.
For Mahomes, an NFL Draft day trade put him in Kansas City with offensive guru Andy Reid, and has become a generational talent in the NFL.