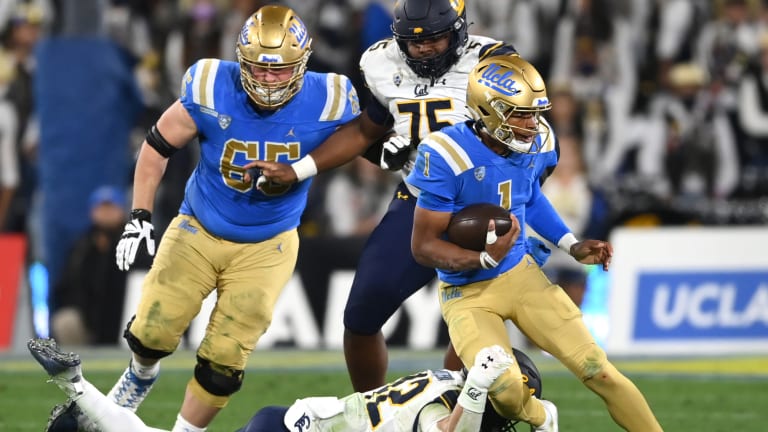 Top Five Heisman Candidates Following Week Five
The Heisman Trophy is awarded annually to the most outstanding player in college football. The award started in 1935, with Chicago Senior RB Jay Berwanger receiving the Downtown Athletic Club Trophy that would later be named the Heisman Trophy after the club's president. Alabama QB Bryce Young became the most recent winner of this award.
Heisman Contenders In Alphabetic Order
Jordan Addison, USC
Will Anderson Jr, Alabama
Stetson Bennett IV, Georgia
Brock Bowers, Georgia
Todd Centeio, JMU
Jalon Daniels, Kansas
Mohamed Ibrahim, Minnesota
Drake Maye, North Carolina
Will Rodgers, Mississippi State
Dorian Thompson Robinson, UCLA
Heisman Top 5
#5 Bryce Young, Junior, Alabama
Week 5 Stats:
7-13, 133 Yards, 1 TD, 1 Int, 81.4 QBR, 53.8 Completion Percentage
2022 Season Stats:
1,202 Yards, 14 TDs, 3 Ints, 84.6 QBR, 67.2 Completion Percentage
Bryce Young left the game early in the second quarter against Arkansas. There is hope Bryce will play as soon as the Tennessee game, but his injury status is currently up in the air. Bryce played well in his limited time against Arkansas, leading the Tide to a 14-point lead early in the game. Young is close to being removed from this list; however, I will keep him at five, assuming he misses one game.
---
#4 Drew Sanders, Junior, Arkansas
Week 5 Stats: 
2022 Season Stats: 
43 Tackles, 6.5 Sacks, 2 FF, 2 PDs
Drew Sanders is on another level this year. Despite Arkansas losing two straight games, Sanders has flourished and continues to stand out in a conference with solid defenders like Will Anderson. Sanders shinned against Alabama, leading the team with 12 tackles and disrupting plays throughout the game.
---
Week 5 Stats: 
25 Carries, 129 Yards, 5.2 YPC, 1 TD
2022 Season Stats: 
120 Carries, 733 Yards, 6.1 YPC, 4 TDs
Chase Brown is the best RB in college football. Illinois entered a hostile Camp Randall environment Saturday and exited with a win that left Wisconsin Coach Paul Chryst unemployed. Since the beginning of the season, Brown has dominated his competition, but I had concerns about how he would play against a tough defense like Wisconsin. Brown proved me wrong, rushing for over 100 yards for the fifth time this season. The Illinois RB is my Doak Walker favorite and is definitely in consideration for the Heisman Trophy.
---
Week 5 Stats:
27-37, 348 Yards, 3 TDs, 1 Int, 90.2 QBR, 73 Completion Percentage
2022 Season Stats: 
1,402 Yards, 12 TDs, 1 Int, 85.8 QBR, 67.3 Completion Percentage
Caleb Williams moves up to #2 this week. The USC signal caller is undefeated this season and is coming off one of his best games this year. Caleb threw for a season-high 348 yards in an impressive win against the Sun Devils. Washington State and Cameron Ward are next. The Cougars will give the Trojans another tricky game this year and can hand the Trojans their first loss of 2022.
---
#1 CJ Stroud, Junior, Ohio State
Week 5 Stats: 
13-22, 154 Yards, 2 TDs, 1 Int, 78 QBR, 59.1 Comp%
2022 Season Stats: 
1,376 Yards, 18 TDs, 2 Ints, 93.7 QBR, 68.7 Comp%
CJ Stroud extended his Heisman lead this week. Stroud wasn't necessarily impressive, but he didn't have to be this week. Stroud made the correct throws this week and helped his team take down the Scarlet Knights. Miyan Williams exploded for five touchdowns against Rutgers, meaning CJ didn't have to throw the ball to win. With the injury to Bryce Young, Stroud, in my opinion, has solidified himself to being in New York for the trophy presentation. Barring a mid-season collapse, I would bet on seeing CJ Stroud in the Heisman House commercials next season.
---
Welcome to the contender's list Todd Centeio, Will Rodgers, and Dorian Thompson Robinson. Each of these QBs has led their team to the next level this season and should receive some praise.
CJ Stroud has secured himself as a Heisman lock in my eyes due to the injury of Bryce Young.
Chase Brown and Drew Sanders are the best non-QBs in college football through six weeks and have a long shot of winning the Heisman Trophy.