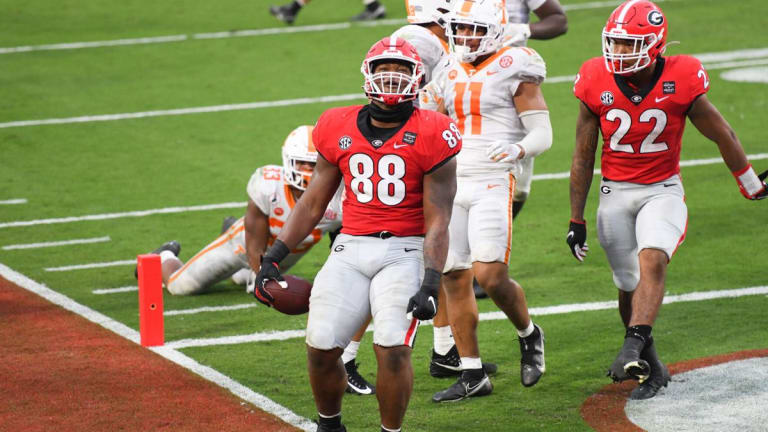 Toughest Defenders to Replace in the SEC
Lots of big names are gone, but there's plenty of talent waiting in the wings
Georgia - Travon Walker, Jordan Davis, Devonte Wyatt
Potential Replacements: Jalen Carter (DT), Zion Logue (NT), Tyrion Ingram-Dawkins (DE)/Tramel Walthour (DE)
Seemingly the top perennial powers in the country don't rebuild elite defensive lines, they simply reload. Georgia should be no different akin to other powers like Alabama, Ohio State, and Clemson. I would say it will Georgia's first foray with such a reload.
To lose the 2022 NFL Draft No. 1 Overall Draft Pick Travon Walker, and 2 other first rounders in Consensus All-American Jordan Davis, and Devonte Wyatt will be a tall task for Kirby Smart and company. Jalen Carter is said to be the best of this year's bunch and some Bulldog coaches feel he is every bit as good as last year's bunch will lead the defensive line.
Occupying space and anchoring the defensive line will be junior nose tackle Zion Logue. Logue is expected to start, but will be rotated in with Nazir Stackhouse and Warren Brinson. At defensive end, most prognosticators are feeling redshirt freshman Tyrion Ingram-Dawkins should start but a rotation with senior Tramel Walthour will most likely happen.
On his show last week, he admitted that there is a distinct gap between last year's group and this year's group.
It's not the three first-rounders we had last year, I can promise you that. It's a group that will do it by committee, they will work really hard, they will play hard. We've got good depth, but we obviously don't have the quality at the top we had last year. We don't have three first-rounders across our defensive line, so we can't ask them or expect them to do what last year's group did. - UGA coach Kirby Smart
---
DeMarvin Leal - Texas A&M
Potential Replacement: Shemar Turner
Leal had a monster 2021 season for the Aggies as he earned Consensus All-American recognition as well as accruing 58 tackles, 12.5 tackles for loss, and 8.5 sacks last season. Leal was selected in the 3rd round of the 2022 NFL Draft by the Pittsburgh Steelers.
Looking to replace Leal will be sophomore Shemar Turner. Turner was recognized by SEC Coaches and selected to the All-SEC Freshman team despite limited action and brought in on rotation.
With the Aggies having five former 5-star defensive lineman on the defensive and all five sophomore or younger, it will be up to Turner to set the tone for the unit to help meet the high expectations for Texas A&M's 2022 season.