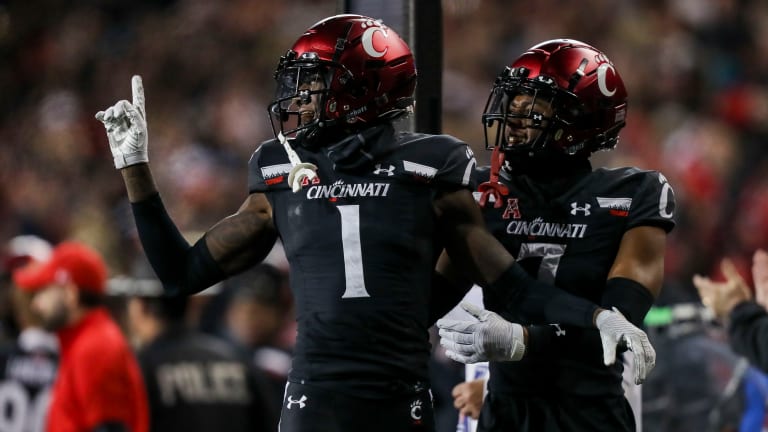 Toughest Group of 5 and Independents Defenders to Replace
Cincinnati - Coby Bryant & Sauce Gardner
Potential Replacements: Arquon Bush, Jaquan Sheppard, Taj Ward
It's hard to imagine putting a Group of 5 team this high for defensive replacements. The 2021 Cincinnati Bearcats were not your typical Group of 5 team and with 9 former Bearcats drafted, only LSU with 10 and National Champion Georgia with 15 had more, the most difficult replacement will be arguably the nation's top cornerback duo from last season. 
Coby Bryant, now with the Seattle Seahawks, was the 2021 Jim Thorpe Award winner. Sauce Gardner, who was the 2021 AAC Defensive Player of the Year, was a Consensus All-American, was picked fourth overall by the New York Jets.
Bearcat Head Coach Luke Fickell will be looking to two seniors to replace Bryant and Gardner in seniors Arquon Bush and Ja'quan Sheppard on the outside receivers with Taj Ward emphasizing on the slot receivers. With an opening matchup against the Arkansas Razorbacks will put an early test on this new cornerback unit. 
---
Notre Dame - Kyle Hamilton
Potential Replacement: Brandon Joseph
Notre Dame in the last decade has sent to the NFL a string off highly successful safeties to the NFL in Harrison Smith, Julian Love, and most recently Kyle Hamilton who was a Consensus All-American last season and is now with the Baltimore Ravens.
The significance of Hamilton's departure cannot be overstated, but they've got a very capable transfer who has some serious pedigree. First year Notre Dame head coach Marcus Freeman will be leaning on Northwestern transfer Brandon Joseph to be the next great Notre Dame safety.
At Northwestern, Joseph was a Consensus All-American and First-Team All-Big Ten in 2020 as freshman, as a sophomore with more attention still garnered All-Big Ten honors but was asked to do a lot more for the Wildcats. Joseph has an incredibly hard first test with the Irish playing safety against arguably the best wide receiving core in the country at Ohio State.