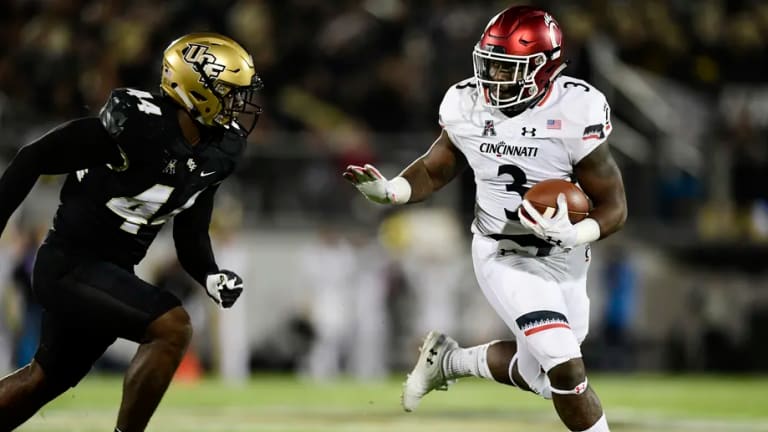 UCF vs. Cincinnati - The Great American Clash
Future Big XII foes clash to see who can challenge Tulane for the AAC
It may have lost a lot of marquee value when the UCF Knights took an uncharacteristic 34-13 loss last week to East Carolina, but don't underestimate that value when UCF and Cincinnati clash. 
During the past six seasons, the winner of the Cincinnati and UCF clash went to a New Year's Six bowl game four times, went to the College Football Playoff once, and a recognized national championship. Not many current rivalries with bigger marquee names and cache have achieved as much during the same span. 
This season it is a little more subdued for UCF and Cincinnati, the Bearcats took an early season loss to Arkansas but a win here could get them to a third consecutive New Year's Six bowl appearance. UCF head coach Gus Malzahn recognizes the importance of Cincinnati coming to town, "Got Cincinnati coming to town. I think everybody knows how good they are. 18-straight conference wins. 10-1 on the road in their last 11 games. I think they got beat by Arkansas, which was a game, they probably could've won that."
Malzahn targeted one of the Bearcats strengths on defense and that was an elite pass rush and getting tackles for loss, "Lead the country in sacks. Lead the country in tackles for loss. Very aggressive defense. They really challenge you; play a lot of man (coverage). They'll pressure you and play some zone."
The Bearcats pass rush is being paced by junior linebacker Ivan Pace Jr. who leads the nation with 14.5 tackles for loss. The transfer portal star leads a Cincinnati unit that averages 4.14 sacks per game which leads the nation and is third in total sacks with 29. They're also leading the nation in tackles for loss (9.3 per game), second in tackle yards lost (288), and third in total TFL (65).
On the other side of the ball, the Bearcats are an efficient offense that has quietly scored 36.9 points per game which is in the Top 25 in scoring. Quarterback Ben Bryant returned to face SMU last week after having a concussion. While his numbers on the surface look fantastic, it hasn't translated well into conference play. Bryant has completed only 57.8% of his passes with four touchdowns and three interceptions with a QBR of 53.1 against AAC competition. Another slow start from Bryant, the calls for Evan Prater to get in may get even louder from Cincinnati fans. 
Junior wide receiver Tyler Scott, who was easily the breakout player offensively for the first half of the season averaging nearly 18 yards per reception and six touchdown receptions has been out since the Tulsa game October 1, he was questionable last week against SMU and it is yet unknown if he will play against UCF. 
For Cincinnati, Luke Fickell looks to add to his record of winningest coach all time for Cincinnati after passing Rick Minter last week against SMU. 
With questions at quarterback, Bearcat running back Charles McClelland picked up the slack on the ground, rushing for 129 yards on 16 carries, that included a 76-yard touchdown.
"He's been unfortunate to have two season-ending injuries with ACLs...His resiliency, his passion to get back and be with his brothers and continue to play has meant so much to us. He's completely elevated his game."

Cincinnati HC Luke Fickell on RB Charles McClelland
Fickell acknowledges this is the biggest road game for Cincinnati since Week 1 against Arkansas, "It's going to be uniquely different this week, this is our first true challenge since Week 1 to go on the road in a hostile environment and play a great football team. Not taking anything away from the teams we've played on the road, they haven't been hostile environments since Week 1. This will be that."
Offensively for the Knights, the offense runs through Ole Miss transfer quarterback John Rhys Plumlee who has been responsible for 64.7% of UCF's total offense this season being their leading passer and rusher. "The offense is going to run through him," Fickell said. "Whether he's running the football, he's scrambling around or he's making things happen with his feet or his arm."
Fickell sees this game as a rivalry and takes it personal, "To me, any team that has beaten us, any team that has embarrassed us as they did in year one, that was something that will never go away for me, so, in my own mind and my own heart, it's been a rivalry since that."
Feeding into the narrative of this rivalry is former UCF quarterback McKenzie Milton who posted on Twitter: 

While the game doesn't have the same cache as The Iron Bowl, The Game, or Red River, there is plenty on the line and a lot of interest around the country. A win by Cincinnati would give them 18 straight American regular-season wins and 20 straight victories against American opponents, which would break the conference records with their last American loss in the 2019 AAC Championship Game against Memphis. 
For UCF, it would give second-year coach Gus Malzahn the signature win he needs with that program and take dead aim at Tulane for the American championship. 
For Big XII fans, it will be a first look at what will be a future Big XII conference game and Tulane watching who they will have to contend with for the American. 
It's a budding rivalry that has defined the American and will eventually be one that will define the Big XII.