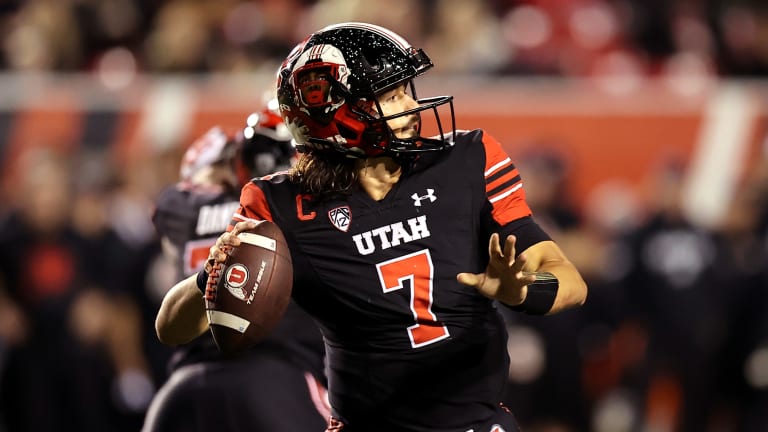 Utah is Rising at the Right Time
Are the Utes poised to poach one of the two Pac-12 Championship Game slots?
For Utah head coach Kyle Whittingham, the decision to go for two and the win in their game against then No. 7 Southern Cal down 42-41 was not a particularly difficult one. "We were going to keep the ball in Cam's hands, and if we score and time is close to expiring, we were going for 2, no question."
In a game where Utah had plenty of emotion in play, they were trying to salvage a season where championship aspirations were high in Salt Lake City, but losses at The Swamp in Week 1 against Florida, and then losing the prior week against UCLA eliminated all hopes for the Utes to make the College Football Playoff. 
The Pac-12 in the other hand was still in play and during a game they were honor two fallen Utes; Ty Jordan and Aaron Lowe, emotions were running high at Rice-Eccles Stadium. The Utes overcame a 21-7 first half deficit and got the Trojans to a very decisive play where Whittingham called on number seven quarterback Cameron Rising to make the play for Utah's season. 
Rising was able to execute the quarterback keeper for the two point conversion to give the Utes the 43-42 win in Salt Lake City, Whittingham had high praise for Rising after the game, "Cam Rising is a competitor, warrior, you name it. He's a champion."
As Utah enjoyed their bye week, Pac-12 Championship aspirations are still in their control. The Utes have a Thursday night encounter at The Palouse in Washington State. Washington State has one of the better quarterbacks in the conference in Cameron Ward, who was a transfer in from FCS Incarnate Word in San Antonio, Texas. The dual-threat Ward has quickly become one of the true impact players in the league. 
"He's very similar to what we saw against USC. He's got a big arm, he can extend plays, he's hard to sack…this guy is very similar and can get himself out of jams, and has done a nice job throwing the ball. They're close to 300 a game [total offense], throwing 280ish. Somewhere in there," assessed Whittingham of Ward in his weekly press conference with the media.
The other strength that caught Whittingham's eye is the Cougars have the top scoring defense in the conference, giving up just 20.7 points per game, "They're playing very well on D, in fact, No. 1 in the conference in points allowed, which is really the bottom line and the most important statistic defensively."
Whittingham had praise for Washington State linebacker Daiyan Henley calling his play "exceptional," in his opening remarks and it will be a contest as the Utah rushing offense and Washington State rushing defense are both ranked in the Top 40 in the country.
While Whittingham recognizes he hasn't seen the same rushing offense as Utah has been accustomed to in years past, he feels the passing game has picked up the slack especially on play-action, "We're not as productive in the run game this year as we have been in years past. But on the other side of that, we're throwing the ball pretty darn good. So as long as you're getting it done one way or the other. We seem to be at our best when we're running the ball effectively, which opens up the play-action pass game even more so than it has been."
If Utah gets past a legitimate trap road game at Washington State Thursday night, the schedule becomes manageable for the Utes. The follow their tilt with the Cougars with back-to-back home games against Arizona and Stanford. 
Although the Wildcats possess a fantastic passing offense behind quarterback Jayden de Laura and his 334.4 passing yards per game (good for fifth in the nation,) they have arguably one of the worst defenses in the country. Jedd Fisch's squad is giving up 36.3 points per game (124th), 207.4 rushing yards (121st), and 246.7 passing yards per game (93rd,) ranking 118th in total defense. 
Following that game, they will take on a Cardinal squad who are without E.J. Smith, who truly was their only playmaker on offense. Tanner McKee has NFL aspirations like Davis Mills before him, but he has no weapons and no protection in front of him as Stanford is amongst the worst at allowing tackles for loss and sacks. That's something opportunistic Utah defenders like Junior Tafuna, Gabe and Karene Reid, Cole Bishop, and Van Fillinger will be able to feast on.
However, the Utes have to finish their season with two games on the road, and the first of those will determine if they can make the title game. Utah takes on an Oregon team in Autzen stadium, which has a chance to be a top-10 matchup come week 12. 
Utah finishes their season at Colorado and if they take care of business in Eugene, and Southern Cal and Oregon each have one conference loss, Utah would lock up a birth to Las Vegas for the Pac-12 Championship Game. 
Whittingham when asked this week about Pac-12 changing the way entering this season to qualify for the Championship Game, he said, "I don't think so. You're just trying to win every week, that never changes, no matter the configuration of the league. As I said before, I'm not a math major, but I would think having to be better than 10 of the schools rather than five of the schools to get to the championship game would make it a little more difficult. But everyone's in the same boat. The champion is going to be crowned by who wins the game in Las Vegas. Not whether you go in there first or second. I don't want to say it's irrelevant, but really, the Pac-12 champion will be determined in Las Vegas. You just have to get yourself to that game."
For Utah, they control their own destiny to get to Las Vegas for the opportunity to get to the Rose Bowl in January, with championship players like Cam Rising and a culture of believing in themselves, all Utah has to do is just win and punch their ticket to Vegas.