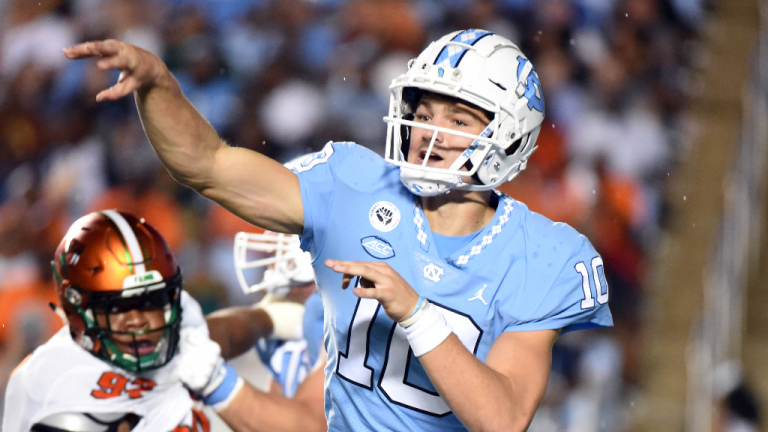 Week 0 Breakout Players
Mark Pszonak takes a look at three players who had huge debuts in week 0, including North Carolina QB Drake Maye...
With Week 0 in the books, let's take a look at three guys who made big first impressions.
---
QB Ryan Hilinski
Northwestern
The skinny: While Hilinski had a few impressive performances during the 2019 season in South Carolina, his performance at Northwestern after his transfer was disappointing. So after passing for 978 yards last season, not many people expected Hilinski to pass for 314 yards while completing 27 of 38 passes during the Wildcats' season-opening win against Nebraska in Ireland. Everyone will have to wait to see if this was a sign of things to come in 2022 or a random shot-in-the-dark.
---
QB Drake Maye
North Carolina
The skinny: Maye did not know that he was the starter for the opener until last Monday, but after responding by completing 29 of 37 passes for 294 yards and five touchdowns against Florida A&M, his job security seems pretty solid. Obviously tougher games are coming, including a three-game stretch against Notre Dame, Virginia Tech, and Miami in late September/early October, but for now, Tar Heel fans are excited to see what the future holds for Maye.
---
QB Mike Wright
Vanderbilt
The skinny: Wright showed some flashes during the 2021 season, but not many people predicted his explosion on late Saturday night against Hawaii. He completed 13 of 21 passes for 146 yards and two touchdowns while also rushing for 163 yards and two touchdowns on only 13 carries (including this 89-yard scamper). For an offense that sputtered through a majority of last season, this was an extremely optimistic start to the Commodores' season.