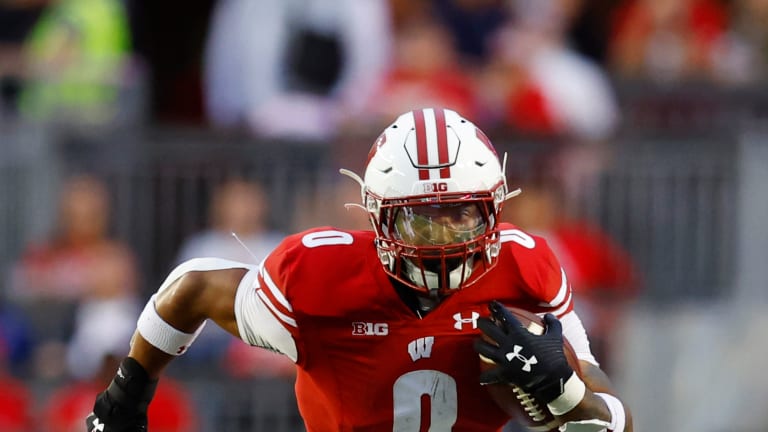 Week 1 Awards
The best and the worst from the first full Saturday of college football
Record Setting Performance: Wisconsin Badgers
Wisconsin started their year with a relatively easy 38-0 victory over FCS Illinois State. But they nearly were down early before safety John "The Jewelry Thief" Torchio set a school record for longest interception return with this 100 yard pick-six
The next drive, Braelon Allen broke James White's school record for longest run with a 96-yard rumble down the field.
---
Like Father, Like Son: Frank Gore Jr.
The Southern Miss running back set a career high with 178 yards on the ground to go along with two touchdowns. He even completed a 24-yard pass in the Mustard Buzzards' near-upset of heavily favored Liberty in double overtime. His 178 yards are just 17 short of his legendary father's career high at Miami. 
---
That's a Bold Strategy, Cotton: Rutgers
The Scarlet Knights won a peculiar game at Boston College on Saturday 22-21 in a bit of an upset. But if you watched Rutgers' first three plays, you'd think there were some serious miscommunications. Three different quarterbacks took the first three snaps. They also somehow managed to punt on fourth-and-goal. You read that correctly - the Scarlet Knights were forced to punt in a goal-to-go situation, after getting the ball to the BC 8-yard line. Three penalties and a sack later, and you've got All-conference punter Adam Korsak trotting out to punt it away from the Eagles' 43-yard line.
---
Good Old Fashioned Shootout, part 1: Oklahoma State vs. Central Michigan
The Cowboys and Chippewas put on a show on Thursday night, scoring 102 total points and the Jim McElwain-coached team doing their best to come back late in the fourth quarter. Quarterbacks Daniel Richardson (CMU) and Spencer Sanders (OSU) combined to go 64 of 70 for 830 yards, eight touchdowns, and only one interception. If Oklahoma State's defense looks this bad against Central Michigan, imagine what's going to happen when they face the likes of Texas and Oklahoma.
---
Gold Old-Fashioned Shootout, part 2: UNC vs. Appalachian State
There was no more exciting game on Saturday than the track meet that took place in Boone between the Tar Heels and the Mountaineers. Appalachian State scored 40 points in the fourth quarter yet still managed to come up short, with a failed two-point conversion the difference between the teams at the end. There might not have been a ton of defense, but you couldn't take your eyes off the game for a minute. 
---
Sack Master: Jacoby Windmon, Michigan State
Mel Tucker has done it again. He's gone out and gotten a true difference maker in the portal, and this time it's UNLV transfer Jacoby Windmon. Windmon had seven tackles, four sacks, and a forced fumble against Western Michigan.
---
Bad Day to Have a Bad Day: Owen Daffer, East Carolina
I don't want to kick the guy while he's down, but Daffer had a day to forget. The preseason All-AAC selection had converted on more than 95% of his extra points and 82% of his field goals as a redshirt freshman in 2021. But he missed a crucial extra point to tie the game late in the fourth quarter, and then missed another very makable 41-yard try with four seconds left to win. Kudos to teammate Myles Berry after the game for standing up for his teammate.
---
New Kid in Town: James Madison
The Dukes are in their first season of FBS football as a member of the Sun Belt, and they started their debut in the highest level of college football with a dominant win over MTSU. Their offense moved the ball effortlessly behind Todd Centeio who threw for 287 yards and six touchdowns while adding another 110 on the ground. And their defense was simply stifling, holding Rick Stockstill's club to 12 yards on 28 carries, good for .43 yards per attempt. Great opener for Curt Cignetti and the Dukes.