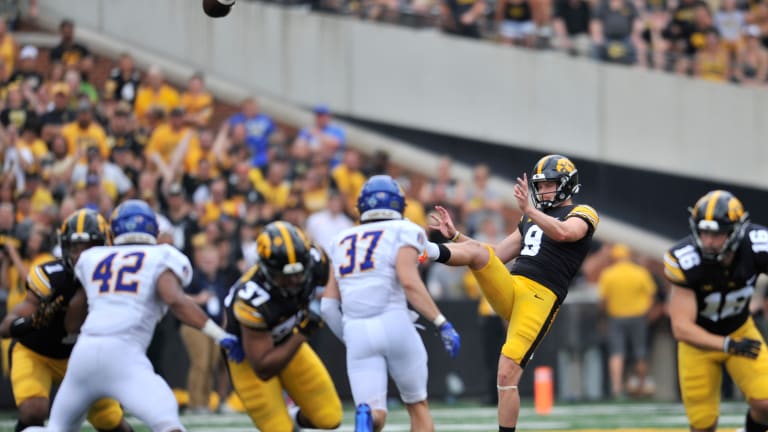 Week 1 Maintenance Report
Who needs an immediate fix, and who can afford to be patient?
Issue: Iowa Offense
Diagnosis: FIX
For a team that participated in a Power 5 conference championship game a season ago, you would feel they would have the talent advantage against a FCS school, even one that lost in the FCS Playoff semifinals like South Dakota State did. 
Iowa managed to take its fans on a nostalgia trip back to 2004 when it defeated Penn State 6-4 with its 7-3 win over the Jackrabbits. The Hawkeyes accrued their points via a field goal and two safeties while losing the turnover battle to the Jackrabbits 2-0.
Iowa head coach Kirk Ferentz has a similar brain trust circling him with offensive coordinator Brian Ferentz and quarterbacks coach Ken O'Keefe, who was Hawkeye offensive coordinator from 1999-2011. The younger Ferentz has been offensive coordinator since 2017 and has never had a scoring offense in the above 40th in the country. In his time, the Hawkeyes have had 66th (2017), 44th (2018), 88th (2019), 40th (2020), and 99th (2021) scoring offenses. 
There hasn't been consistency or saying a game like this is an anomaly, at some point the elder Ferentz needs to decide what is best for Iowa to take that next step and that would be a fresh offensive mind in the room.
---
Issue: Ohio State Offense
Diagnosis: PATIENCE
One of the bigger surprises from Week 1 is the power outage the Buckeyes offense exhibited against Notre Dame. The Notre Dame defense is an elite one, they gave up 19.7 points per game a season ago, and Saturday night against the Buckeyes allowed 21 points. A season ago they gave up 359 yards per game, last night 395 yards.
Notre Dame has elite athlete as well, I wouldn't sound the alarm at all. 
Buckeye quarterback CJ Stroud might have exhibited some starring down receivers, but overall he was hitting NFL throws and missed top receiver Jaxon Smith-Njigba in the slot and Julian Fleming on the boundary. Emeka Egbuka, Marvin Harrison Jr., and Xavier Johnson adjudicated themselves well enough. 
Buckeye head coach Ryan Day remembered he got exceptional backs TreVeyon Henderson and Miyan Williams that rode them to victory. Ohio State will pump its offensive numbers the rest of the way and Butch Jones Arkansas State Red Wolves is a great place to start. 
---
Issue: Oklahoma State Defense
Diagnosis: FIX
In the two games since Jim Knowles departed for Ohio State, the Cowboys defense has given up 35 and 44 points in back-to-back games (Fiesta Bowl against Notre Dame and Week 1 against Central Michigan). 
Chippewas quarterback Daniel Richardson aired it out in Stillwater passing for 424 yards on 36 for 49 passing and four touchdowns with a QBR of 90.5. 
The Cowboys allowed 546 yards of total offense, 6.2 yards per play, 31 first downs, and the Chippewas were allowed to possess the ball for over 36 minutes. If Oklahoma State looks to return to the Big XII Championship Game, Mike Gundy needs to examine his defense and look how new defensive coordinator Derek Mason is calling games.
---
Issue: UNC Defense
Diagnosis: Cautiously Monitor
First and foremost the Tar Heels are 2-0. They had an absolute melt down against the Appalachian State Mountaineers in the fourth quarter. The Mountaineers trailed 41-21 entering the quarter, scored an unfathomable 40 points in the quarter. 
UNC held on 63-61 and Tar Heels defensive coordinator Gene Chizik asked about the historic meltdown, 
"The fourth quarter was an implosion," Chizik said. "And it was a lot of things. And it was not on a single individual. It wasn't on a single group of players, D-line, linebackers, secondary, it was everybody. And usually when those scenarios happen, it's poor execution. And then you throw on top of that, we had several opportunities to get off the field and then we had penalties ...so the fourth quarter was a mixture of a lot of things."
I feel Tar Heel head coach Mack Brown learned his lesson years ago firing unceremoniously Manny Diaz after a game, I feel he will exude patience and cautiously monitor the situation in Chapel Hill with his defense.
---
Issue: LSU Special Teams
Diagnosis: FIX
When LSU head coach Brian Kelly uttered his now infamous southern accent, he said, "That's a great way to get started, and I haven't even won all my games yet." 

Well he hasn't won any of his games yet, and most of that could be attributed to the special teams debacle that occurred at the Caesars Superdome Sunday night against Florida State. 
LSU special teams did the following: 
Punt returner Malik Nabers muffed two punts.
Place kicker Damian Ramos had a field goal blocked in the second quarter and the now infamous extra point block at the end of regulation that could tie the game. 
Got flagged for unsportsmanlike conduct on a kickoff.
Kelly and special teams coach Brian Polian have to absolute have emergency surgery and complete rework and retool this special teams disaster. 
While Kelly is overseeing that, he might want to have quarterback Jayden Daniels target Kayshon Boutte a little more often and teach defensive lineman Ali Gaye not to target like this: