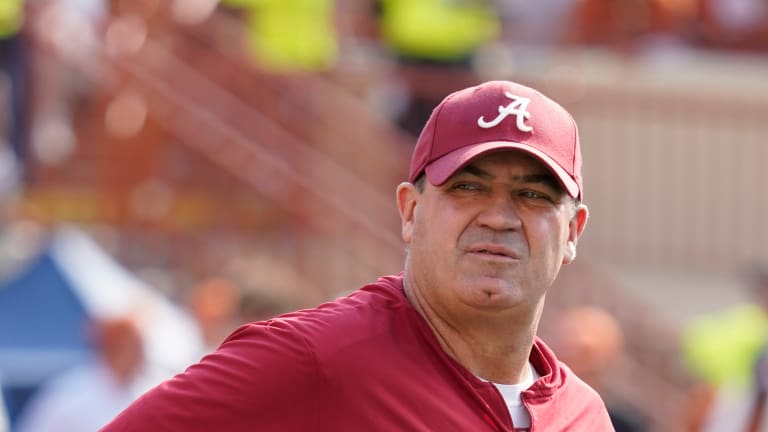 Week 10 Maintenance Report: Offensive Issues at Alabama, Clemson, and Tennessee
Major and Minor Offensive Issues Dominate Maintenance Report
ISSUE: Bill O'Brien as Offensive Coordinator
DIAGNOSIS: PATIENCE
It seems like every time the Alabama Crimson Tide lose, their fans call for a sacrifice at the altar of Bear Bryant. And after losing two of their last three games, they now have turned their ire to OC Bill O'Brien.
The second-year offensive coordinator's resume before Alabama consists of stops with the New England Patriots as an offensive coordinator to Tom Brady, a head coach with Penn State where he was recognized as the Paul W. Bryant Coach of the Year in 2012, and then with the Houston Texans where he guided them to the playoffs in four of his first six seasons. Needless to say, O'Brien is well-credentialed. But after his failings as an NFL GM, he came to Alabama to Nick Saban's Coaching Rehabilitation to work on his CEO skills. 
O'Brien has had the unenviable task of replacing Steve Sarkisian in Tuscaloosa, who put up an all-time season for the Crimson Tide in 2020 that saw them go undefeated in an all-SEC slate, win the national championship, and average 48.5 points per game with the offensive triumvirate of Heisman trophy wide receiver DeVonta Smith, quarterback Mac Jones, and running back Najee Harris. 
Last season, O'Brien coordinated quarterback Bryce Young to a Heisman Trophy and led an offense that finished in the top 10 in scoring at 39.9 points per game. The Crimson Tide made the national championship game where injuries to wide receiver John Metchie and Jameson Williams took the explosive out of the Crimson Tide offense that derailed their pursuit for the national championship. 
This season, key injuries to Young and others have derailed Alabama's usually unstoppable offense. Left tackle Tyler Steen left the LSU game with an injury and was replaced by Kendall Randolph. Discipline issues and ability to execute have crept into the offense, and the Crimson Tide while enjoying the dynamic duo of Jahmyr Gibbs and Jase McClellan has been great, but the wide receiver room has yet to develop. Sophomore Ja'Corey Brooks has emerged as a potential No. 1 receiver but a larger sample size is needed. 
It seems to be a transition year at Alabama. The impatience of Alabama fans is not warranted after two losses, even if it means being out of the national championship picture this year. Everyone needs to calm down and allow O'Brien to figure things out.
---
ISSUE: Clemson Quarterback Situation 
DIAGNOSIS: FIX
I have brought up in the past maintenance reports the issues with the quarterback situation at Clemson. The Tigers have limped along with mediocre quarterback play from DJ Uiagalelei and when head coach Dabo Swinney wanted to see what he has in freshman Cade Klubnik, Klubnik hasn't performed to a level to push the envelope. 
The Tigers' quarterback situation finally caught up with them in South Bend Saturday night with a surging Notre Dame team who dominated the line of scrimmage on both sides of the ball. Uiagalelei threw a back-breaking pick-six to Notre Dame's Brendan Morrison to give the Irish a commanding 28-0 lead. 
Klubnik came in and threw an interception on his first pass attempt and was subsequently benched himself, bringing Uiagalelei back in the game that had already gotten out of hand, ending with Notre Dame upsetting Clemson 35-14. And with that loss goes the likelihood of getting a spot in the CFP, considering the perceived weakness of the ACC as a conference as a whole. 
Uiagalelei completed his fifth game with a QBR under 51.1 this season, putting him squarely at average for a Power 5 quarterback. That's a big disappointment from the former number-one overall recruit in the country coming out of high school. We may simply have to accept that he is who he is at this point.

Klubnik has thrown just 20 total passes on the season, only completing nine passes (45% completion percentage), for 85 yards with a touchdown and interception. He clearly hasn't earned the coaching staff's trust and confidence.
Swinney has to ask seriously who gives him the best chance to win now and the future and is Klubnik the answer, this is one of the rare times Clemson hasn't had an elite quarterback in this recent run to get them to the playoffs and it will be interesting how Swinney and offensive coordinator Brandon Streeter approach this. 
---
ISSUE: Tennessee Power Outage
DIAGNOSIS: PATIENCE
It's hard to pick on a Tennessee team who achieved their first No. 1 ranking since winning a national championship in 1998. 
It's also hard to understate how dominant their offense was coming into their tilt against SEC East for Georgia. The Vols came in averaging nearly 48 points per game with one of the most explosive teams in college football. Heisman hopeful Hendon Hooker entered the game against Georgia with a quarterback rating of 135.4 rating on passes of 20 yards or more which was the best in the nation. 
Hooker and Volunteers got grounded by a stifling Georgia defense that allowed 289 total yards on 75 plays against the Volunteers. Tennessee's aerial attack that had beaten up on some of the strongest secondaries in the country suddenly didn't have it against the Dawgs.
For the Vols, their remaining schedule eases up a great deal. They finish the season against Missouri, South Carolina, and Vanderbilt, all of which are eminently winnable. That should ensure at minimum a Sugar Bowl berth and potentially a berth in the College Football Playoff. 
Between now and then, they need to figure out how they got shut down and how to mix it up if they want to take that step as a program amongst the elite.
---
ISSUE: Oklahoma State Power Outage
DIAGNOSIS: FIX
Oklahoma State seemingly has a permanent spot in my weekly column largely due to my fascination with how this team's season has unraveled. The momentum from their comeback against Notre Dame in the Fiesta Bowl had most fans having championship hopes in Stillwater coming into the season. And the early returns were great. But after back-to-back duds against Kansas State and Kansas, the Cowboys are due for a reckoning.
The defense hasn't been able to stop anybody this season in Derek Mason's first season as defensive coordinator. And now, the offense seems to be in disarray as well after quarterback Spencer Sanders' shoulder injury against Texas Tech on October 8th. 
Two weeks ago, Oklahoma State suffered the worst shutout loss by a Top 10 team in the country in over 50 years against Kansas State, when they lost 48-0. Last week, the Cowboys tried to get back on track against a Kansas team who had lost three in a row. Without Sanders, head coach Mike Gundy turned to freshman Garret Rangel who had a game with mixed results going 27 for 40 for 304 yards two touchdowns, and three interceptions in a 37-13 loss to Kansas. 
Gundy has been mum all week about who will start for the Cowboys, whether it is Rangel, Gunnar Gundy, or if Sanders is healthy to play. For an offense who at one point was averaging well over 40 points per game, has scored two touchdowns in two weeks, the defense won't help them and if the Cowboys want any shot in Bedlam against Oklahoma they need to fix their offense.