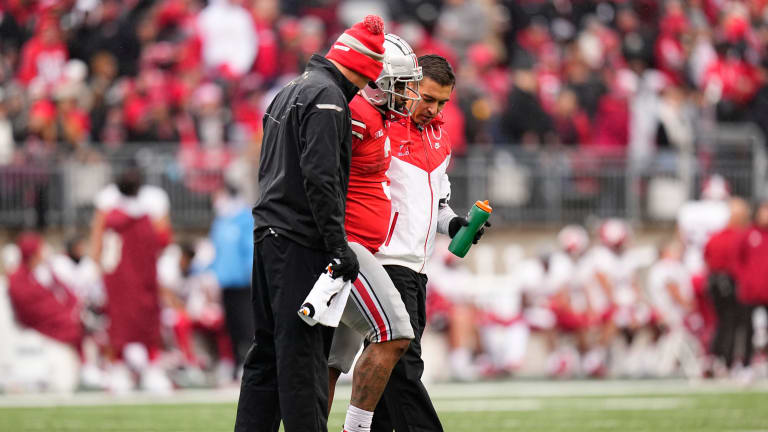 Week 11 Maintenance Report - Could Injuries at Ohio State and USC Derail Playoff Hopes?
What do six of the top teams have to work on to secure a playoff berth?
#1 Georgia
ISSUE: Complacency 
DIAGNOSIS: Wait and See
Georgia has been absolutely dominant this season, to pick on any particular area would be nitpicking. 
Quarterback Stetson Bennett has been amazing. He has had four games with a QBR over 90 against Tennessee, Oregon, South Carolina, and Vanderbilt. In comparison, his worst games this season by QBR have been against Samford, Kent State, and Missouri. Missouri has been the only team this season to not lose by 14 or more points, and the Tigers kept the game close by exceptional third down defense having Georgia only convert on 4 for 13 on third downs and forcing two turnovers. 
When you look at the Bulldogs top to bottom, they are in the Top 10 in the nation in Passing Offense, Rushing Defense, Total Offense, Total Defense, Scoring Offense, Scoring Defense, Red Zone Offense and Defense, and Third Down Offense and Defense. 

What stands in the way of Georgia becoming the first team to win back-to-back national championships since Alabama in 2011 and 2012 is complacency. 
Georgia has been dominant but outside of Oregon in Week 1, and Tennessee two weeks ago, the competition will begin to ratchet up in a few weeks in Atlanta against LSU in the SEC Championship Game and the only thing that can stop Georgia from repeating is falling into a failed sense of confidence and lose their edge and get clipped. Stay away from that, we might be asking the dynasty question in January.
---
#2 Ohio State
ISSUE: Running Back Depth
DIAGNOSIS: FIX
Junior running back Miyan Williams left in the first half of the Indiana game due to an injury after dominating the Hoosiers for 147 yards and a touchdown. Williams had distinguished himself over backfield mates TreVeyon Henderson and Dallan Hayden, but after the injury, the running back room has been thinner than normal in Columbus. 
Against Indiana, with Williams injured, Henderson still in a walking boot, and Chip Trayanum out with an undisclosed injury, the Buckeyes rode freshman Hayden in the second half to 100 yards. 
Williams tweeted this week that he is good, and head coach Ryan Day said after the game, "It didn't look like, based on what we saw in the locker room, that it was going to be something really long-term, so we'll see how he feels overnight." 
Where the Buckeyes begin to falter is one they become one-dimensional in the passing game, we have seen spurts where quarterback CJ Stroud becomes ineffective when the Buckeyes abandon the run. 
Last season, in the two games the Buckeyes lost to Oregon and Michigan, the Ohio State ground game was abandoned against Oregon and Michigan held the Buckeyes to just over two yards per carry. The backs need to be healthy and incorporated for the Buckeyes to advance in the College Football Playoff.
---
#3 Michigan
ISSUE: JJ McCarthy
DIAGNOSIS: FIX
Outside of the Maryland game, Michigan has obliterated everyone on their schedule. 
The Wolverines have been powered by an exceptional running game led by Blake Corum, who should take home the Doak Walker Award as the nation's best running back. That ground game averages 251.4 yards per game, good for fourth in the nation. 
While Michigan has dominated, McCarthy has been rarely put in a position where he had to engineer the win. 
McCarthy has been efficient throughout the season and his numbers reflect that, but overall the Wolverines are 95th overall in total passing. McCarthy has been cold in November completing 47.7% of his passes against Rutgers and Nebraska, not exactly murderer's row.
The competition stiffens this week against Illinois who has arguably one of the top defensive backs in the nation in Devon Witherspoon who has absolutely been lights out in man coverage. 
Next week brings The Game and the Buckeyes are seeking to avenge the 42-27 defeat in Ann Arbor, you got to have McCarthy be more than efficient to get past the Buckeyes and get to the playoffs and succeed against SEC juggernauts.
---
#4 TCU & #5 Tennessee
ISSUE: Pass Defense
DIAGNOSIS: FIX
Sonny Dykes may have some offensive kinks to work out after a sluggish game against Texas last week, but overall if there is one unit that TCU has to be worried about is their pass defense. 
The margin for error that TCU has to make the College Football Playoff is incredibly thin. So while they outscored the meat of their competition, their 88th-ranked pass defense has been torched by the top offenses they faced. 
The competition for TCU will be deceptively tough in their final two regular season games, as Baylor and Iowa State are both very much upset-minded. Then, a Big XII Championship Game that should see a rematch against Kansas State or Texas. 
Also suffering from pass defense woes is Tennessee. 
While they won't be going to Atlanta for the SEC Championship Game, the competition the next two weeks are road trips to South Carolina and Vanderbilt. That should help boast a pass defense that is presently 124th in the country. 
If somehow the Volunteers backdoor into the playoffs, they simply cannot bank on outscoring teams to win the national championship. Hendon Hooker and company are good, but they are not that good to overcome poor defense, ask Oklahoma fans about that.
---
#7 Southern California
ISSUE: Travis Dye injury
DIAGNOSIS: FIX
The importance of what running back Travis Dye meant to Southern Cal will be put the test over the next two weeks. 
Dye suffered a season-ending injury against Colorado, and after the game, Lincoln Riley said of what Dye meant to the Trojans, "There's no way we would be sitting here as a football team if it wasn't for him." 
Riley continued to say that Dye was a leader and helped establish the culture of Riley's program. 
Southern Cal is the Pac-12's last hope for the College Football Playoff, as Washington all but extinguished Oregon's hopes last week in Eugene. 
They face rival UCLA in the Rose Bowl in the biggest game in the rivalry since 2005, and then take on Notre Dame who is surging for first-year coach Marcus Freeman. Get past those two and the Trojans either will face Utah or Oregon in the Pac-12 Championship Game. 
It is hard to glean how good running backs Austin Brown and Raleek Brown are considering how awful Colorado is. They will need to at minimum play complementary football with Heisman hopeful Caleb Williams at quarterback for the Trojans to overcome this devastating injury.