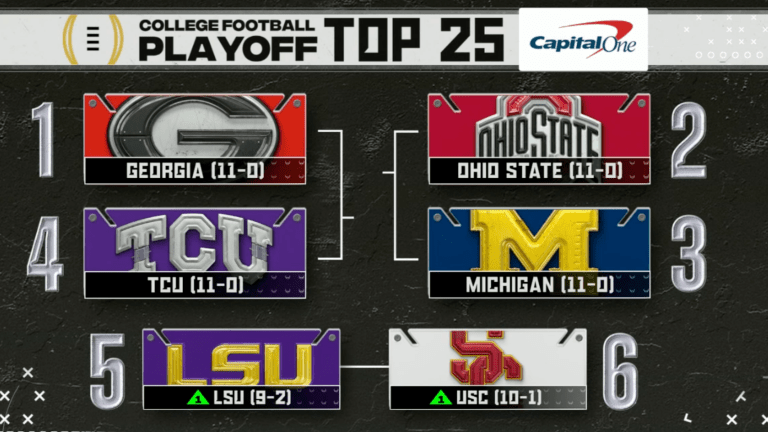 Week 12 Maintenance Report: It All Comes Down to This
As 2022 regular season comes to a close, what do the Top 6 have to tool before Championship Weekend?
#1 Georgia & #5 LSU - Beware of Trap Games
Last week I wrote in the Maintenance Report about Georgia getting into a false sense of security and complacency setting it. 
Execution in the red zone against Kentucky was poor, as the Dawgs only scored one touchdown in five opportunities. The low temperatures and wind didn't do them any favors though. "With these weather conditions, we're going to play these kind of games like this," head coach Kirby Smart said. "But I'm really proud of when our guys' backs are against the wall, how they come out fighting with what they do.
"Certainly, we could've played better, probably in the red area. They could have stopped some drives defensively; we gave them a couple of conversions on penalties. I have to give Kentucky a lot of credit for bouncing back and being a really physical football team."
Georgia has one more trap game before the stakes get higher. But this rivalry game is one that no Georgia will overlook when they take on Georgia Tech in a matchup dubbed, "Clean, Old Fashioned Hate."
There is no love lost by either side, as Georgia has won four in a row by a combined score of 180 to 28. 
Georgia Tech after firing head coach Geoff Collins has rallied behind interim coach Brent Key and have gone 4-3. A win short of bowl eligibility and with their hated rivals on deck, the Yellow Jackets might play their most inspired football since their 2016 win against Georgia. The Dawgs will need to be careful if they want to reach the SEC title game with an unblemished record.
---
No. 5 LSU has a different test altogether. They are jockeying to become the first two-loss team to make the CFP since its inception. That's a far cry from where they were just a few months ago, picked by many to finish dead last in the SEC West. Now, they take on a Texas A&M squad whose season has been the inverse of their own.
In the preseason, the college football world was raving about Jimbo Fisher's historic recruiting class and pollsters had A&M No. 6 in the country. The consensus seemed to be that A&M could challenge for a spot in the College Football. 
However their season has been in complete disarray and are currently dead last in the SEC West. 
This rivalry which has played off and on since 1899 has been dominated by LSU since its revival in 2011. But despite the fact that the Bayou Bengals have won 9 of 11 games, there is always a sense of mystery in this matchup.
---
#2 Ohio State & #3 Michigan - Offensive Mysteries
To me, no rivalry in college football touches 'The Game' in all facets. This year's edition is no exception.
As both sides vie for a guaranteed spot in the College Football Playoffs, there is a lot of questions about health on both sides of the ball. 
The most significant was Blake Corum's early exit against Illinois last week with a knee injury. While no official status has come from head coach Jim Harbaugh or UM medical on Corum's status, offensive lineman Ryan Hayes put out a comment via The Michigan Insider that caught fire suggesting Corum will be out for The Game.
"I think we've planned on this, he's a great player, but I think everybody else is going to step up with him out and I think we're up to the challenge and we'll do that," Hayes said, via The Michigan Insider.
In my mind, we won't know Corum's status until game time to force Ohio State to prepare for Corum and Michigan top running attack. 
If Corum doesn't go for Michigan, to me the onus will be on quarterback J.J. McCarthy who has had a rather uneventful November barely completing 50% of his passes. McCarthy being a difference maker will be critical for Michigan seeking their first win at Ohio State since 2000. 
The Buckeyes have different injury questions and answers. 
Running back Miyan Williams was out for Maryland last week, head coach Ryan Day commented last week that Williams injury he didn't expect the issue to be "really long-term." He will be a game time decision again much like Corum.
Last week, freshman Dallan Hayden is the latest running back to assume the feature back role and was electric against Maryland, rushing for 146 yards and three touchdowns. 
The other injury to keep an eye on is Jaxon Smith-Njigba's hamstring that has derailed his 2022 season. Day has said he was hoping Smith-Njigba back sometime this season clarifying his stance saying "I wouldn't say expecting, I'd probably say more hoping." He was not a go last week versus Maryland and a great tune up with limited reps maybe ideal against Michigan, but it will most likely be a game time decision with his hamstring injury. 
Lastly, the question is did Maryland expose Jim Knowles defense last week? 
The Terrapins kept it a one possession game until the final minute of the game, narrowly outgained the Ohio State offense 402 to 401,  converted 6 of 14 on third downs, and stuck 30 points on the board. 
If what Maryland quarterback Taulia Tagovailoa can be figured out by McCarthy, it can be a long day for the Ohio State defense.
While each side has potent and dynamic options on offense, don't be surprised if this is a defensive slugfest as both Michigan and Ohio State are graded amongst the Top 3 defense in the nation by PFF. 
---
#4 TCU & #6 Southern Cal - Win and You're In
For TCU and Southern Cal, the task is simple: Win and you're in. And while this is also true for the other four teams in the Top 6 of the College Football Playoff, the margin of error for these two are the slimmest of their counterparts. 
If TCU loses to Iowa State this weekend or in the Big XII Championship Game in Dallas against (presumably) Kansas State next weekend, they are eliminated. 
But while most folks maybe writing off Iowa State, they should take note of what Matt Campbell's bunch have done well this season. Defensively, Iowa State ranks 11th nationally in points allowed per drive and fifth in defensive SP+. They prevent big plays something that is a staple in Sonny Dykes offense. 
Also, when Iowa State quarterback Hunter Dekkers isn't throwing interceptions (he has thrown the most amongst Power 5 quarterbacks), he has a lethal connection with receiver Xavier Hutchinson, who is the highest graded wide receiver in college football. 
For Southern California, Caleb Williams is beginning to separate himself in the Heisman Trophy race, as he leads in The Athletic's Heisman Trophy straw poll.
The issue with the Trojans isn't on offense, but it is an atrocious defense that ranks 104th in points allowed per drive and 120th in yards. Even more alarming for the Men of Troy is their paltry 118th rank in success rate allowed, while Notre Dame's offense is 24th in success rate. 
The key in this game will be the line of scrimmage, and how much Audric Estime can barrel through a Trojans run defense that allows 147.2 rushing yards per game. USC need to find a way to stop a one dimensional Notre Dame team. If last place Pac-12 Stanford could figure a way to stymie a ND ground attack and win 16-14, the Trojans should be able to find a way too.