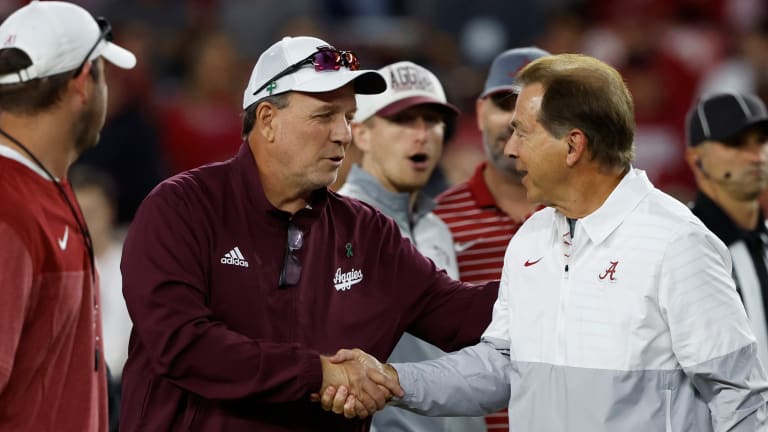 Week 7 Maintenance Report: Implosions at Texas, Texas A&M, and Alabama
Off the field issues dominate Maintenance Report after Week 7
Issue: Texas A&M and Jimbo Fisher
Diagnosis: FIX
To say this season has been a tumultuous one in College Station would be a gross understatement for Aggie fans. 
With recent news that up to four Texas A&M players that include freshmen cornerback Denver Harris, wide receiver Chris Marshall and offensive lineman P.J. Williams smoked weed in the locker room prior to losing to South Carolina 30-24 on Saturday is the latest indictment that Jimbo Fisher is in over his head in College Station.
This season alone includes the disaster against Appalachian State, suspensions of key players including wide receiver Evan Stewart and cornerback Smoke Bouie for violation of team rules prior to the Miami game, and Fisher proclaiming he would know who is starting quarterback "when he knew. " Apparently, he doesn't know by now, as the Aggies are averaging 21.9 points per game, good for 109th in the nation.
His infamous verbal spat with Nick Saban about how he hauled in his record breaking recruiting class before the season didn't help things either. And he doubled down by mentioning how Saban has his skeletons in his closet, "Go dig into where he's been. You can find out anything" and Fisher further commenting, "You can find out anything you wanna find out, what he does and how he does it. And it's despicable." 
What's really despicable is the gross incompetence with which Fisher is operating his program right now. To be honest, this really should be a 1-6 football club, had Arkansas not missed that kick and Miami showed any competency on offense. 

A&M isn't paying for headlines and results that Fisher is producing. The buyout is right now an obscene $85.9 million that would be paid if terminated prior to January 1. It is a lose-lose situation and patience isn't awarded for situations like these.
---
Issue: Nick Saban's handling of Jermaine Burton
Diagnosis: FIX
By now, the did he or didn't he hit the female Tennessee fan from the fan's video is getting to the level that the Zapruder film has been viewed. 
This is a really sensitive subject and let's look at from both sides here. 
First and foremost you do not hit a woman ever, end of story. That is the first and most important line of demarcation that was violated by Burton. 
Second, Burton is 6'0" and 200 pounds. Add in the pads and he has enough protection on his body to get through the swarm of the Volunteers crowd. What did he accomplish by even striking the fan? It looked like he had plenty of room to navigate his way to where Burton needed to be. 
Let's take Burton's perspective quickly, as it is important for context if nothing else. As he's walking off the field, there is an avalanche of people storming the field who are celebrating your failures. In this day and age where fan extremism is on the rise, there is a legitimate concern of player safety in a situation like this. 
Nick Saban said this week, "I didn't think it was necessary to suspend the guy, if you knew the whole story, maybe you wouldn't either. But I'm not going to divulge that."
Saban was then asked why he didn't sit Burton. "I don't know how many of you have ever been in a situation like that," Saban responded. "But I talked to [Burton]. He was scared. I was scared. Some of our other players were scared." He followed up with, "I think you learn to respect other people because we have a responsibility to do that regardless of the circumstance that we're in."
Burton had two catches for 40 yards as No. 6 Alabama beat No. 24 Mississippi State 30-6. Defenders of Saban are pulling up the Muhsin Muhammad rant where Saban defended his actions of discipline with Muhammad while at Michigan State: 
Initially I wanted Saban to boot Burton from the team and that came from an emotional stance from seeing that video. Its no surprise when I say football players are the most privileged "students" on major college campuses and to me they need to be held to the highest of standard. It also ties into what Saban said in the last quote about his handling of Burton about having respect of other people and the responsibility football players have. 
Burton violated each of those on top of the cardinal sin of hitting a woman.
Alabama and Saban got it wrong by playing him, I applaud Burton going through management classes but I feel a player like him needed to start from the bottom and earn his privilege back to the field and not just seemingly get a pass. He doesn't need cancelled but he needed to sit and work the depth chart that it is a privilege to play.
---
Issue: The Quinn Ewers to Xavier Worthy Connection
Diagnosis: PATIENCE
While Longhorns head coach Steve Sarkisian is under fire a bit this week for skipping singing "Eyes of Texas" following a 41-31 loss, he has since apologized for the transgression but can you blame his frustration after coaching a game where his team was flagged 14 times for 119 yards while Oklahoma State had no penalties for no yards? 
That is frustrating, but extremely frustrating was how off the chemistry between quarterback Quinn Ewers and wide receiver Xavier Worthy was in Stillwater. Ewers targeted Worthy a game high 16 times and only completed four passes for 78 yards and a touchdown. 
This is a connection that has to be on point for the Longhorns to be successful, and for how dynamic both Ewers and Worthy are, it is shocked only converted 25% of targets. 
---
Issue: DJ Uiagalelei in the Clutch
Diagnosis: FIX
If there is a quarterback who has been on an emotional roller coaster since he arrived on a campus, DJ Uiagalelei has been on so many up's and down's with twists and turns.  I get that Dabo Swinney is still trying to give a vote of confidence for Uiagalelei by saying he is still there guy and even compared him to Stephen Curry when Warriors head coach Steve Kerr would sit Curry for poor play. 
To me, this is all smoke and mirrors. At the quarterback position, when times get tough, a quarterback needs to know the coach is going to let him work through his issues and in essence ride or die with his results. Swinney's passive aggressive take to this shows how short the chain is for Uiagalelei, and freshman Cade Klubnik to me hasn't done enough to unseat Uiagalelei. 
I think Uiagalelei will find a way to get Clemson the the College Football Playoff, and there will be his demise, he is almost in a similar role Kelly Bryant was in 2018, the difference is Klubnik hasn't done enough to push the envelope like Trevor Lawrence was able to.
For Clemson fans, patience needs exercised as there seems to be a rocky transition from the Uiagalelei era to the Klubnik era. 
---
Issue: Kirk Ferentz's Objectivity About His Offense
Diagnosis: FIX
I been poking at the Iowa offense for several weeks and they have been a fixture on Maintenance Report, to a point where it seems like a bad re-run or laziness to include them but it is like that bad re-run you watch because it is unbelievable bad. 
To emphasize how frustrating it is for Hawkeye Nation, they have currently in the nation the No. 2 defensive efficiency per Football Outsiders and their offensive efficiency is 101st. The raw stats bear out a grim outcome, 128th in points and 131st in yards among 131 major college teams. 
I get where Ferentz is coming from in terms of a continuity issue. This is a team that won 10 games last season and made it to the Big Ten title game despite having a bad offense. The problem is settling on being mediocre and having pieces on defense that if you had an average offense you are probably looking at a New Year's Six bowl destination. 
At some point, Kirk got to put an end to his son's misery, and not make the same mistakes Bobby Bowden and Joe Paterno did of keeping sons on too long at key positions. 
At least Iowa Hawkeyes fans have a good self deprecating sense of humor.