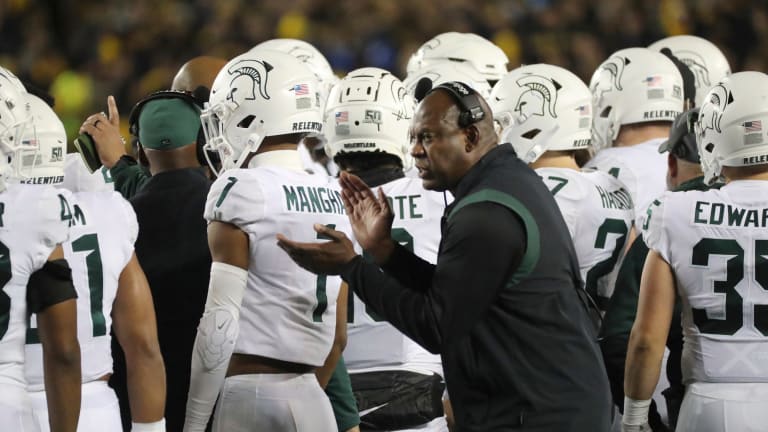 Week 8 Maintenance Report: Culture Issues at Auburn and Michigan State
Culture Issues Impact This Week's Maintenance Report
ISSUE: Michigan State Culture
DIAGNOSIS: FIX
By now you have seen the viral event captured Saturday at Michigan Stadium after Michigan's win over rival Michigan State 29-7. Two Michigan players were assaulted by a group of Michigan State that include Jacoby Windmon and here he was asked if he saw the fight: 

The only word Windmon can utter is "uh-huh." 

That's the best he can come up with? 
The failure at Michigan Stadium Saturday night isn't about the infrastructure that stadium has, the failure is a culture or lack thereof that Mel Tucker is creating in East Lansing. As of this writing, eight total Michigan State players have been suspended and there might be more still to come. But the long road for Tucker and Michigan State is to repair its image and fix its culture. 
Earlier this season Tucker after a 39-28 loss to Washington referred to himself as a "horsesh*t" coach. Now, he had roughly 10% of the players (out of 85 scholarship players) think it was a good idea to assault Michigan players. That is an alarming amount. What is even more alarming if you are a Michigan State fan, booster, alum is your school is paying a coach $95 million who could not keep his poise after a frustrating loss, which can be a forgivable gaffe, but gets exacerbated when you add in this event. 
Tucker needs a friendly reminder, you are the face for Michigan State football, you are getting paid to promote not only a winning culture, but one whose foundation is built are top character and accountability. When your players commit such a heinous act, and the best a player can answer at the podium is "uh-huh," there is deeper problems at Michigan State than being able to win football games. What is the culture or accountability to one another that Tucker is trying to promote in East Lansing?
For the players involved and those that weren't a friendly reminder is that there is no right for anybody to compete, it is a privilege to be part of team and a privilege to be able to compete. This act violates all the core values of sportsmanship, the very first things we are all taught when we first played sports. 
I agree with Michigan coach Jim Harbaugh, an apology won't suffice and to me revoking their privilege to compete is just the start, the road back might not be or should not be afforded or extended to them either. 
---
ISSUE: Auburn Culture
DIAGNOSIS: FIX
Earlier this week, Auburn ended their much maligned relationship with Bryan Harsin after going 9-12 in 21 games as head coach. I wrote an updated list of potential replacements on The Plains that you can read here. 
Ultimately, Harsin wasn't the right fit to replace Gus Malzahn, who never had a losing season on The Plains. The current UCF coach has the Knights ranked on the heels of a big win over rival Cincinnati on Saturday, snapping the Bearcats AAC conference winning streak at 17. 
Auburn is now on the hook for even more money with the firing of Harsin and the question that has to be asked is who really wants this job? 
I get that being in the SEC, you are in extremely fertile recruiting territory and Auburn has proximity to Georgia, Tennessee, and the rest of the southeast where the top talent in the country is. And I get all the resources that are poured into that program by the boosters. But the unrealistic expectations and having to live in the shadow of what the University of Alabama does with Nick Saban makes this one of the toughest — if not the toughest place — to succeed in college football. 
When Saban came to Alabama, he had a "Come to Jesus" meeting with boosters and supporters and got alignment across the board. This is the foundation to the unparalleled success at Alabama. 
If Auburn would like to replicate this, they need to find a coach who can get everyone aligned to go the way of success. That is easier said than done.
---
ISSUE: Oklahoma State Defense
DIAGNOSIS: PANIC!!!!!!!
Oklahoma State earned a dubious distinction Saturday suffering the worst shut out loss by an AP Top 10 since 1968. 
Oklahoma State also earns another dubious distinction of earning the hat trick of appearances in my Maintenance Report and the first since the Week 6 Report. 
The numbers defensively did not get any better against Kansas State, who was without starting quarterback Adrian Martinez. And even without Martinez, the Wildcat offense did not miss a beat with Will Howard, who finished the day with four touchdown passes and a QBR of 92.1. Deuce Vaughn lived up to his hype as one of the best running backs in the nation with 158 yards and a touchdown
The Oklahoma State offense which was Top 5 in scoring entering the game, had a complete malfunction with three turnovers, and averaged less than four yards per play on offense. 
However, the defense has been a problem all season, so having K-State put up 40+ isn't as big a surprise. Derek Mason's unit is 108th in scoring defense, allowing 31.1 points per game, and is 128th against the pass, allowing 302.6 yards per game. 
All preseason championship aspirations have been dashed, and only chaos in might given them the minuscule chance to play for the Big XII. This is now a lost season for Mike Gundy and he needs to fix his defense moving forward.
---
ISSUE: Penn State Quarterback Situation
Diagnosis: Needs to Be Addressed
James Franklin at his weekly press conference was pressed again this week about who his quarterback is between sixth year senior Sean Clifford and freshman Drew Allar, "I understand the question, I truly do," Franklin said. "But it almost comes off to me as if this game is not really important. So for us, we're going to look at who gives us the best chance to be 1-0 this week and go from there. Whoever that is based on this week's practice and preparation, we'll go with. And that's really kind of how it's been all year long."
Being noncommittal opens up a late season quarterback controversy that really isn't necessary for the Nittany Lions. Franklin has to address in the room and the fans what are the goals for the rest of the season. Winning out puts the Nittany Lions at 10-2 and a real good shot at a New Year's Six bowl, which would be a significant improvement over the last two seasons where they have gone 11-11. 
If Franklin feels the goal is making the College Football Playoff and anything less doesn't matter, maybe you look to the future and get Allar the much needed reps down the stretch to prep him to be Penn State's starter in 2023. Letting this hang out there is a giant distraction for the team and for both Clifford and Allar, and Franklin needs to address the situation he just created. 
---
ISSUE: Wake Forest ball security
DIAGNOSIS: FIX
Wake Forest may have fumbled there opportunity to go to a New Year's Six bowl as the Demon Deacons committed eight turnovers (four interceptions and four fumbles) against unranked Louisville in a 48-21 loss. 
Wake Forest, who was ranked No. 10 coming into the matchup with the Cardinals, looked to potentially benefit if Clemson was selected to the College Football Playoff for a berth in the Orange Bowl. But now a loss puts them on the brink of elimination from contention for a NY6 game. 
Over the next three weeks, the Demon Deacons take on NC State, North Carolina and Syracuse. Wins against these three would position them back into a New Year's Six situation, but unless they protect the football they won't have a shot for the Orange Bowl.