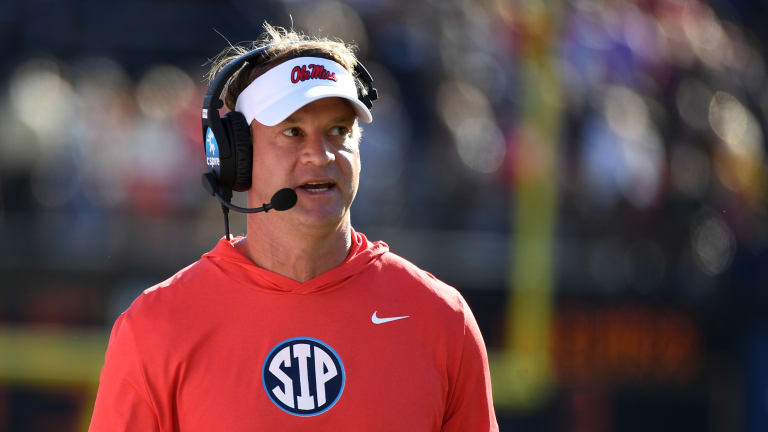 You Got Kiffin'd: Why the Auburn Rumors are Just a Smokescreen
With all the rumors swirling, what's next for the Lane Train?
Last night, Jon Sokoloff broke the internet with his report on Twitter that Ole Miss head coach Lane Kiffin would step down to take the same position with SEC West rival Auburn following the Egg Bowl.
He had so many fooled, much like how legendary Alabama meteorologist James Spann reminds and warns Alabamians when severe weather strikes the state, "if you are in the polygon, you respect the polygon." Many others learned with breaking news, you need to respect the source before retweeting or sharing to the world. 
Kiffin took to his Twitter amused by the fake news, he toyed with Sokoloff with a series of Tweets: 
While the self proclaimed "troll king" of college football creatively shot down the news, he didn't dismiss any notion of going to Auburn, he didn't commit to Ole Miss either. 
This isn't a new negotiating angle or tactic for college football coaches. They know they are in demand and will leverage even the slightest of rumors  that exist to give them more leverage and power for their program in a very hyper-competitive space. 
Richard Cross of Sports Talk Mississippi reported last week that Ole Miss is looking to extend Kiffin and give him a $2 million raise that will see his salary reach over $9 million per season. 
While Kiffin toys the media and publicly negotiates with Ole Miss or potentially another suitor, the question is how are the players in the Ole Miss locker room taking the news of Kiffin either staying or going? 
Kiffin responded, "It doesn't. They know how we operate…It's a pro mindset of preparing every day to get better and winning, I mean, I don't know what else to say. I'm extremely happy here…[there's a] difference in where this program is now compared to 3 years ago and [it] feels that we have really good support."
Kiffin later in his Egg Bowl press conference referenced Tommy Tuberville's "pine box" comments made in 1998, he the now US Senator committed to Ole Miss in the wake of his own rumors connected to Auburn, a job Tuberville would eventually take.
"I could give whatever it was, the 'pine box speech'…So, I don't know what else to say," he remarked. "[I've] been here 3 years and been fortunate enough to now have 3 different contracts, so I don't know why all of a sudden the 4th contract…makes people feel better."
---
When I wrote the article on potential replacements for Bryan Harsin at Auburn, I mentioned Kiffin with this caveat:
"Personally I don't feel Kiffin has the itch to leave Ole Miss where he has been very well embraced and has built significant momentum on The Grove. To me this will be a play to get more resources for his program, it isn't a sin to lose a Jeff Lebby to Oklahoma, but if it was a money play, this is where Kiffin will use Auburn for leverage at Ole Miss."
Kiffin, to me feels at home at Ole Miss, he has a program that is beginning to be a consistent 9 or 10 win program. He has embraced the transfer portal, even proclaiming himself the "Portal King," before abdicating it to Southern California's Lincoln Riley. Kiffin understands the power of social media like no other coach at the moment, and doesn't have any qualms sparring with established titans like Paul Finebaum. 
The difference between being an 8 to 10 win team and getting to the top of the SEC is first retaining talent like Lebby and attracting more top-notch recruiters while also competing in the facilities arms race.
When you look at Auburn, it has all the things Kiffin would like Ole Miss to have. It has the facilities and pro mindset that annually produces multiple draft picks. That's not to say that Auburn doesn't come with baggage. It's a booster driven program that — at least for the forseeable future — will be paying for three head coaches: Gus Malzahn, Bryan Harsin, and whoever is hired next. 
The impatience of the Auburn base is turning the program radioactive, it is very reminiscent of what Tennessee was before landing Jeremy Pruitt as head coach and Danny White as athletic director. It was a job no one wanted and coaches would use it as leverage to get what they wanted at their current jobs. 
---
Kiffin is clearly beginning to understand the legacy that he is building, and that whatever his next move is, whether it is staying in Oxford or departing for another position, will go a long way to defining who he is as a coach.
Looking at his resume, he has led the Oakland Raiders, Tennessee, Southern Cal, Florida Atlantic, and Ole Miss, and has also been the OC at both USC and Alabama.
This is a hall of fame list in terms of destinations, but lacks the results as a head coach. Kiffin has just two bowl wins as a head coach, neither of which came in a NY6 game, and his only conference title came at FAU in Conference USA. So while he has won multiple national titles as a coordinator, he has yet to come through as a head coach on the biggest stage.
---
So what are we to make of the rumors surrounding Kiffin and the open job on the Plains? Maybe — just maybe — he's angling for the Alabama job.
He constantly sings the praises of Nick Saban and the two have, at least on the surface, a great relationship. Alabama fans have a positive opinion of Kiffin as the OC who ushered in a new, high-flying era in Tuscaloosa. 
Saban is now 71 years old. He says he wants to coach as long as he wants, and maybe he will. But that is easy to say when you win as often as Saban does. Sooner rather than later, even Saban will know that the energy and commitment to keep Alabama at the top might be greater than he can give. It has happened to every great coach, and it will happen to him too. Father Time remains undefeated after all.
Then again, it also might not be Alabama. He has previously expressed how he runs a pro-style program, but I am not sure the NFL and Lane Kiffin is a mix at this point in time. And when you look at the college landscape, there really are not too many jobs bigger than the one he already has.
Maybe Kiffin is trying to get Ole Miss to realize its potential as a program and win a national championship, something that hasn't been done since 1962 under hall of fame coach Johnny Vaught.
Trying to read between the lines and figure Lane Kiffin out is a beyond difficult task. So before I get "Kiffin'd" on social media, the only certainties we know is Kiffin is angling for something. But that something is only known to him.