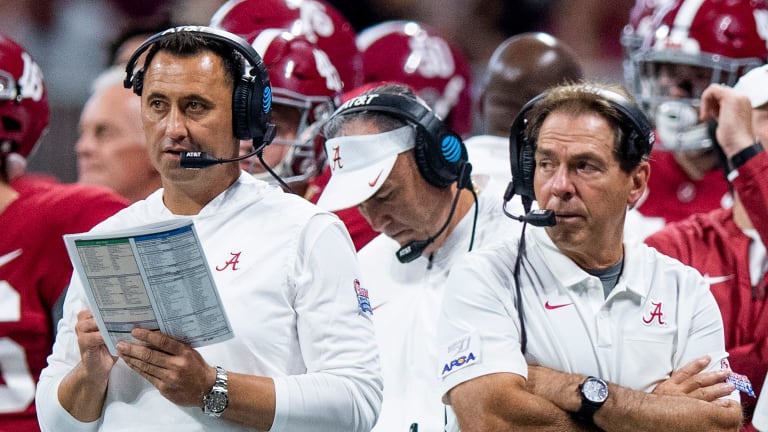 Game Preview: Alabama vs. Texas
Saban leads Tide in first true non-conference road game since 2011 against former assistant Sarkisian
History
Texas leads all time series 7-1-1. Alabama's lone win against the Longhorns occurred in the 2010 BCS Championship Game in the Rose Bowl 37-21. 
The last Longhorns wins in Austin occurred in 1922 by the score of 19-10. Alabama's Paul "Bear" Bryant was 0-2-1 against Darrell Royal led Longhorns with the lone tie in the series occurred at the 1960 Bluebonnet Bowl in Houston 3-3. 
---
Betting Line (as of this writing): 
Alabama -20.5; O/U 61.5 via DraftKings
---
Backstory
Alabama is visiting Darrell K. Royal Texas Memorial Stadium in Austin, Texas for the Tide's first true out of conference road game since visiting Penn State in Happy Valley in 2011.
Crimson Tide head coach Nick Saban faces off yet again against one of his former assistants. This time, it's former Alabama offensive coordinator Steve Sarkisian, who had two stints in Tuscaloosa on Saban's staff between 2016-2020. 
Saban entered last season undefeated versus his former staff members before Jimbo Fisher broke the curse in Texas A&M's upset of Alabama in College Station last year and Kirby Smart added a second loss in the National Championship game. 
Sarkisian is looking to give Saban his third loss against former assistants. The Longhorns opened their 2022 season at home defeating  University of Louisiana-Monroe 52-10, while Alabama completely annihilated Utah State at home in Week 1 55-0.
---
What To Watch For
It is hard to find holes when both teams were completely dominant against their inferior opponents. 
For Texas, ULM dominated time of possession by nearly 12 minutes. Other than that, the Longhorns dominated the Warhawks yielding only 12 first downs.Longhorns quarterback Quinn Ewers started a little rough, going 0 for 2 with an interception, but he finished strong the rest of the way, completing 18 of 22 of his passes for 225 yards and two touchdowns. 
Opposing Ewers is last season's Heisman Trophy winner Bryce Young. Young had a monster afternoon against the Aggies, going 18 for 28 passing for 195 yards and 5 touchdown passes, earning a near-perfect QBR of 96.0. 
The surprise of Young's performance against the Aggies is he registered a 100 yard game highlighted by a 63 yard run in the second quarter that led to a Traeshon Holden touchdown to go up 31-0.
Alabama's key off-season transfers also had significant contributions against the Aggies. 
Running back Jahmyr Gibbs, who came via Georgia Tech, had 98 total yards of offense of 10 touches (9 rushes and 1 reception). Wide receiver Jermaine Burton, who came via Georgia, had five receptions for 35 yards receiving and two touchdowns. 
After being dominated Utah State head coach Blake Anderson spoke highly of the Crimson Tide, "But I was very very clear with the media and our team all week. This is the best team I've seen in pads in my career in 30 years of coaching, and they played like it tonight. They didn't make a lot of mistakes. Ultimately, we just got out-athleted."
---
For Alabama To Win: 
The Crimson Tide has a significant talent advantage and the experience this team has cannot be overlooked. Last week against the Aggies, the Crimson Tide offensive gained 7.8 yards per play and the defense yielded only 2.3 yards per play. 
I don't feel we will see quite that same domination with stiffer competition in Austin. What doomed the Crimson Tide in the national championship game against Georgia was wide receiver play, and early indications out of Tuscaloosa are that the trio of Jermaine Burton, Traeshon Holden, and Kobe Prentice are the real deal. 
Nick Saban has certainly recognized Prentice's efforts, 
"Kobe's done a really good job. He did a great job in the game. He's practiced really well. He's got an opportunity because JoJo (Earle) got hurt a couple, three weeks ago, and he took advantage of it. He's a bright guy. He's got really good speed. He's got really good hands. He's exactly what we look for to play in the slot, and he's done a really, really good job.

"The freshman receivers got to play. Seventeen (Isaiah Bond), 19 (Kendrick Law), Kobe Prentice, those three guys. Twenty-four (Emmanuel Henderson) is playing receiver. All those guys, I think, can develop into being guys that can help us this year. Kobe's the guy who got that opportunity because somebody got hurt, and he's certainly taking advantage of it and played very well." - Alabama head coach Nick Saban
Defensively, the Crimson Tide has to key on Bijan Robinson, who is arguably the best running back in the country, and Xavier Worthy, who was quiet against the Warhawks last week, who will look to stretch the field and command double teams. 
For Texas To Win
Its hard to glean how much the Longhorns defense improved over last season's unit where scoring, rushing, and total defense did not crack the Top 100 nationally. This is doubly true when you consider the overall talent level of UL-Monroe is, the defense did what it was supposed to.
This is a game that defensive coordinator Pete Kwiatkowski will lean on current assistant to the head coach and former TCU head coach Gary Patterson to try to scheme a defense that will at minimum slow the powerful Crimson Tide attack. 
This is a game where the offense has to shine for Sarkisian. If the Longhorns are going to have even the slightest chance guys like Quinn Ewers, Bijan Robinson, Xavier Worthy, and Ja'Tavion Sanders have to perform to their peak abilities. 
For those playmakers to be successful, it will be essential for the offensive line to have taken a couple steps forward from what we saw last year. How offensive line coach Kyle Flood has (or hasn't) improved the offensive line will be instrumental to the offensive success for Texas.
---
What Will Happen
I feel the Longhorns having home field advantage will help Texas in a few spots against the Crimson Tide, but it just won't be enough. The Crimson Tide is just very polished and I expect the Tide receivers to take another step as developing as a unit. 
I also feel Jahmyr Gibbs to play big as this is a showcase amongst the nation's top backs with Bijan Robinson. Quinn Ewers will have a good game, but I don't anticipate that it will be spectacular enough to overcome the talent disparity. The Longhorns are seasoned enough to win this type of game but they are going to push the Tide for a bit before Alabama decides to swing that "Yellow Hammer." 
---
Final Score: Alabama 38 Texas 24