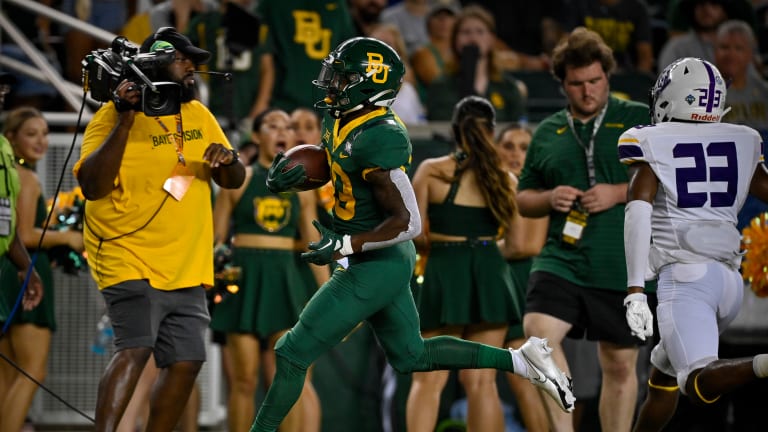 Game Preview: Baylor vs. BYU
Future Big XII conference foes square off in Top 25 matchup
History
Baylor leads the all time series 2-1. 
This is the fourth matchup between the teams with Baylor winning last year's tilt 38-24. BYU's only win came in their national championship season in 1984, winning 47-13 with Baylor still a member of the Southwest Conference. 
---
Betting Line (as of this writing): 
BYU -3.5 (O/U 53.5) via DraftKings
---
Backstory
Defending Big XII champions and No. 10 ranked Baylor Bears opened their season with a demolition of FCS Albany Great Danes 69-10. Bears quarterback Blake Shapen was near perfect on the day completing 17 of 20 passes for 214 yards and two touchdowns finishing with a QBR of 90.0. 
Bears head coach Dave Aranda praised Shapen's performance, 
"One thing I appreciate about Blake is he's understated and there's no drama," Aranda said. "Most of the drama is on his head with his Mohawk. He's Joe Cool. His practices translate into games, and I just love the way he goes about it."
The Bears offense gained 573 yards and 29 first downs against the Great Danes. Their defense was especially stingy, giving up only 108 total yards in the second half against the Great Danes. 
No. 25 BYU Cougars had a little more competition than its Week 2 opposition did when they opened with a 50-21 win over American Athletic Conference's South Florida Bulls. 
The Cougars defense was suffocating on the afternoon as it allowed South Florida Bulls quarterback Gerry Bohanon, who was Baylor's starting quarterback last season, to go 17 for 30 passing for 172 yards and threw a pick six to Cougar linebacker Max Tooley. Bohanon finished with a QBR of 7.2. 
The Cougars offense was both potent and balanced, finishing with 573 yards of total offense, 261 passing and 312 rushing, and had 27 first downs. BYU head coach Kalani Sitake overall pleased with his offense and defense with minor issues to nitpick on each (Cougar quarterback Jaren Hall interception, and a couple of big passes given up on defense), it was his kickoff coverage that was a disaster. 
Cougar kickoff coverage on eight kickoff returns gave up 239 yards and Bulls returner Jimmy Horn Jr. had an 89 yard kickoff return for a touchdown. Sitake said of his disappointing kickoff coverage going against one of the best in South Florida, 
"They had a great return team and we tried to test it probably way too many times, and I think they were No. 1 in the country last year and are probably No. 1 right now after what we gave up," Sitake said. "That is on the coaches. We gotta figure out a way to improve our kickoff team."
---
What To Watch For
The first thing to look out for will be whether Sitake and the Cougars staff have addressed the kickoff coverage and potential concerns across all special teams coverage. Bears returner Gavin Holmes had a 72-yard punt return for a touchdown against the Great Danes in Week 1, and kick return specialist Craig Williams possesses elite speed, running a 10.23 in the 100 meters and finishing his high school career as the No. 6 sprinter in the country.
Both teams also have exceptional quarterbacks. Cougar quarterback Jaren Hall, who is the first African American quarterback in program history, is electric when he stays healthy. He missed three games a season ago due to injury. 
Protecting Hall is a massive offensive line, each member of the line is at least 300 pounds and at least 6'5." The Cougars offense finished in the Top 30 a season ago in scoring, passing, rushing, and total offense.
However, Baylor has a worthy competitor in Blake Shapen. Shapen saw some playing time during his freshman season last year in place of an injured Bohanon. Shapen set a Big XII Championship Game record completing 17 consecutive passes against Oklahoma State, he was named Most Outstanding Player of the Game. 
The Cougars have a balanced attack and their ground game is something Sitake isn't afraid to go to. They had three players go over 50 yards rushing against the Bulls (Christopher Brooks 135 yards 1 TD, Puka Nacua 76 yards 2 TD, and Lopini Katoa 55 yards). 
Bears head coach Dave Aranda is one of the best defensive minds in the sport and has Ron Grimes coordinating his defense which was a Top 10 scoring defense a season ago.
---
How Baylor Wins
The Cougars defense is good but beatable. If the Bears offensive line can protect Shapen and let him dissect the Cougars defense, it will go a long way for Baylor. He has shown that he is deadly when given time. 
The Bears have a defensive advantage, linebacker Dillon Doyle and nose tackle Siaki Ika are leaders that will step up. Ika is the real linchpin here - if he be disruptive on the interior, it changes everything for the rest of the defense.
How BYU Wins
The Cougars cannot allow poor special teams play a week ago to fester into this week. 
BYU seems to step up to Power 5 competition having went 5-0 against Pac-12 teams last season, their only Power 5 loss a season ago was to Baylor. Quarterback Jaren Hall has to be electric and the difference maker.
---
What Will Happen?
I really like the Baylor defense to be the difference maker. I feel the Cougars kickoff coverage will be improved but the Bears have an offense to make poor special teams pay. 
This game won't be decided until the 4th quarter but it will serve as a great preview of what kind of conference member BYU will be in the league starting in 2023. 
Final Score: Baylor 33 BYU 30