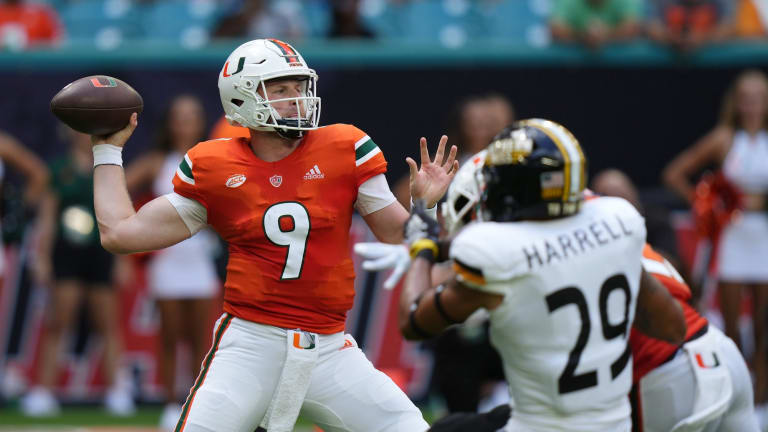 Game Preview: Miami at Texas A&M
Heading into Saturday primetime, we have a special matchup prepared this evening as the Texas A&M Aggies will play host to the up-and-coming Miami Hurricanes. This article is meant to be a preview for this electric matchup. 
---
History
Miami and Texas A&M have met a total of 3 times, with the Hurricanes winning the series 2-1. Miami won the two most recent matchups (2007-2008), with Aggie's victory coming in 1944.
---
Betting Line (as of this writing)
Texas A&M is -6 (O/U 44.5) via Caesar's Sportsbook.
---
Backstory
Following a dominant 70-13 victory against Bethune-Cookman to begin the season, Miami slowed down week 2 in its matchup against Southern Miss. Although the Hurricanes ended up winning the game 30-7, they found themselves down for the majority of the first half.
The biggest story that has stood out is Tyler Van Dyke's inability to pick up from where he was last season, where he had a promising 25 TDs and 7 INTs and was ranked 7th under Farrell's 50 for QBs. However, Van Dyke has only thrown 3 TDs with 1 INT, and considering the competition dropoff in the first two games, it is fair to say that he is off to a slower start than expected.
We all have seen what the Aggies have done this season. They dropped last week's home game against Appalachian State. There are certainly question marks that Jimbo Fisher will look to fix this week, with the main one being his decision to make a change at quarterback. Haynes King has looked extremely subpar this season, with 3 TDs and 2 INTs against Sam Houston, with the inability to eclipse 100 yards in last week's loss.
Replacing King is Max Johnson, who lost the QB competition this season after transferring from LSU. Johnson was a decent start last season for the Tigers, throwing for 27 TDs with 8 INTs and over 2800 yards, and will look to replicate that success against Miami.
---
What to Watch For
The main factor for both teams to watch for is their QB play. Ultimately it will come down to who rises to the occasion.
Miami's standpoint will be how Van Dyke responds to his first true challenge of the season. Although A&M has been shaky, a road trip to a hectic atmosphere is never an easy matchup, considering TAMU's talent on the defense, which should be another factor to look out for.
For the Aggies, it is obvious how Johnson will respond to being thrown into a test in his first game. When Johnson transferred, it seemed like his job to lose. What were the reasons for Johnson losing the QB competition? Is Johnson viewed as a last resort or a legitimate option? I think he will step up to the plate, but only time will tell whether Jimbo is making the right decision.
---
For Miami to Win
It's simple. Van Dyke has to rise to the occasion. In the three losses Van Dyke started in 2021, he threw five of his seven interceptions on the season.
Defensively, they have to do what they've been doing. The Hurricanes have only let up 20 points this year, and although there will be an adjustment of talent, TAMU's offense hasn't seemed to click as a unit yet.
---
For Texas A&M to Win
It will come down to Jimbo Fisher. Will he let his team lose two straight home games after picking up the number 1 recruiting class? Will he show he can do the job on the field just as well as he does off the field?
Jimbo will have to come to this game well prepared to win. Regardless of the reality of him being secure, there will be talks of his longevity at A&M if he starts the season 1-2 heading into SEC play.
---
What Will Happen?
The sole reason I can not picture A&M losing two straight home games I have to roll with the Aggies here. Mario Cristobal is building a dangerous team out in Miami, but he is not ready yet for a matchup at this caliber.
With Max Johnson coming with something to prove, there is a good chance he outshines Van Dyke in this QB matchup, but expect a defensive game coming down to the wire.
---
Final Score: Texas A&M 27 Miami 20