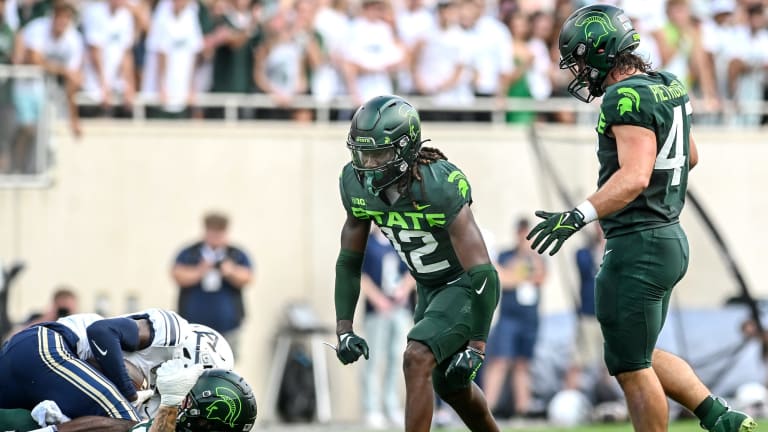 Game Preview: Michigan State at Washington
Spartans head west for a key non-conference matchup ahead of Big Ten play
---
History
This is only the fourth meeting all time between these two programs, and the first since the 1997 Aloha Bowl when the Huskies ran Nick Saban's Spartans out of the stadium 51-23. Washington leads the series 2-1. 
Betting Line (as of this writing)
Washington -3.5 (o/u 56.5) via BetOnline.ag
---
Backstory
The hiring of Fresno State head coach Kalen DeBoer after the disastrous Jimmy Lake tenure has clearly breathed fresh life into a program that was clearly in disarray by the end of the 2021 season. Between a physical altercation with a player that led to a suspension and diminishing results on the field, Lake's time was clearly up despite it only being his first full season. 
One of the first things that DeBoer did was bring in Indiana transfer quarterback Michael Penix Jr. Penix was a revelation during Indiana's outstanding 2020 season, but struggled with injuries throughout last season. This wasn't a move that was appreciated by all Husky fans, as former five-star recruiting Sam Huard - son of legendary Washington QB Brock Huard - was already on the roster. But Penix took the reins of the offense during spring ball and is clearly an excellent fit in DeBoer's spread system.
15 different players have already caught passes through two games, and Jalen McMillan looks like he's an all-conference receiver through two games. 
On the defensive side of the ball, Bralen Trice has been outstanding, leading the team in every pass rushing stat through two games. Zion Tupuola-Fetui continues to demand double teams, but they're suspect up the middle.
Mel Tucker has turned Michigan State into Transfer U. For the second consecutive season, they're getting huge performances from players added via the portal. 
The biggest standout so far has been linebacker Jacoby Windmon. The UNLV transfer has been everywhere through two games, with 12 tackles, 6.5 TFL, 5.5 sacks, 4 forced fumbles, a fumble recovery, and a pass deflection. 
The Walter Camp National Defensive player of the week was praised by Tucker this week, 
"He's a very unselfish player... we asked him to move to defensive end a couple weeks ago, and he said 'Coach, whatever I'm willing to do for the team I'm willing to do that.' In the first practice we had him at defensive end, he made the first three plays of the period in the run game.

"He's a really good linebacker as well. He's versatile and he's the type of guy you can win with. Our program is built with guys that are unselfish, hard-nosed football players that are team guys, and he's certainly that." - Michigan State head coach Mel Tucker on Jacoby Windmon
Offensively, the Spartans have a strong transfer 1-2 punch between Jalen Berger (Wisconsin) and Jarek Broussard (Colorado). They've combined for 362 yards and 6 touchdown through two games. Payton Thorne continues to be a solid quarterback, but he's still throwing too many interceptions. He tossed one in their opener to Western Michigan and two more against Akron.
---
What to Watch For
When Michigan State has the ball
How much will they trust Payton Thorne to air it out? The Spartans clearly have a strong running attack, but if Washington can get them in third and long, they'll have a huge advantage with their bevy of pass rushers.
Will Berger and Broussard get involved in the passing game? The two outstanding backs have one catch for five yards between them this year. Berger especially is an excellent receiver, so it will be important for the Spartans to find creative ways to get the ball into the hands of their two best playmakers.
When Washington has the ball
How do the Spartans account for Penix's mobility? One of Michael Penix Jr.'s strongest qualities is escaping the pocket to throw. Obviously, Jacoby Windmon presents a problem as a pass rusher, but if he's not able to have another monster game, who will step up for Michigan State?
Can Washington run the ball when they need to? The Huskies haven't really been tested yet, and if they get up late and need to bleed the clock out, it's not a guarantee that they'll be able to do it. Wayne Taulapapa, Cameron Davis, and Will Nixon all present intriguing options at the running back position, but they'll need to figure out who their go-to guy is when the game is tight.
---
For Michigan State to Win
Berger and Broussard need to be able to continuously get yards up the middle. The biggest weakness for the Huskies is the interior of the defensive line, and it would stand to reason that the Spartans would attack there.
Defensively, the Spartans will need to not let Penix and co. get to the uptempo place they want to play at. As soon as the Huskies are going no huddle, defenses get on their heels and it's tough to stop that momentum
For Washington to Win
Penix needs to keep spreading it out across the board. Keeping the Spartans defense guessing on who is getting the ball will also give Penix more time in the pocket. With Michigan State losing multiple linebackers to injury, they should be able to exploit the inexperience in the middle of the field.
If the Huskies can get out to a lead, that will be a huge lift for the defense, allowing their pass rushers to get to work on earlier downs. Michigan State is going to try and shorten the game, so getting early three-and-outs will be crucial.
What Will Happen?
There is buzz back around Washington for the first time in a while with the offense putting up big numbers, albeit against limited competition. Michigan State, however, is a completely different animal. Jacoby Windmon is far and away the best defensive player they will have had to account for, and the athletes on the Spartans' offense are significantly better than those of Kent State and FCS Portland State.
With that being said, Washington should have a rowdy home crowd. Husky Stadium is one of the most underrated places to watch a game in the country, and it gets seriously loud. 
I think Washington's offense is for real, and that they'll be able to jump out to enough of an early lead and hang on as the game slows down in the second half.
Final Score: Washington 31 - Michigan State 27