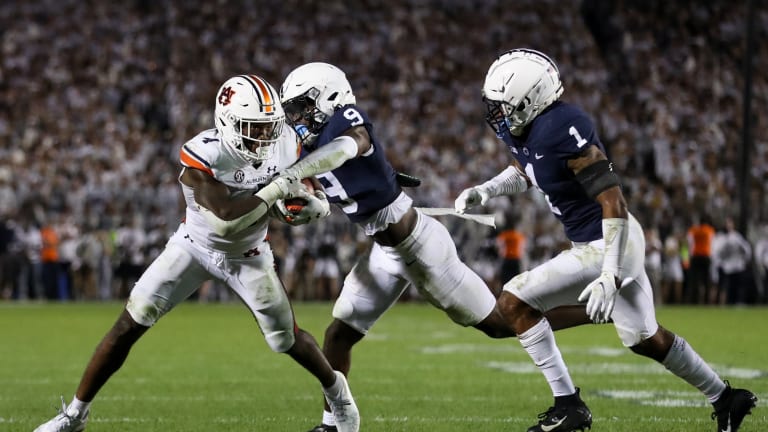 Game Preview: Penn State at Auburn
Nittany Lions' first SEC Road Game since 2010 takes them to Jordan-Hare for the first time
---
History
Penn State leads the all time series 2-1 after winning last year's matchup in Happy Valley 28-20.
The teams have split their two bowl matchups with Penn State winning the 1996 Outback Bowl and Auburn the 2003 Capital One Bowl 13-9.
Betting Line (as of this writing)
Penn State is -3.0 (O/U 47.5) via Caesar's Sportsbook
---
Backstory
Penn State is on the road at an SEC venue for the first time since visiting Alabama in 2010 when they visit The Plains of Auburn for "Orange Out" conditions likened to the "White Out" Auburn faced last season.
For Penn State coach James Franklin this will also be his first trip against the Tigers, he is looking to improve to 3-0 with his previous wins being last year's showdown in Happy Valley and a 17-13 win in 2012 while being a head coach at Vanderbilt.
Franklin said this week about the upcoming matchup, 
"Getting into Auburn just briefly, obviously got a ton of respect for that program as well as that conference. Obviously I got some familiarity. Been a head coach in that conference for three years. I've known Bryan Harsin for a long time, more from a distance."
"Respected his year, what he did at Auburn, as well as other places. You talk about Auburn, still early in the season, and I think it makes sense to still talk about returning starters from last year. They had seven on offense, seven on defense, and returned all of their specialists, all four specialists. So have an experienced team coming back." - PSU head coach James Franklin
Auburn last week came off a bit of a scare against San Jose State 24-16, head coach Bryan Harsin knows the level of competition has just increased, 
"As far as the game this week, Penn State, they're 2-0, very good football team. Played them last year. They beat us. They're scoring 40 points a game. They look good, fast, physical, well coached. All those things. Their quarterback, Sean Clifford, very good player and was last year. Continues to be. And they've got a lot of great players on both sides of the ball and they play well on special teams. You can see that that's important to them. And they are, I think in the history of this game, they're 2-1 versus Auburn. We're excited just to get back to work and work on some of the things that we need to get better at from the last game and focus on this opportunity and get ready for Saturday." - Auburn head coach Bryan Harsin
---
What to Watch for
Penn State, a season ago, split their two SEC games with a win against the Tigers and a loss to Arkansas in the bowl game. Sean Clifford had a monster game in last year's tilt with Auburn, going 28 for 32 for 280 yards and two touchdowns in the friendlier atmosphere of Beaver Stadium. He won't get the same benefit in Jordan-Hare.
Freshman Nicholas Singleton had a monster week last week against Ohio Bobcats rushing for 179 yards and two touchdowns. The Nittany Lion ground game had a monster game overall, rushing for 234 yards and three scores as a team, averaging nearly seven yards per rush.
A season ago, even against inferior competition, Penn State failed to not only establish the run, but have a difference maker step up as a true RB1 and Singleton's early impressions tend to lean in that direction.
On the defensive side of the ball, Joey Porter Jr. has established himself as one of the best in the country at corner. Given the Tigers' limited passing attack, there's a good chance that they avoid him altogether and take their chances against the rest of the secondary.
For Auburn, their run defense doesn't allow anything forward, and when they played Penn State last season they allowed less than 3 yards per carry and seven starters returned including defensive lineman Derick Hall and linebacker Owen Pappoe.
Offensively the Tigers aren't going to fool many people vertically. T.J. Finley might be in the bottom half of the league as a passer, but has the ability to hit key throws. If Finley continues to be ineffective, look for freshman Robby Ashford whose dual-threat ability could potentially alter the Nittany Lions defensive scheme. No matter who plays quarterback, Auburn will rely on their rushing game, which is far and away the strength of the unit. Led by Tank Bigsby, one of the best backs in the conference, as well as Jarquez Hunter and Damari Alston in support, this unit is among the best in the country.
---
For Penn State To Win
The line of scrimmage game has to be on point. They have to protect Clifford, who won't be completing 88% of his passes again. The running game has to be effective, they won't duplicate the success against Ohio, but if the Nittany Lions need 2 or 3 yards, they need to be able to get that. The secondary has to stay honest with lesser skilled Tiger wide receivers because they can get open and make plays.
For Auburn To Win
Tank Bigsby is going to have to play a big part. Penn State has its weakest set of linebackers in as many years, though they have a strong defensive line and secondary, if Auburn can win the line of scrimmage and backs get to the next level, that is where normal 3 or 4 yard runs can become 6 or 7 yard runs.
Penn State hasn't physically opposed its will with its offensive line in ages, and a solid front seven has to force Clifford to not be efficient and exacerbate an unknown offensive line for the Nittany Lions.
What Will Happen?
Penn State wins a close one, I feel they have a slight advantage over Auburn already having been tested on the road. Penn State's secondary has already been significantly tested and T.J. Finley isn't on the same level as Aidan O'Connell and Auburn receivers aren't as good.
I feel the Nittany Lions front seven will contain a good Auburn rushing game, and get timely rushes from their group of running backs.
Final Score: Penn State 20 Auburn 18