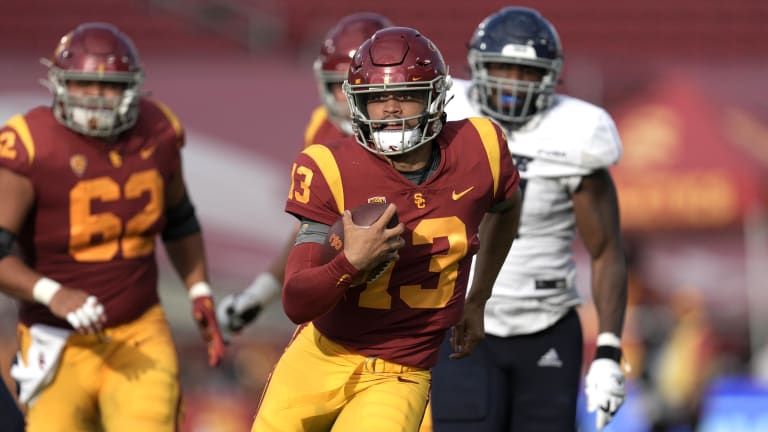 Game Preview: Southern Cal vs. Stanford
Pac-12's College Football Playoff hopes ride on new look Trojans
History
Southern Cal leads the all time series 62-34-3, but Stanford won last year's contest 42-28. Stanford head coach David Shaw is 7-5 against the Trojans, including splitting two games in the Pac-12 Championship Game.
---
Betting Line (as of this writing): 
USC -9 (O/U 65.5) via Caesars Sportsbook
---
Backstory
While it could be an overreaction, there is a kernel of truth that the Pac-12's College Football Playoff hopes were severely impacted - if not completely dashed - by the losses by Utah at The Swamp 29-26 and Oregon forgetting to get off the bus against defending national champions Georgia in Atlanta 49-3. 
This leaves Lincoln Riley's new look Trojans as the Pac-12's hope to make it but with little margin of error. Southern Cal started their season by easily establishing dominance against Conference USA's Rice Owls 66-14. 
The new additions had impact early and often for the Trojans. Former Oklahoma quarterback Caleb Williams went 19 for 22 passing for 249 yards and two touchdown passes for a 95.2 QBR. 2021 Biletnikoff Award winner and former Pitt wide receiver Jordan Addison had two touchdown receptions. 
"It's a fun moment to finally be here. I think the team was anxious and excited after all the buildup, and just ready to go play, and we responded well. ... It's one of those moments that you don't want to minimize. It's meaningful to us all, but those of us that have been on these journeys before, we understand this is just the beginning, and there's so much left, so much better to play, so much better to coach. It's a great start ... it's not anything more than that, not anything less than that." - USC head coach Lincoln Riley
The Stanford Cardinal opened the season against the FCS Colgate Raiders winning 41-10 in Palo Alto. Cardinal quarterback and highly regarded pro prospect Tanner McKee performed at a high level completing 22 of 27 passing for 308 yards and two touchdowns. 
McKee connected with junior wide receiver John Humphreys for 4 receptions and 88 yards receiving, including a 53-yard strike that got to the Cardinal to the Raider two-yard line in the 3rd quarter. The junior signal caller was also dialed in with senior wide receiver Michael Wilson for two receiving touchdowns. 
During the offseason, Cardinal head coach David Shaw had high praise from E.J. Smith, son of Emmitt Smith, he referred to Smith as the "total package" said, "Over the next two years, he'll be one of the best backs in America." Smith didn't waste time backing up Shaw's praise, on his first touch of the season he went 87 yards for a touchdown. 
Smith finished his day against the Raiders with 155 yards from scrimmage, with 118 yards rushing, and two rushing touchdowns. 
---
What To Watch For
Cardinal cornerback Kyu Blu Kelly will have his hands full with the deep Trojans receiving core of Addison, Gary Bryant Jr., Mario Williams, and Tajh Washington. On the other side of the ball, the Trojans set a school and Pac-12 record against the Owls by having three interceptions returned for touchdowns. 
Riley said of the record, "I was told (three pick sixes) is a Pac-12 record and a Southern Cal record. They've been playing ball around here for a long time. You don't break records very often, so that was really a cool thing for us defensively."
That opportunistic secondary should put McKee on high alert for the length of the game, as he'll need his receivers to play up to the level of the Trojans secondary. Fortunately for the Cardinal, they boast one of the best offensive line units in the conference and will rely on a very experience line that consists of four seniors and a junior, who all were starters a season ago. 
E.J. Smith will be used in a similar role Shaw used Christian McCaffrey. Smith did return kicks against the Raiders. Look for Smith to get 25-30 touches between rushing, receiving, and returning against the Trojans. 
---
For Southern Cal To Win
It might be a big day for Trojan running backs Austin Jones and Travis Dye, as the Cardinal had the 127th rushing defense in the country last season, allowing 235.7 yards per game. Even against FCS Colgate last week, the Cardinal still allowed 159 yards rushing. 
The Cardinal receivers lack the elite skill but are very experienced, the Trojan secondary have to play smart and not allow McKee to pick them apart. However, USC defensive tackle Tuli Tuipulotu, one of the top players in the conference on the interior of the defensive line, will have his work cut out against a top offensive line unit. Containing E.J. Smith will be easier said than done.
For Stanford To Win
The Cardinal outside of corner Kyu Blu Kelly, really lack the elite defenders needed to be a serious factor in this type of game. The defense has to make key and timely stops. 
If the game turns in to a shootout, it is going to be essential for David Shaw's team to  protect McKee against an improved Trojan pass rush. E.J. Smith also has to channel his inner Christian McCaffrey and be that elite triple threat rushing, receiving, and returning. 
Lastly, Cardinal receivers have to rely on their experience and make smart plays and take advantage of aggressive Trojan defenders.
---
What Will Happen
David Shaw and his Cardinal will not make dumb mistakes that hurt themselves, and that will keep them in the game, but only for so long. On top of that, the home crowd on the Farm in Palo Alto doesn't exactly provide an elite home field advantage. 
This will be E.J. Smith's coming out party to the nation and the Cardinal will keep this game entertaining into the second half, but the Trojans have way too much talent to be easily contained and the Cardinal don't have the personnel to contain it all.
---
Final Score: Southern Cal 37 - Stanford 24