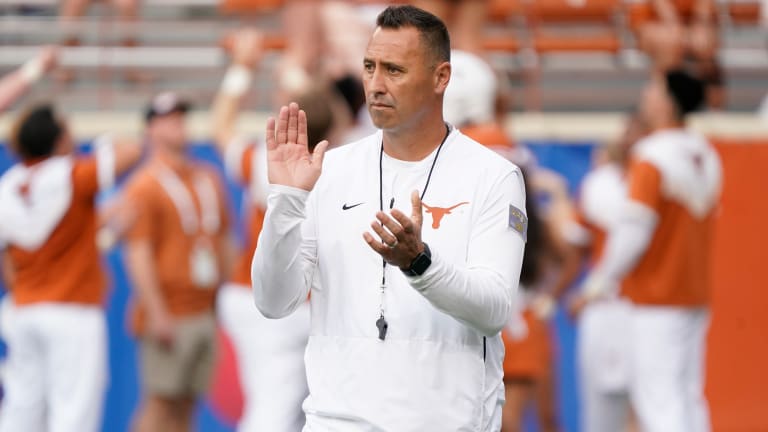 Staff Picks: Alabama vs Texas
Likely the most high-profile matchup so far this season, we are providing our picks fo the electric matchup of Alabama and Texas.
---
For the first time since the 2009 BCS National Championship, Texas and Alabama will rematch in Austin. Steve Sarkisian will lead the Longhorns against former Head Coach Nick Saban. The #1 Tide will face Texas at noon ET on Fox in what some think will be a blowout. Below are the Mike Farrell Sports Staff picks for the Week 2 matchup.
---
Mike Farrell- Alabama
I think the Tide will roll Texas by 30 or more in an easy win and cover.
---
Cory Lemer – Alabama
Quinn Ewers will face his first P5 team as a starter this week. The Alabama defense is not perfect; however, Will Anderson and Dallas Turner will wreak havoc on the Longhorns leading to Matthew McConaughey feeling sad on the sidelines.
---
Timothy Bailey – Alabama
Quinn Ewers is talented. Texas has a lot of talent, but three freshmen offensive linemen are not the recipe for success against the likes of Turner and Anderson. Good luck, Longhorns.
---
Matt Perkins – Alabama
Alabama wins in a rout as Nick Saban embarrases his former protege. Texas' offensive line has no shot at blocking Will Anderson and Dallas Turner, while the Crimson Tide has too many weapons on offense.
---
Luke Brumm – Alabama
Austin will be rocking and ready for this one, but they are not for the result. Alabama wins easily by 20+.
---
Unnamed Source - Alabama
Bryce Young is a legitimate, early-season contender to repeat as the Heisman winner. The problem children from the Tide last year all transferred to Texas. Xavier Worthy, Bijan Robinson, and Quinn Ewers make Texas's offense scary against most teams. Alabama is not most teams. The Longhorns are not going to win with a few special talents and Alabama's leftovers going against a roster of mostly future pros. Give me the Crimson Tide 52-24.
---
Kyle Golik – Alabama
I expect Quinn Ewers to have a solid game, but I do not feel the Longhorns are seasoned enough to win this game. Texas will push Alabama a bit before the Tide swing the "Yellow Hammer."
---
Paul Wangsmo – Alabama
The Texas defense will not be able to stop Bryce Young and the Crimson Tide.
---
Noah Dzik – Alabama
Alabama takes down the Longhorns in Austin due to their overwhelming advantage on defense.
---
Shayne Pickering – Alabama
Alabama is the better team, and the Tide will prove it in a big way.
---
Noah- 5-1
James- 4-1
Unnamed Source- 4-2
Cory- 4-2
Mike- 4-2
Matt- 4-2
Paul- 4-2
Luke- 4-2
Tim- 4-2
Kyle- 3-2
Shayne- 1-1