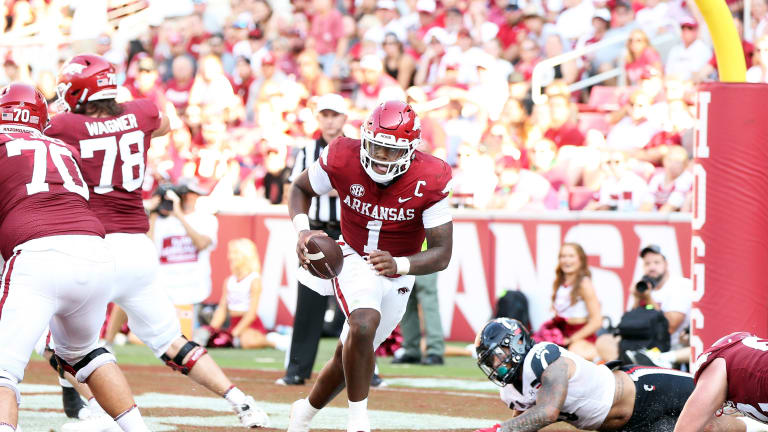 Staff Picks: Arkansas vs South Carolina
SEC play starts this week with a huge matchup. The 16th-ranked Razorbacks face a big week two opponent as they play Shane Beamer and the Gamecocks. In their short tenures, Coaches Beamer and Sam Pittman have turned their respective programs around in a short time, making this game a must-watch. Below are the Mike Farrell Sports staff picks for this Week two matchup.
---
Mike Farrell- Arkansas
Arkansas wins with defense in a sloppy game.
---
Cory Lemer- Arkansas
SC struggled last week against Georgia St eliminating the remaining hope I had for them to win this game.
---
Matt Perkins- Arkansas
Arkansas is the much more physical team playing at home. I like them by two touchdowns.
---
Timothy Bailey- Arkansas
Spencer Rattler goes ham, but it is not enough to beat the Hogs 45-38 Arkansas.
---
Luke Brumm- Arkansas
Arkansas will prove that SC is overrated. They will beat them soundly, and Spencer Rattler will struggle.
---
Kyle Golik- Arkansas
At some point, South Carolina would like to take that next step in the SEC pecking order. To do that, you must beat Arkansas, which is on that level. The Razorbacks are conditioned to win this game behind a great line and KJ Jefferson.
---
James DeCarlo- Arkansas
The Razorbacks proved me wrong last week against Cincinnati. By doing so, I like Arkansas to grab their second win in a row at home.
---
Paul Wangsmo- Arkansas
Rattler will struggle this week against a tough Arkansas defense.
---
Shayne Pickering- Arkansas
Arkansas is at home and is the better team. SC brought in many transfers who still need time to develop chemistry. The Razorbacks will force Spencer Rattler to make plays to beat them, and I do not think he can do that yet. Arkansas pulls away after halftime.
---
Noah Dzik- Arkansas
South Carolina heads into Fayetteville for coach Beamer's first big challenge of the season, but the physical Razorbacks will overpower the Gamecocks and win this game.
---
Unnamed source- Arkansas
I believe that South Carolina is the big question mark in the SEC. They have the talent to be great this year, but with so many transfers, it may take time for the team to come together. Arkansas returns a lot of production from last season and added top-end talent through the transfer portal. After seeing them last week against Cincinnati, I feel much better about the Razorbacks on the field. Give me Arkansas, 34-24.
---
Noah- 5-1
James- 4-1
Unnamed Source- 4-2
Cory- 4-2
Mike- 4-2
Matt- 4-2
Paul- 4-2
Luke- 4-2
Tim- 4-2
Kyle- 3-2
Shayne- 1-1