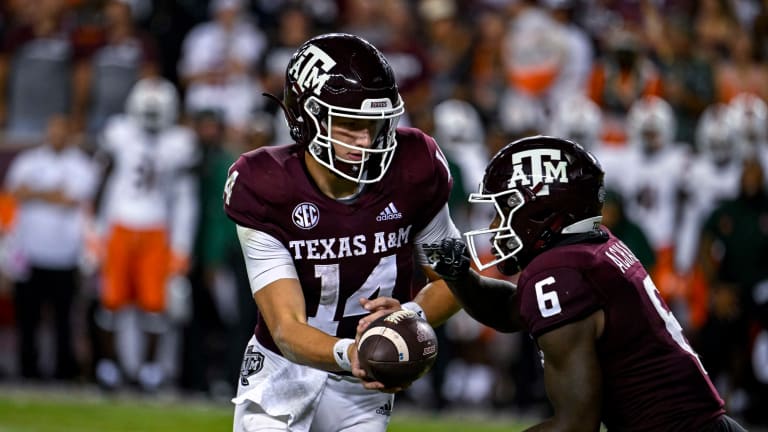 Staff Picks: Arkansas vs Texas A&M
We have an SEC neutral site game this week. The 10th-ranked Razorbacks are coming off a scary win against Missouri State and will travel to Arlington to take on the 23rd-ranked Aggies. The Aggies have had an embarrassing offense to start the season and will have to match players like KJ Jefferson and Raheim Sanders. The Aggies have an elite defense which will mix up the play calling for Arkansas. Below are the Mike Farrell Sports staff picks for this week four matchup.
---
Mike Farrell- Arkansas
Arkansas will be pissed based on their weak performance against Missouri State.
---
Cory Lemer- Arkansas
The Aggie's defense will keep this game close. 31-17 Arkansas.
---
Matt Perkins- Arkansas
Texas A&M will get knocked around this week as the Razorbacks roll up 300+ yards on the ground.
---
Timothy Bailey- Arkansas
Why are the Aggies favored? They can't stop the run, meaning they can't stop Arkansas.
---
Unnamed source- Arkansas
When a team shows you who they are, believe them. Texas A&M has shown us they are the same team as last year. Arkansas has stumbled a bit but has the capability to close out talented teams. KJ Jefferson is one of my favorite players in college football. Woo Pig Sooie, give me the Hogs 27-14.
---
Luke Brumm-Arkansas
Arkansas wins by around 10.
---
Kyle Golik-Arkansas
Jimbo returns to the hot seat and the QB carousel. WOO Pigs.
---
James DeCarlo- Texas A&M
An Arkansas road win is likely, but I like the Aggies to win in Arlington.
---
Paul Wangsmo- Texas A&M
The Aggies are coming off a big win, and I think the momentum leads them to another.
---
Noah Dzik- Arkansas
In a matchup between two talented front 7's, I like the Razorbacks to win in Arlington.
---
Shayne Pickering- Arkansas
This game could be a low-scoring bully ball game, and I like Arkansas to win those types of games.
---
Alex Bryan- Texas A&M
Both teams looked disappointing last week, but I like the Aggies at home in Arlington.
---
Hunter DeNote- Texas A&M
Both teams struggled last week, but Texas A&M in Texas can upset the Hogs.