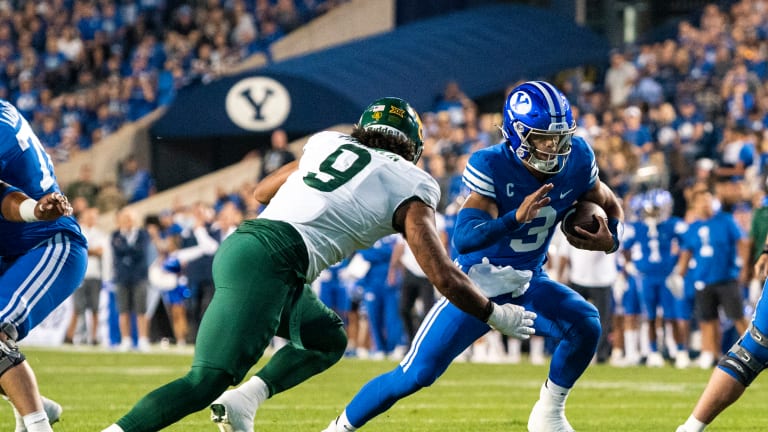 Staff Picks: BYU vs Oregon
A top 25 matchup is coming to Eugene this weekend. The 12th-ranked Cougars are coming off an important win at home against Baylor and look to stay hot against Dan Lanning's Ducks. Oregon bounced back with an impressive win against Eastern Washington last week and hopes to carry their momentum into this game. Below are the Mike Farrell Sports staff picks for this Week 3 matchup.
---
Mike Farrell- BYU
BYU is the team nobody wants to face. I have them winning in a close battle.
---
Cory Lemer- BYU
Last week I picked Baylor to beat BYU, and the Cougars proved me wrong. BYU is electric and will win this game Go Cougars.
---
Matt Perkins- BYU
The Ducks had a get-real game last week against Eastern Washington after being beaten into the ground by Georgia, and they needed that. Still, there are questions about Oregon's defense, especially against the pass, and BYU quarterback Jaren Hall has the talent and receivers to exploit that. BYU proved they're for real last week in beating Baylor. I think they win 26-23.
---
Timothy Bailey- BYU
The Cougars are REAL GOOD. Oregon? NOT.
---
Unnamed source- BYU
Bo Nix is elite, said no one after his freshman season. If Jaren Hall can go off in this game, he could insert his name into the Heisman race. Call me Zach Wilson because I'm rolling with Cougars this week. Give me BYU, 35-27.
---
Luke Brumm-BYU
I knew BYU would beat Baylor last week, and they will beat Oregon this week.
---
Kyle Golik-BYU
I am taking "The Y" this week over the Ducks; they have proven to be one of the most physical lines on both sides. The Cougars were efficient against one of the best in Dave Aranda; they beat the Ducks.
---
James DeCarlo- Oregon
Oregon by a score. I like this Cougar team, but I don't see them beating the Ducks on the road.
---
Paul Wangsmo- Georgia
Oregon picked up a huge win, and I think they will carry their momentum into this week.
---
Noah Dzik- BYU
BYU is an elite team who gained a lot of game experience last week. BYU will handle Oregon.
---
Alex Bryan- BYU
Byu is coming off a massive win against Baylor. I like BYU's defense to win this game. 34-31 Cougars.
---
Shayne Pickering- Oregon
BYU is coming off a tough win over Baylor, and Oregon looks to prove themselves after the Georgia loss.
---
Noah- 9-2
Luke- 9-2
Tim- 9-2
Unnamed Source- 8-3
Cory- 8-3
Paul- 8-3
Mike- 7-4
Kyle- 6-4
James- 6-4
Matt- 6-5
Shayne- 4-3
Alex- 0-0