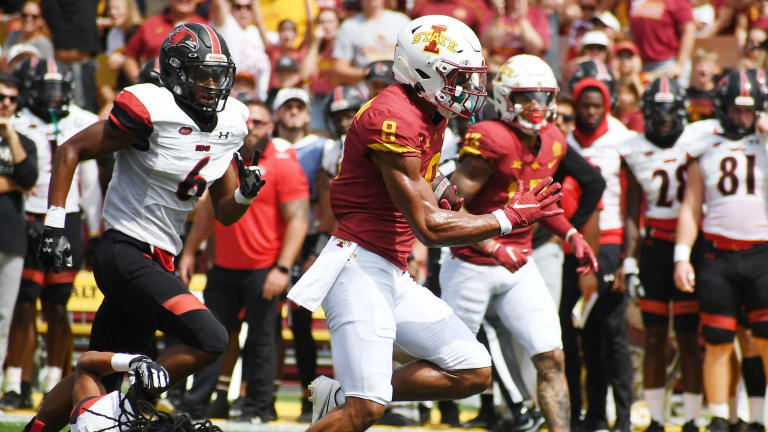 Staff Picks: Cy-Hawk Edition
Boom! Welcome to the 2022 edition of the Cy-Hawk game. Join the thriving, corn-loving state of Iowa, along with the rest of the nation, tuning in to watch the Cyclones battle the Hawkeyes. This year's game is at Kinnick Stadium. Below are the Mike Farrell Sports staff picks for the Week 2 matchup.
---
Mike Farrell- Iowa
Iowa finds a semblance of offense and wins this rivalry.
---
Cory Lemer- Iowa State
While Iowa has owned this rivalry, their 7-3 win over South Dakota St gives me no hope in their offense.
---
Matt Perkins- Iowa
I think the Hawkeyes will bounce back on offense and try to run the ball more. The Iowa defense is also one of the best on the field. Give me Iowa 13-6.
---
Timothy Bailey- Iowa State
Iowa St is once again the better team on paper in this rivalry. I will take them 20-14.
---
Luke Brumm-Iowa State
Iowa State wins this one 14-6. Low scoring is just how the folks in Iowa like it.
---
Kyle Golik-Iowa
Last week we watched Iowa leverage a punter like no other in a 7-3 win. The Cyclones are overdue for a win in this series, but I feel they give this game away to the Hawkeyes.
---
James DeCarlo- Iowa
No matter how bad Iowa played last week, they will not lose a rivalry game at Kinnick Stadium.
---
Paul Wangsmo- Iowa St
Iowa has no offense leading to an easy Iowa State win.
---
Noah Dzik- Iowa State
An atrocious Iowa offense heads into Ames for a big early-season rivalry game. It is unlikely both teams will score many points. I believe Iowa State gets the job done with their more explosive offense.
---
Shayne Pickering- Iowa
I want to pick Iowa State, but history and experience give Iowa the edge in a game heavily influenced by the defense.
---
Unnamed source- Iowa State
Last season Iowa's offense started slow. In the late season last year, Iowa's offense sucked. Results like that happen when the head coach hires his underqualified son as offensive coordinator, nepotism at its worst. Will Kirk Ferentz's defense have to bail out his son's offense again this week? Yes, but unlike last week, I don't think it's enough. QB Hunter Dekkers looks great under center for Iowa State, and Xavier Hutchinson is one of the best receivers in the Big 12, if not the nation. Two of Iowa State's last three wins in this rivalry have occurred in Kinnick. It's time Matt Campbell gets one in Iowa City as well. Give me Iowa State 23-11.
---
Noah- 5-1
James- 4-1
Unnamed Source- 4-2
Cory- 4-2
Mike- 4-2
Matt- 4-2
Paul- 4-2
Luke- 4-2
Tim- 4-2
Kyle- 3-2
Shayne- 1-1