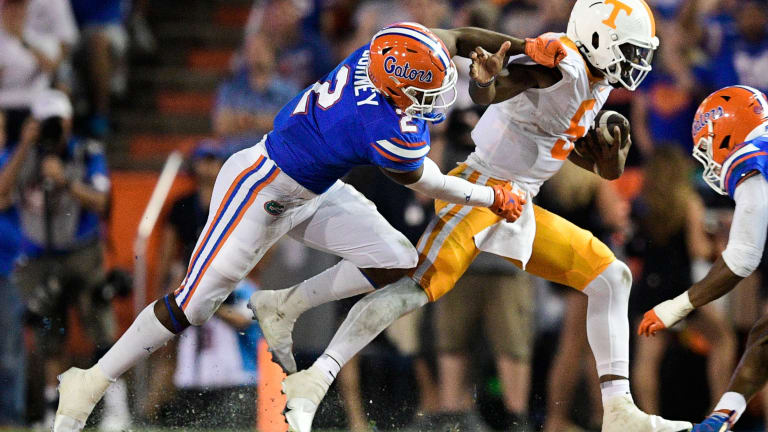 Staff Picks: Florida vs Tennessee
Last week, The Gators narrowly escaped USF at home. This week Florida will travel to Neyland Stadium to face off against the electric Tennessee Vols. The Vols, led by QB Hendon Hooker and WR Cedric Tillman, have been unstoppable on offense averaging 52 points through three games this season. On the other hand, Florida has struggled on both offense and defense and will look to fix their mistakes and exit Rocky Top with a win. Below are the Mike Farrell Sports staff picks for this week four matchup.
---
Mike Farrell- Tennessee
The Vols will win despite the Gator's recent success in this matchup. The offense is too much for Florida's defense.
---
Cory Lemer- Tennessee
The Vols will move to 4-0 on the year with a win at home this week.
---
Matt Perkins- Tennessee
I am scared to pick Tennessee because when the Vols start rolling and looking good is when they fall apart. I think they will beat the Gators in a high-scoring game with help from Hendon Hooker.
---
Timothy Bailey- Tennessee
I'll take the flow of Josh Heupel's crew, led by Hendon Hooker. 35-31.
---
Unnamed source- Tennessee
Hendon Hooker and Anthony Richardson is a primetime matchup. Hooker brings a safe floor with a high ceiling, while Richardson is a true boom or bust week to week. Florida could win this game, and people are far too low on them. I think Richardson is due for a boom, but ultimately I like Tennessee to pull out a win. Give me the Vols, 49-45.
---
Luke Brumm- Tennessee
The Vols will get the win at home and move to 4-0.
---
Kyle Golik- Tennessee
Expect Rocky Top to be played, adding nausea. The Vols will keep adding on points.
---
James DeCarlo- Tennessee
This game comes down to one player, Anthony Richardson. Whichever version of the Florida signal caller shows up will be the difference in this game. The safe bet would be the Vols.
---
Paul Wangsmo- Tennessee
Anthony Richardson has struggled this year, so I'm going with the Vols.
---
Noah Dzik- Tennessee
The Gators will head into a hostile Neyland Stadium and get beat by two scores.
---
Shayne Pickering- Tennessee
Tennessee wins in front of the Neyland crowd.
---
Alex Bryan- Tennessee
Florida barely survived USF. I think the Vols win big. 38-20.
---
Hunter DeNote- Tennessee
The Vol's offense is elite right now, and I don't see a struggling Florida team going into Neyland and winning.