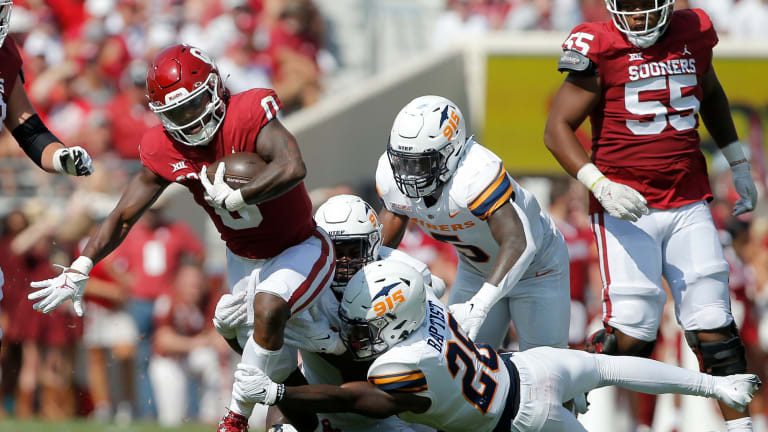 Staff Picks: Kansas State vs Oklahoma
Under Lincoln Riley, this series was split, with each team winning two games and being the thorn in the others side. Last week Kansas St suffered an embarrassing loss to Tulane while the Sooners took care of business in Lincoln. Under Brent Venables, Oklahoma looks like a better, more well-rounded team. The Wildcats are good also and will look to bounce back after a rough loss. Below are the Mike Farrell Sports staff picks for this week four matchup.
---
Mike Farrell- Oklahoma
The Sooners will blow the doors off.
---
Cory Lemer- Oklahoma
If Lincoln Riley were coaching, I would say Kansas State; however, Brent Venables will be on the OU sideline.
---
Matt Perkins- Oklahoma
Before this season, I picked Kansas State to win this conference, but I doubt that now, so I will take the Sooners by 14.
---
Timothy Bailey- Oklahoma
I will go with 42-17 Sooners on the Selmon brothers statue unveiling night.
---
Unnamed source- Kansas State
Kansas State got punched in the mouth last week. I expect them to have a bounce-back game. A certain team named Oklahoma struggled against Tulane last year, and they ended up being fine. The team that lost to Tulane last week will not be the team that shows up this week. Adrian Martinez played Oklahoma close last year at Nebraska, only now he has the team and scheme around him needed to get over the hump. Perhaps Deuce Vaughn has the boom game we've been waiting on as well. Give me the Wildcats, 31-28. 
---
Luke Brumm-Oklahoma
Oklahoma picks up a nice win in Norman.
---
Kyle Golik-Oklahoma
Brent Venables has filled the holes that Kansas State has exposed in the past. Sooners by 10.
---
James DeCarlo- Oklahoma
The Sooners will keep the momentum at home, winning this one easily.
---
Paul Wangsmo- Oklahoma
The Wildcats were exposed last week, and Oklahoma will build on those weaknesses.
---
Noah Dzik- Oklahoma
Oklahoma will handle Kansas State easily, despite struggling against the Wildcats in recent years.
---
Shayne Pickering- Oklahoma
The Sooners will finally get over the K-State hurdle.
---
Alex Bryan- Oklahoma
Kansas State has managed to upset Oklahoma in recent years. This year won't be one of them. OU wins 34-14.
---
Hunter DeNote- Oklahoma
The Sooners are on another level, and I don't see that changing when they take on K-State this weekend.