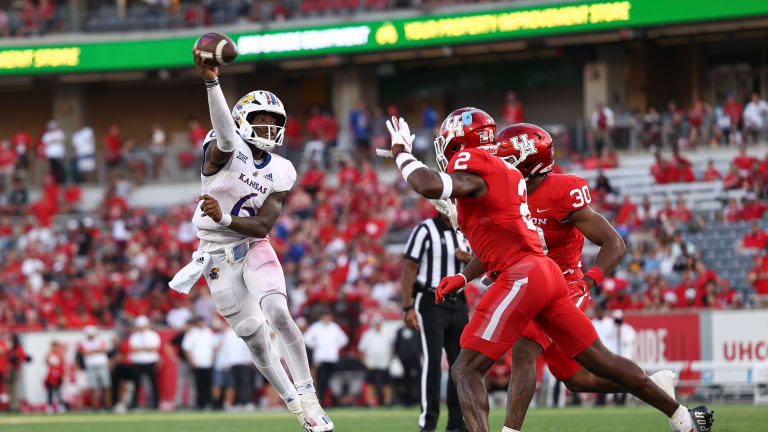 Staff Picks: Kansas vs Duke
Kansas and Duke are both undefeated; and yes this is football, not basketball. Coach Mike Elko and Coach Lance Leipold have rejuvenated their teams and look to start 4-0 for the first time in a while. Kansas is coming off an impressive win against Houston, beating the Cougars by 18 points, while Duke took care of Noth Carolina A&T at home. Below are the Mike Farrell Sports Staff picks for this week four matchup.
---
Mike Farrell- Kansas
Kansas should continue to roll under Lance Liepold, and I expect a dominant win for the Jayhawks against a solid Duke team.
---
Cory Lemer- Kansas
The home crowd in Lawrence should propel the Jayhawks to a 4-0 start.
---
Matt Perkins- Kansas
In a battle of surprising 3-0 starts by basketball powerhouses, I'm taking the Jayhawks. Kansas has too much offensive firepower.
---
Timothy Bailey- Kansas
Here we are in the Football NIT. Kansas and Duke are 3-0. What the? Jayhawks can score like a basketball team this year, so I'll take them 45-35.
---
Unnamed source- Kansas
I believe the Jayhawks are the better team. At home, with a sold-out crowd, and with a team that plays effective complementary football, Kansas looks to be at its best in over a decade. Jalon Daniels and Riley Leonard are an underrated QB matchup. Duke may also be good this year, but I think this will be the Kansas football coming out party. Rock Chalk, give me the Jayhawks 34-31.
---
Luke Brumm-Kansas
The Jayhawks win in a blowout.
---
Kyle Golik-Kansas
Didn't know basketball season started in September? I will take the Jayhawks.
---
James DeCarlo- Kansas
The home-field advantage gives the Jayhawks a win in Lawrence.
---
Paul Wangsmo- Kansas
Kansas has a solid offense and can score a lot of points. I pick Kansas. Rock Chalk Jay Hawk.
---
Noah Dzik- Kansas
Kansas wins handily against Duke with an offense the Blue Devils can't handle.
---
Alex Bryan- Kansas
In a surprise battle of undefeated basketball blue blood' football teams, I will take the Jayhawks.
---
Shayne Pickering- Kansas
The Jayhawks have started the season surprisingly hot.
---
Hunter DeNote- Kansas
Great matchup. Both teams are clicking on offense to start the year. I like Kansas to beat Duke.