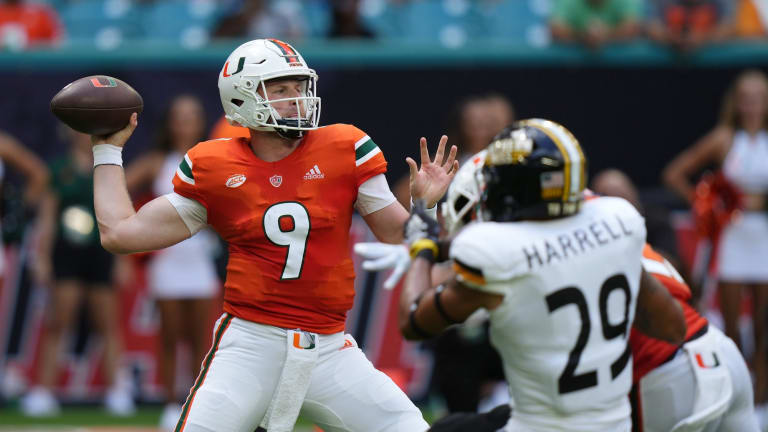 Staff Picks: Miami vs Texas A&M
The Max Johnson era starts in College Station. The 2-0 Hurricanes will face The Aggies in front of an electric crowd at Kyle Field. Below are the Mike Farrell Sports staff picks for this Week 3 matchup.
---
Mike Farrell- Texas A&M
The Aggies will bounce back at home and will win with the help of the Kyle Field crowd.
---
Cory Lemer- Miami
The Aggie's offense has looked horrid to start the year, leading me to choose "The U."
---
Matt Perkins- Miami
Assuming Zion Nelson and the Cane's o-line holds up, Tyler Van Dyke should have a huge game.
---
Timothy Bailey- Miami
The Aggies have played more football games (2) this year than they have trips to the endzone (1).
---
Unnamed source- Miami
Jimbo Fisher's offensive scheme is older than the forward pass. Starting Max Johnson is a positive movement, but you can not fix an entire offense in a week. Miami has a generally efficient offense and a competent defense. Maybe we will see a miracle like last season against Alabama, but I feel we will see something closer to the Arkansas game. Mario Christobal is more fun than Jimbo. Give me Miami, 28-13.
---
Luke Brumm-Miami
Texas A&M has too many issues to fix in one week. Despite the crowd, I choose Miami.
---
Kyle Golik-Miami
Miami is more secure at Quarterback than the Aggies.
---
James DeCarlo- Texas A&M
Miami is not a top 15 team, and the Aggies will expose them this week. After an embarrassing loss, Jimbo will have his team ready.
---
Paul Wangsmo- Texas A&M
The crowd will be great at Kyle Field. Cheering on the Aggies will help them get a bounce-back win.
---
Noah Dzik- Texas A&M
Miami heads into a deflated College Station after a depressing week two loss. The Aggies will bounce back.
---
Shayne Pickering- Texas A&M
The Aggie's defense will expose some weaknesses Miami has.
---
Alex Bryan- Texas A&M
The Aggies will not struggle two weeks in a row. Texas A&M wins 28-24.
---
Noah- 9-2
Luke- 9-2
Tim- 9-2
Unnamed Source- 8-3
Cory- 8-3
Paul- 8-3
Mike- 7-4
Kyle- 6-4
James- 6-4
Matt- 6-5
Shayne- 4-3
Alex- 0-0