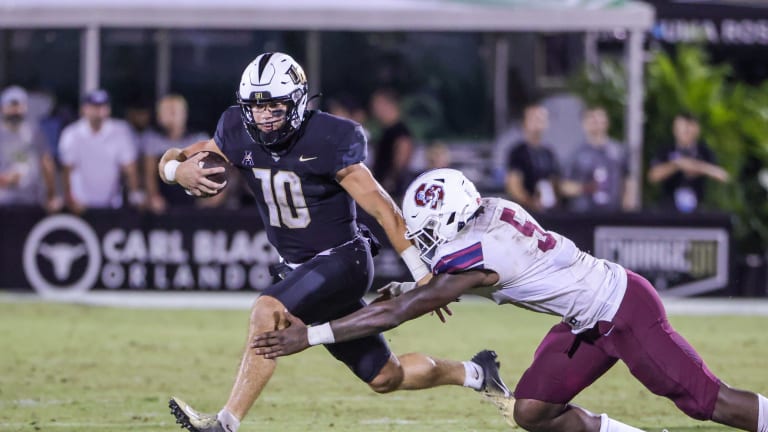 Staff Predictions: Louisville vs UCF
Following a disheartening week one for Louisville that saw the Cardinals fall hard at Syracuse, the Cardinals now march into the Bounce House, hoping to steal a win from UCF. In this article, we provide our picks for the outcome of this Friday night primetime matchup between the Cardinals and Knights. 
---
Luke- UCF 
Louisville disappointed me last week. I think UCF has a good coach and QB. I think they will win this one pretty easily at home. I will take UCF 31-17.
---
Adam Willis- UCF
I'm taking UCF 42-21. The game will be more competitive than expected. The Knights continue to build momentum this season and will remain undefeated after picking up a power five win for their resume. Knights pull away late.
---
Shayne Pickering- UCF
I got UCF. Louisville started the season out slow, and UCF has a lot of promise.
---
Hunter DeNote- UCF
I am rolling with UCF.
---
Matt- UCF
The season could not have started much worse for the Cardinals after they got hammered by lowly Syracuse at the Carrier dome 31-7. Central Florida's John Rhys Plumlee is an even better athlete than Garrett Shrader, and the Knights have weapons on the outside that are more explosive than those of the Orange. I see UCF rolling in this one 38-10. Scott Satterfield could be placed firmly in the hot seat following this game.
---
Michael- UCF
UCF looks to have the more explosive offense. After giving up 31 to Syracuse and multiple big plays, the Louisville defense scares me in this one. Give me UCF at home.
---
James- UCF
Since Gus Malzahn has been at the helm, UCF has been trending upwards, and I️ do not see them slowing down against Louisville. Led by Ole Miss transfer John Rhys Plumlee, I️ think the offense will be rolling, as he looked incredibly polished in their opener. Louisville dropping game one against Syracuse only furthers my confidence in UCF, as there are very few positives to take away from that game. Tiyon Evans can be an X-factor in the game.
---
Cory- Louisville
Malik Cunningham and the cardinals are coming off a depressing loss to Syracuse and will not start 0-2
---
Kyle- UCF
I will take UCF.
---
Tim- UCF
I predict UCF 35 to Louisville 24. 
---
Derrick- UCF
For Louisville v. Central Florida, I have to roll with Gus Malzahn and the Knights. John Rhys Plumlee put up a big-time performance in his opening debut as the starter in Orlando, and the momentum favors UCF following the Louisville loss against Syracuse. 
---
Unnamed Source- UCF
In this matchup, I think this will be a competitive, close game that comes down to the fourth quarter. UCF QB John Rhys Plumlee should match up well against the Louisville defense, but Malik Cunningham should also give UCF fits at times. Louisville needs this win more after last week. UCF will have a hostile fan environment, I doubt Louisville is prepared for it. I think the Cardinals lose a lead, and UCF steals a power five win, 34-21.
---
Mike Farrell- UCF
I've got UCF winning this one, but closer than many think as Louisville rebounds from week one and is solid.