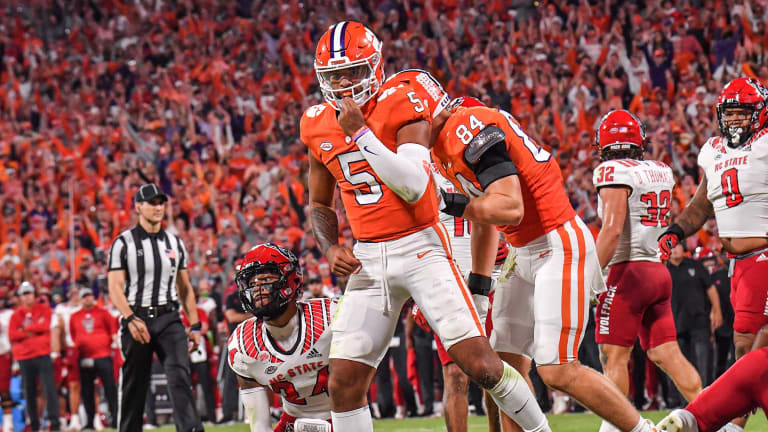 Clemson Tops N.C. State 30-20
Uiagalelei, Tiger defense comes up big in top-10 matchup
The Clemson Tigers may actually be back. In their second big matchup in as many weeks, the Tigers rose to the occasion in regulation this week and almost held N.C. State scoreless in the 4th until under a minute to go to seal the win. 
Clemson's D held the Wolfpack to 279 total yards, only 34 of those yards being in the run game. They also caused two turnovers. Tigers QB D.J. Uiagalelei, looking like he's finally starting to fit the hype he had coming into last season, threw for 209 yards on 21-30 passing with one touchdown, but had a bigger game on the ground rushing 14 times for 73 yards and two huge touchdowns. N.C. State QB Devin Leary threw for 245 yards on 28-47 passing with one touchdown, one interception, and getting sacked three times. 
Turning Point in the Game
This pick late in the 3rd for Clemson has to be the turning point. N.C. State was only down 7 at this point and held Clemson to a missed FG and a 3 and out their last two drives. This was a chance for N.C. State to drive the field, tie the ball game, and take huge momentum into the fourth quarter. Unfortunately for them, the pass was tipped and pick and turned into 3 points for Clemson. 
Clemson Game Ball: QB D.J. Uiagalelei
No surprise here. He had a lot of doubters coming into the season, myself included and rightfully so after his 2021 campaign, but he balled out in a big game tonight. Those two rushing touchdowns, especially the 9 yard dagger in the 4th, were big for Clemson.
N.C. State Game Ball: Kicker Christopher Dunn
Hell yes, I'm giving a kicker a game ball. He hit two FGs, including a 49-yarder, to keep N.C. State's hopes alive in this one. If their offense has been a little better, they wouldn't have had to rely on Dunn to keep it close, but he did an awesome job.
Game Thoughts & Notes
1. Clemson is back and has two huge wins over Atlantic Division opponents. Syracuse is somehow undefeated so that one "could" be interesting (or maybe not). However, Clemson is well on their way now to a return to the playoffs with a more favorable schedule ahead.
2. Clemson's offense deserves a ton of praise for their apparent improvement. Did not expect they'd look this good after what I saw in Week 1. Kudos.
3. N.C. State's preseason hype can officially be put to rest. I know, they are 4-1, but they needed this win badly to really prove that hype was valid. Losing this one, they'd need Clemson to lose twice to be back in the picture for a trip to the ACC Championship Game. Don't think that's happening.
What This Means For Clemson
5-0 and way better than last year. Back-to-back road games against Boston College and a surprising 4-1 Florida State team are next before a potential undefeated matchup with Syracuse (should Syracuse come off their bye week and beat N.C. State on the 15th this month.) The playoffs are once again in sight for Clemson.
What This Means for N.C. State
To be honest, all preseason hype and playoff hopes are virtually dead. Their out-of-conference schedule isn't great at all and this was their first real test. They failed. I don't see this team beating Wake Forest or even Florida State. A 3-4 loss year looms again for the Wolfpack, but by their own standards, that's a big year.