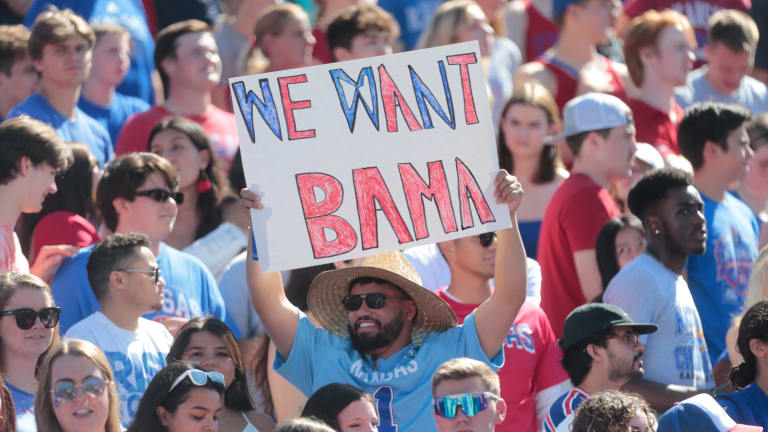 Kansas Beats Duke at Home, 35-27
Two college basketball blue bloods squared off on the gridiron today. Kansas and Duke traded scores for the majority of this game. Jayhawk quarterback, Jalon Daniels, had a great day. Daniels excelled on both the ground and in the air. He went 19 of 23 with 324 yards and four passing touchdowns. He also added 83 rushing yards and a rushing touchdown. Duke QB Riley Leonard also threw for 324 yards and one score.
---
Turning Point
The turning point came early in the third quarter when Kansas stopped Duke on fourth down. The Jayhawks were already up 21-13 and then drove down the field and scored to make it 28-13. This score gave them a bit of a cushion and helped them pick up the win today.
---
Kansas MVP
QB Jalon Daniels
Jalon Daniels had a wonderful day. He only threw four incomplete passes and had over 300 yards and four touchdowns through the air. He added 83 yards and a score on 11 rushes. The offense looked unstoppable at times today, and that was mainly because of Daniels's play today.
---
Duke MVP
WR Jalon Calhoun
Calhoun had five receptions for 93 yards. He also caught a touchdown today. He averaged 18.6 yards per reception and had a long of 40 yards. The Duke offense looked pretty good today, they moved the ball pretty consistently, and Jalon Calhoun had a big part in that.
---
Game Thoughts and Notes
Kansas looks good this season. I can see them making a bowl game for sure. Their offense looks good. Duke also looks good. Both offenses put up a lot of yards. Kansas had 528 total yards, and Duke had 463. The key was when Kansas got a stop and went up two scores in the third.
---
What This Means for Kansas
Kansas is now 4-0. They had not won more than three games in a season since 2009, so this is a huge deal. They play Iowa State and TCU at home in their next two games, which I believe they can win. We will see what happens. It would be crazy to see the Jayhawks 6-0 and already bowl eligible. They have not played in a bowl since 2008.
---
What This Means for Duke
Duke was 3-0 heading into this matchup, so they are still in a good spot. Nobody expected the Blue Devils to be in this position, and they can still have a great season. Next, they play Virginia at home and Georgia Tech on the road. They can win both of those games, especially the second one.