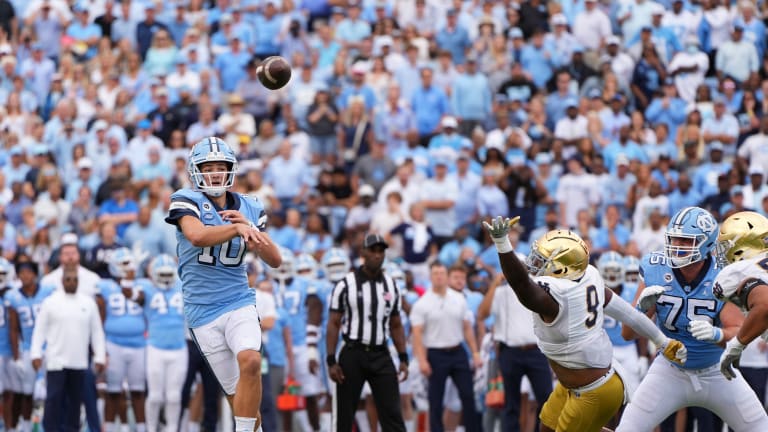 Notre Dame Beats North Carolina 45-32
1-2 Notre Dame traveled to Chapel Hill to take on undefeated North Carolina. This article reviews what happened in this electric matchup, and looks at what both teams have to look forward to. 
---
They came away with the victory, 45-32, in a game that wasn't as close as the final score indicated. The game went back and forth early, and the Fighting Irish pulled away.
---
Turning Point
The turning point came when Notre Dame got the ball to start the second half. The game was pretty much back and forth until then. On the opening possession of the second half, Notre Dame scored, making it 31-14. They went on to make it 38-14 and never looked back.
---
Notre Dame MVP
RB Audric Estime
Estime ran 17 times for 134 yards and two touchdowns. He looked good, and so did the Notre Dame offense.
---
North Carolina MVP
QB Drake Maye
Drake was a bright spot for UNC today. He threw for 301 yards and five touchdowns. The offense isn't the problem for the Tar Heels, but their defense is.
---
Game Thoughts and Notes
Notre Dame looks to be improving week by week. They won this game with more ease than the score would tell. Maybe Notre Dame will be alright this season. North Carolina has a lot of work to do on the defensive side, but they could be okay in the end. Considering this was their first loss of the season, they will. 
---
What This Means for Kansas
Notre Dame finally gets back to .500 after losing its first two games. They still have a chance to have a successful season. UNC has a bye week next, and then they play BYU in Las Vegas on October 8th. This game will be a test to see if Notre Dame has improved.
---
What This Means for North Carolina
This game is their first loss of the season. The Tarheels can still make the ACC Championship if they win out. They will need the defense to improve drastically for that to happen. They let a below-average Notre Dame offense put up 45 points. They play Virginia Tech next in a game where I can see them bouncing back.