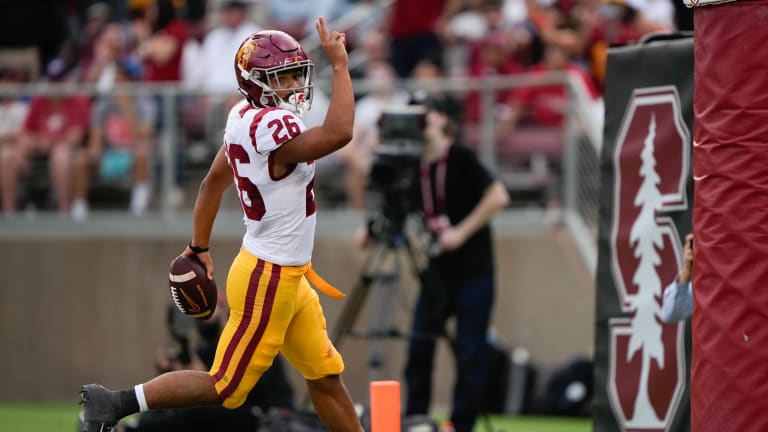 Primetime Recap: Southern Cal vs. Stanford
Trojans Storm Cardinal with five First Half Touchdowns in Win
Lincoln Riley doesn't really like to decide if his offense is on or off schedule. 
"I don't really try to decide like if it's on or off schedule." Riley said postgame after Southern Cal defeated Stanford 41-28 in Palo Alto. 
Riley continued to comment, "I believe that group, like the other groups in our team, can be really, really good. We've had some really good moments here in the first two games that I'm extremely excited about. We have a lot to clean up and a lot of consistency to find again coaching-wise, playing-wise."
The offense was on schedule in the first half as the Trojans as it scored touchdowns on its first five possessions, two of which were set up by Cardinal turnovers. 
USC's defense had again this week four turnovers. This is the first time a Southern Cal defense had back to back four turnover games since 2017. 
While the defense was opportunistic with its turnover battle victory, Riley feels the defense still has issues, "I think the easiest fix is just that we're still making a few too many mental mistakes throughout the course of the game where we're not in a gap or not lined up or not playing a call the way that it's designed. I thought we did a pretty good job tackling. We're getting the ball out. We're playing really, really hard. There's a lot of good, physical plays out there, but we've got to clean up the mental execution.
"Right now in this game, we gave up a few too many plays where we're not in the gap, and against a good offense like that, you make it a lot easier on them than obviously we planned to."
---
Turning Point In The Game
On their first red zone opportunity, Trojan defensive back Mekhi Blackmon intercepted Cardinal quarterback Tanner McKee on fourth and goal. Up to that point that was McKee's second interception early in the contest. 
On the Cardinal's second red zone opportunity they were able to cash in on an E.J. Smith touchdown reception. Down 21-7 at the 12:15 mark in the second quarter, Stanford had their third red zone opportunity of the contest and the Cardinal, with mixed results, were still fighting hard against the Trojans, on the turning point play it was third and goal from the Trojan four yard line, and E.J. Smith rushed three yards before the fumbling away to the Trojans defense. 
Southern Cal would respond with a Mario Williams 15-yard touchdown reception from Caleb Williams capping a seven play 98 yard drive to go up 28-7. 
---
Southern Cal Game Ball
Caleb Williams
The game ball could have easily gone to Jordan Addison, who had a monster game in his own right. Addison had seven receptions for 172 receiving yards and two touchdowns.
The efficiency at which Caleb Williams had the Trojan offense firing in the first half especially, with the Trojans overall scoring on seven of 10 drives, subtracting the end of game drive. (Trojans missed a field goal as well) 
Williams finished the evening passing for 341 yard on 20 for 27 passing with four passing touchdowns with a QBR of 96.3. 
Stanford Game Ball
E.J. Smith 
While Smith committed two key turnovers that thwarted any chance for the Cardinal to win, it was Smith who was positioning the Cardinal to win the game. 
Smith became the first Cardinal player to have a rushing touchdown and receiving touchdown in a half since Christian McCaffrey. He finished the ball game with 114 total yards from scrimmage, (88 yards rushing and 26 yards receiving). 
---
Game Thoughts
1.) The Trojans offense the first two weeks look among the best in college football. The efficiency of how the Trojans operated in the first half is scary and if they get to the efficiency ideal to Lincoln Riley, they can compete with anyone in the country. 
The question is will anyone outside of Utah be competitive defensively to really test Southern Cal's offense. After Marshall's upset of Notre Dame, I am not sure what the Irish defensively can do against the Trojans.
2.) The Trojan defense while opportunistic with eight turnovers collected this season have some concerning defensive lapses. 
Cardinal ground game was able to rush for 221 yards on 45 carries for three touchdowns albeit quarterback Tanner McKee's -12 yards rushing. When the competition ratchets up, if the Trojan defense cannot stop the run, they won't make it far. 
3.) When David Shaw said in the preseason that he felt junior E.J. Smith would be the most complete running back in the country. I felt last night before a potential injury slowed Smith, he was playing at a level described by Shaw. 
It will be interesting to see how Smith progresses this season and if he opts for a senior season in Palo Alto that will be missing a senior led offensive line and Tanner McKee.