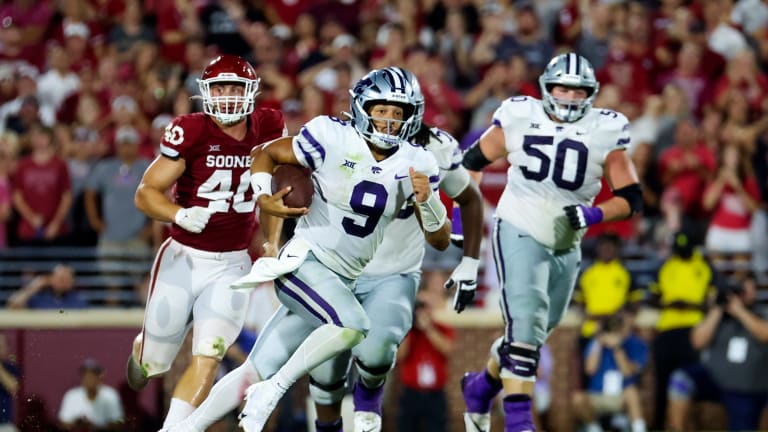 Rapid Reaction: Adrian Martinez & Kansas State Run to Upset Victory in Norman
Kansas State gets massive road win over #6 Oklahoma
In an electric QB dual, Kansas State pulled off an impressive road upset over #6 Oklahoma. In a game that went down to the wire, Adrian Martinez and Dillon Gabriel put on an offensive display. Both signal callers had help on the ground as well, as elusive Wildcat Deuce Vaughn ran for 116 yards while Sooner Eric Gray had 114 yards himself.
This was an offensive driven matchup with both teams having over 500 yards and no turnovers. This was a completely different Wildcats offense from a week ago in their lousy loss to Tulane, with nearly over 200 more yards and over double the amount of points. This is a major win for Kansas State and removes doubt from last week of being a bottom feeder in the Big 12. Oklahoma, on the other hand, has some question marks to fix if they want to remain a contender going forward. 
---
Turning Point in the Game
The turning point in this one happened on the very first drive when Adrien Martinez realized he could run all over the Sooners' defense. It set the tone, as the Wildcats took the lead and never looked back, retaining that lead the entire game. 4 rushing touchdowns for a QB shows the inability of the defense to adjust, so figuring that out instantly influenced Kansas State's decision to abuse the run, finishing with 275 rushing yards.
The first drive was 12 plays where Martinez rushed 3 times for 24 yards. He also had a few completions to show balance, with one being a 27-yard completion to push the Wildcats past midfield. Martinez set the tone for the game, having his best performance of the season in a timely fashion.
---
Kansas State Game Ball
Adrian Martinez
Pretty obviously one here. The Nebraska transfer had an impressive showing in leading Kansas State's offense. Martinez was efficient in the air, throwing for 234 yards and 1 TD on 21/34. He was more dangerous on the ground, as his 21 carries went for 148 yards and 4 TDs. 
Oklahoma Game Ball
Dillon Gabriel
Finishing with 330 yards on 26/39 throwing and 4 TDs, the Heisman hopeful added another impressive performance to his resume. Gabriel provided balance as well, as he rushed for 61 yards. Although he wasn't able to lead his team to victory, he showed he's one of the most efficient shot-callers in the nation, a reason why he is 5th in Heisman odds per FanDuel.
---
Game thoughts & Notes
4th Down Matters: Although OU was able to convert one of their attempts, Kansas State converting both of theirs had a major impact on the game.
Penalties hurt Oklahoma: 11 penalties for 87 yards is something Brent Venables will have to address going forward. The 50 yard difference in penalties contributed to the loss.
Balance at WR for both teams: There wasn't a player with over 90 yards receiving, yet there were 554 total yards thrown. Eight players had between 40-90 yards receiving.
---
What it Means for Kansas State
Starting out Big 12 play with a boom gives Wildcats fans hope for a run in the Big 12. If the same Adrien Martinez shows up next week against Texas Tech at home, Kansas State should find themselves 2-0 headed into 2 consecutive road games.
What it Means for Oklahoma
This loss removes a lot of Oklahoma's likelihood of making the playoff. The Sooners head to TCU next week followed by the Red River Showdown, two games that will give us more of a snapshot of where they stand.