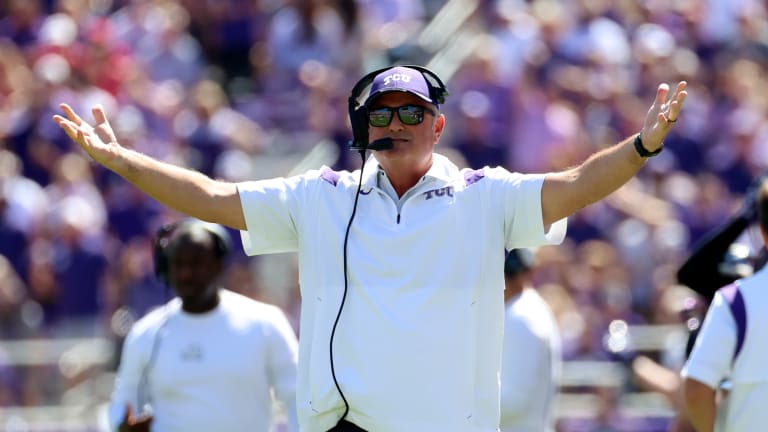 Rapid Reaction: Max Duggan, TCU Embarrass Oklahoma 55-24
Horned Frogs QB gets it done with arm and legs in rout of Sooners
After a tough loss at home to Kansas State last week, Oklahoma head coach Brent Venables took responsibility for the loss but also said he trusted his process.
"I've always beared the responsibility of failure and losing. It's no different. I'm responsible for a part of the team," Venables said. "But also, trust in how you do what you do. You don't have to reinvent the wheel. Sometimes you're on the right side of it and sometimes you're not. It certainly doesn't take much to be on the wrong side of it."
Well, it's time that Venables steps up and takes even more accountability - especially for the Sooners' defense. They were simply lost against Max Duggan and the Horned Frog offense.
Turning Point in the Game
Max Dugan broke off a huge 67-yard run in the first quarter to put the Horned Frogs up 20-3. After that, TCU didn't look back.
---
TCU Game Ball
QB Max Dugan
Duggan single-handedly carved up an Oklahoma defense that simply looked lost. He finished with 302 passing yards and three scores through the air while adding another 116 yards and two scores on the ground. He simply did it all.
Oklahoma Game Ball
RB Jovantae Barnes
In a game that did not have a lot going well for the Sooners, Barnes ran hard all game and finished with 100 yards and two scores.
Game thoughts & Notes
I don't remember seeing a Brent Venables defense looking this confused in my life. Oklahoma defenders were simply lost, letting TCU receivers streak free downfield at will.
Dillon Gabriel took an absolutely nasty hit while sliding and was knocked out of the game. Up until that point, it hadn't been going great, but that may have been the nail in the coffin. Backup Davis Beville was ineffective in relief
TCU's defense has taken a step forward under Joe Gillispie. I was very skeptical of the Sonny Dykes hiring in general, but he's outperformed expectations already. 
What it Means for TCU
A huge to open conference play for the Horned Frogs leaves them as one of three undefeated teams remaining in the Big XII, along with Kansas and Oklahoma State. They'll get a chance to take on the Jayhawks next weekend at Kansas in a matchup for first place in the conference. Not sure how many people had that coming into the season.
What it Means for Oklahoma
Last week was thought to have been a blip, but two consecutive weeks with defensive issues means that the Sooners' defensive coaching staff really needs to get it together. With two losses in conference already, Oklahoma will need a lot of help to get back to the title game. Next weekend's Red River Rivalry definitely does not have as much luster as usual with both teams struggling this season.